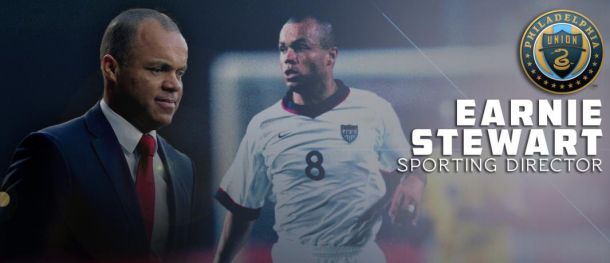 In a monumental signing, Philadelphia Union announced on Monday morning that they have agreed to a contract with Earnie Stewart to become the club's Sporting Director. Previously, Stewart was the Director of Football Affairs at AZ Alkmaar, a Dutch Eredivisie club. He will transition over to his new job with Philadelphia on January 1st 2016.
In searching for a Sporting Director, we defined specific criteria we were looking for a candidate to fulfill. Philadelphia Union Owner Jay Sugarman said in a press release. "Earnie rated highly on all our key metrics. His understanding of the international soccer landscape and viewpoint on Major League Soccer, combined with his experience in player development and strong work ethic, make Earnie an excellent fit for this important role."
Back in an early October press conference, Sugarman laid out his six standards for a future Sporting Director as "knows how to win, talent acquisition history, player development, ability to bring in top talent and prestige, ready to integrate into development system and mentor academy system and buy into Philly", as transcribed by Scott Kessler of Kessler Reports.
Sugarman continued in saying that "Earnie's long-term vision and desire to positively impact soccer in the United States aligns closely with our vision for the Philadelphia Union and we are excited to welcome him back to the USA and put him in a position to drive the Union to long term success."
As Sporting Director, Stewart will be tasked with working closely with the new Lehigh Valley USL team, Youth Academy side as well as the first-team's technical staff to help transform Philadelphia into a quality MLS squad. The former United States International, Stewart, helped AZ Alkmaar be awarded the Rinus Michels Award, which is given to the team with the best youth academy in Dutch Football.
Stewart, 46, is known for his ability to find success using the "moneyball" style as well as helping develop USMNT talent such as Jozy Altidore and Aron Johannsson. For a Philadelphia side that does not have the same financial capacities as Los Angeles Galaxy or New York Red Bulls, Stewart's ability to play "moneyball" will help the Union identify, sign and develop talent that is not as financially crippling as signing a big-name player.
"I am thrilled with the opportunity to come to the Philadelphia Union and help create a winning team, which the fans can identify with. I look forward to working with everyone at the Union to establish a clear playing philosophy and use my experience to create a competitive edge in our methods of recruiting and developing players at all levels of the club, from the Academy up through the First Team." Newly signed Sporting Director Earnie Stewart said in a released statement. "From the first moment I spoke with the Union about the direction they wanted to go, I was excited about the long term opportunity and my ability to help execute our shared vision…. I will work my hardest to hit the ground running for the Union and be ready for the important decisions the club will make entering the 2016 season."