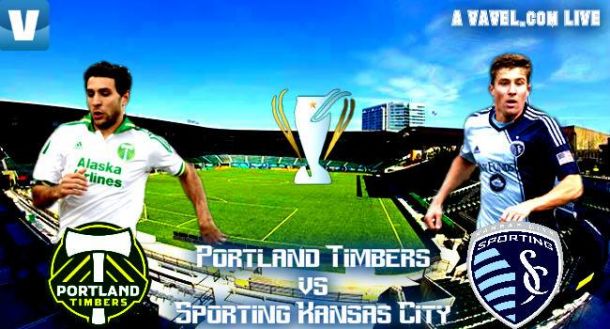 | | | | | | | |
| --- | --- | --- | --- | --- | --- | --- |
| | Score | 1 | 2 | 3 | 4 | 5 |
| Portland Timbers | 3 | x | 1 | 1 | x | 1 |
| Sporting Kansas City | 3 | 1 | x | 1 | x | 1 |
| | | | | | | | |
| --- | --- | --- | --- | --- | --- | --- | --- |
| | Score | 6 | 7 | 8 | 9 | 10 | 11 |
| Portland Timbers | 7 | x | 1 | 1 | 1 | x | 1 |
| Sporting Kansas City | 6 | x | 1 | 1 | 1 | x | x |
We are going to try and stick around until Sunday's match times are posted.
What an amazing match
The Portland Timbers will host the Vancouver Whitecaps on Sunday while the Seattle Sounders FC will host FC Dallas.
Unbelievable.
WHAT. A. GAME.
PORTLAND WINS!!!!!
SKC: Kempin ... SAVED!!!!! PORTLAND WINS!!!!
PDX: Kwarasey ... SCORES!!!! 7-6 Portland
ELEVENTH ROUND
SKC: Dia ... SCORES!!! 6-6
PDX: Fochive ... SCORES!!! 6-5 Portland
TENTH ROUND
SKC: Abdul-Salaam ... POST AND POST!!!! OH MY!!!!!
PDX: Powell ... SAVED!!!!!
NINTH ROUND
SKC: Peterson ... SCORES!!! 5-5
PDX: Nagbe ... SCORES!!!! 5-4 Portland
EIGHTH ROUND
SKC: Mustivar ... SCORES!!! 4-4
PDX: Asprilla ... SCORES!!! 4-3 Portland
SEVENTH ROUND
SKC: Ellis ... POST!!!!
PDX: Villafana ... SAVED!!!!
SIXTH ROUND
Nagamura ... SCORES! 3-3
Urruti ... SCORES! 3-2 Portland
Besler ... MISS!!! OVER THE BAR!!!!
Jewsbury ... MISS!!! A TERRIBLE SHOT!!!
Zusi ... SCORES!!! 2-2
Ridgewell ... SCORES! 2-1 Portland
Dwyer ... SAVED!!!!! KWARASEY WITH THE BIG STOP!!!!
Borchers ... SCORES!!! 1-1
Feilhaber ... SCORES!!!! 1-0 Sporting!
Valeri ... SAVED!!!! Kempin gets a hand on the shot!
Jon Kempin with a chance to become a legend for Sporting Kansas City.
Alright here we go. Penalties kicks at Providence Park. The kicks will take place in front of the Timbers Army.
Wow, what a match.
120': We are going to penalties. There is the final whistle.
120': Look at that, you can hear the Timbers Army again.
119': A cross from Asprilla to a wide open Urruti in the six yard box and penalties are looming at Providence Park
118': GOAL!!!!!! IT IS URRUTI!!!!!! OH MY GOODNESS!!!!!! OUT OF NOWHERE!!!!!!!! 2-2
116': Tempers are starting to flare here in Portland.
115': Yellow Card - Diego Valeri (Portland)
114': Ridgewell with a huge recovery run as Dwyer appeared to have Kwarasey beat to the far post.
113': Dwyer floats a ball towards Peterson on a back post run but the cross is just beyond the reach of the forward.
112': We just saw the replay. Borchers with a shoulder tackle to the chest of Dwyer. Good thing the referee missed that or Portland could be down to 10.
112': Dwyer is down on the field holding the back of his head.
111': If Major League Soccer releases Sunday's schedule while we are still updating here, we will pass that along to you.
110': Can the Timbers find an equalizer?
109': Sporting Sub: Nemeth (Out), Peterson (In)
108': Alvas Powell cannot control the field switch from Jack Jewsbury.
107': Yellow Card - George Fochive (Portland)
107': If this result holds: Sporting Kansas City will host FC Dallas on Sunday and the Seattle Sounders FC will host the Vancouver Whitecaps.
106': Let the Sporting Kansas City timewasting begin! We are off in the second half of extra time.
ETHT: Portland Sub: Urruti (In), Adi (Out)
Extra Time Half: Sporting 2, Portland 1
105+1': That is the end of the first half of extra time.
105+1': A late free kick coming for Portland.
104': MISS!!!! Jewsbury makes solid contact but the ball is just over the crossbar.
104': MISS! Nagbe open and closing in the box, Ellis gets a foot on it to give Portland a corner.
103': Zusi with a great play in the corner that should have earned him a corner kick. Goal kick called instead.
102': Portland with a corner. Valeri plays it towards Borchers but it is headed out by the defense.
101': Dwyer fires a shot from 25 yards out that sails over the net.
100': Nemeth jogs back into a defensive positon after a short word with the referee.
100': Nemeth is down in the box after Asprilla slams the ball into his ribs. Portland goal kick coming up.
98': Portland Sub: Wallace (Off), Asprilla (In)
96': GOAL!!!!!! KRISZTIAN NEMETH!!!!!! WHAT A SHOT!!!! Nemeth took a high shot from a tight angle into the upper 90 of the far post. 2-1 Sporting
95': Ellis stayed down on the field temporarily. He is up now but looking ginger on his right leg.
93': Yellow Card - Saad Abdul-Salaam (Sporting)
92': Cross comes in high, Nemeth looks for a bicycle kick but it is well over his head.
92': No shots on goal but Portland with the early possession in the first half of extra time.
91': Extra time is underway. Portland will get us going moving from right-to-left on your keyboard.
Thirty minutes and possibly penalties to go here in Portland, Oregon
End of Regulation: Portland Timbers 1, Sporting Kansas City 1
90+8': There is the second half whistle and we are going to extra time.
90+7': Feilhaber chips towards Nemeth but the pass is behind the Hungary international.
90+6': The pace is slowing. Both teams looking like they are playing for extra time.
90+5': Feilhaber with a shot from the top of the box that is blocked by the defense.
90+2': SAVE!!!! Dwyer is fed in behind the defense, his header is saved by Kwarasey. He is called offside but that looked like a wrong call.
90+1': Valeri looks to feed Adi but a great play from Ellis to cut out the attempt
90': SEVEN MINUTES OF STOPPAGE TIME! Wow!
89': Dwyer floats a ball towards Feilhaber but it is just past the recipient.
88': What a timely goal there for Ellis.
87': GOOAAAAALLLL!!!!!!!!!!! KEVIN ELLIS!!!!!! The corner is cleared out, Zusi puts the ball back into the box and Ellis rises in front of Ridgewell for the goal. 1-1
87': Besler is bleeding very badly from his nose, he comes off the field
86': Nemeth with a dangerous ball that is knocked out for a corner.
85': There has to be at least five minutes of stoppage time to go.
84': Portland Sub: Melano (Off), Fochive (In)
83': Sporting Sub: Melia (Off), Kempin (In)
83': Melia is being looked at again, he is coming off the field.
83': Powell puts a low cross into the box but Melia is able to get down to make the save.
80': Portland is just clearing out everything that Sporting is sending at them.
79': Besler puts a long throw into the box. It is cleared.
78': Sporting is starting to throw numbers forward.
77': MISS!!! Rodney Wallace gets into space but fires his low shot just wide of the far post.
76': Yellow Card - Krisztian Nemeth and Amadou Dia (Sporting Kansas City)
75': Both teams come together as Nemeth knocks over Melano and then kicks the ball into Melano.
74': Melano holds the ball one dribble too long on a 3-v-2 break. He distributes the ball one touch sooner and Portland has a great scoring chance.
73': Melia is now bandaged up and we are back to action.
72': Melia has a cut on his cheek. That could be what the concern is.
71': It looks like the trainer is telling Melia that needs to come off.
69': Yellow Card - Rodney Wallace (Portland)
68': Melia comes off his line to gather the ball, Wallace drags his foot and makes contact with the face of the goalkeeper.
67': A long stoppage as Dwyer is down after clashing heads with a Portland defender. He is back up on his feet.
65': Adi is called for a foul, the referee gives him a stern word or two.
63': Abdul-Salaam with a great run splitting the defense. He floats a ball across but it is cleared out by Nat Borchers.
62': There is no flow. It is continously start-and-stop.
62': The center official has lost control of this game.
60': Kwarasey gets a fist on the corner from Zusi.
59': A Sporting free kick coming as the green smoke rises from the Timbers Army. Borchers wins the header and knocks it out for a corner.
57': GOAL!!!!! RODNEY WALLACE!!!!! The ball bounces around the top of the box, Wallace gets a toe on it and just pushes it past Melia and inside the far post. 1-0 Portland
56': SAVE! Valeri plays the ball to Nagbe who puts his shot on target but a big diving save from Melia.
56': Valeri earns a free kick to the left of the goalkeeper.
55': WIDE!! Dwyer with the interception before firing his shot just wide of the post.
55': Portland does not look anywhere near what they looked like in the first half. Sporting is the far better team.
53': Ridgewell with a big defensive header to thwart a potential attack from Sporting.
49': MISS! Dwyer finds the ball at his feet in the goal box. He just misses the near post from ten yards out. What a run from Nemeth to create the chance.
47': Wallace with a nice bit of skill to juggle his way around a defender but his volley attempt is wide of the net.
46': Sporting Kansas City gets us underway moving from right to left on your keyboard.
Welcome back to Portland, Oregon. It is time for the second half at Providence Park.
We will be back with second half coverage in just a moment.
Halftime: Portland Timbers 0, Sporting Kansas City 0
45+2': There is the whistle to end the first half.
45': Nagbe's shot is deflected out off of a Timber and that will be a goal kick. One minute of stoppage time.
45': Free kick coming to Portland straight away about 25 yards out as Nagbe gets hauled down by Zusi.
42': Abdul-Salaam makes a great defensive play as Villafana looks to play in Wallace behind the defense.
41': The pace has slowed down considerably.
38': Yellow Card - Liam Ridgewell (Portland).
37': SAVE! Melia gets off his line to get a hand to a cross just before it meets the head of Adi.
35': Yellow Card - Dom Dwyer (Sporting). Dwyer has been a pest tonight up top for Sporting and he finally goes into the book after getting away with some questionable acts early on.
34': Ridgewell is back on the pitch. The referee is starting to lose control.
33': Dwyer just runs through Liam Ridgewell, no call. Wow, Ridgewell is still down on the pitch. He did not see that contact coming.
30': WIDE! Borchers gets on the end of the corner but the header is wide.
30': Rodney Wallace with a few looks in the box but Graham Zusi makes a great tackle to block a tight-angle shot. Portland earns another corner kick.
29': Villafana is knocked down as he races down the line. No call given there.
28': Nemeth fires a shot from distance that does not trouble Kwarasey.
26': Jorge Villafana makes a great individual defensive play to win the ball off Graham Zusi and earn a goal kick.
24': Ridgewell is back on the field.
23': Liam Ridgewell spent some time down on the pitch. He took an awkward fall after a post-whistle challenge. He looks to be ok.
21': Nagbe with another darting run in the final third. He dishes the ball off to Adi but he is offside.
20': Nagbe makes a great run into the box, feeds the ball off to Melano who whiffs on his shot attempt. That could have been very dangerous.
20': Zusi sends a corner across the box towards Abdul-Salaam but the ball eludes the full back.
18': Ouch Paulo Nagamura is hit squarely in the face with a ball by Amadou Dia.
17': Besler plays a long throw that is headed out by Portland. Corner for Sporting.
15': Sporting earns their first corner of the match. The distribution is well beyond the goal and cleared by the Timbers.
14': Melano takes a shot on a counterattack that is deflected out for a throw. Nagbe brings the next attack down the end line but the ball is touched out for a corner.
13': Apologies to the late arriving Portland crowd. Providence Park looks packed, as it should be.
11': Yellow Card - Kevin Ellis (Sporting). He is very lucky to have been spared. That could have easily been a red card, in fact, after seeing the replay, that is a straight red.
10': Melano gets a shot through traffic that is deflected and cleared.
9': A very fast tempo to this one.
8': Sporting Kansas City with a free kick from distance. The ball is played in by Zusi but cleared out instantly.
5': OFF THE LINE!!!!! Portland gets a header on target but the shot is cleared off the line. Their second corner attempt is headed wide by Nat Borchers.
5': Another corner coming for Portland.
4': Zusi plays a ball into the box that is cleared by Liam Ridgewell.
3': Melano sends a cross just over the head of Rodney Wallace.
1': An early press from Portland. Adi takes a shot that is pushed out of bounds by Melia. The corner is sent across the box but headed over the crossbar.
1': Portland will get us underway moving from right to left on your keyboard.
How big of an impact will the absence of Diego Chara be for the Timbers?
Portland will be wearing all-green while Sporting will be in their all-white kits.
The Timbers Army section looks very full. The rest of the stadium however, not so much. Do not expect the passion to be any less than normal for the Timber Faithful.
Both clubs are getting ready to come out onto the pitch.
The biggest surprise here is that Diego Chara is not even in the 18 for Portland. Must be an injury of some sort.
Here is the starting eleven for Sporting Kansas City (4-3-3): Melia; Abdul-Salaam, Ellis, Besler, Dia; Nagamura, Mustivar, Feilhaber; Zusi, Dwyer, Nemeth
Here is the starting eleven for the Portland Timbers (4-3-3): Kwarasey, Powell, Borchers, Ridgewell (c), Villafaña; Jewsbury, Valeri, Nagbe; Melano, Adi, Wallace
We should be receiving the lineups at any moment.
And welcome in to VAVEL USA and our live coverage of the Major League Soccer playoffs. This is the final knockout round match as the Portland Timbers host Sporting Kansas City.
What are your thoughts going in our match LIVE Portland Timbers - Sporting Kansas City? Leave them to us at the bottom of the page or on our Twitter page @VAVEL_MLS.
If hot SKC shows up tonight, then we should be in for a heck of a game. If cold SKC shows up, it could be over at halftime.
The biggest question we have coming into tonight's match is which Sporting team will show up? The one who came back for a massive 4-3 win over Vancouver or the one who dropped a 5-0 defeat to San Jose in same venue just four days later?
Sporting has been very balanced in their attack this season with three 10+ goal scorers. Dom Dwyer led the pack with 12 goals while Benny Feilhaber and Krisztian Nemeth each chipped in 10. Feilhaber also led the team in assists with 15.
Since that big win though, the wheels have almost completely fallen off for Sporting. They finished the season with three wins, two draws, and seven losses to nearly fall out of the postseason altogether. The worst part about that stretch was that six of their seven losses came to team who did not make the playoffs.
Sporting Kansas City enters the playoffs as a surprising five seed. They spent a majority of the season in second place in the West looking like they would be contending for a Supporters' Shield. On August 15th, they capped one of the more impressive comebacks in league history scoring three goals in the final nine minutes plus stoppage time to defeat the Vancouver Whitecaps 4-3 at Sporting Park.
This tactical adjustment has allowed Nagbe and Valeri to use their quick combination ability to spring either one of them or Adi in behind the defense. It also allows the two to actually play on the field together in positions where they are both comfortable. Finally, would you rather have Darlington Nagbe or George Fochive on the field in a one-off match?
Caleb Porter has also made a key adjustment dropping his usual two holding midfielder lineup for one that features two more attacking based central midfielders. That has added some pressure to Diego Chara to not make mistakes but he has handled the pressure well.
The emergence of Nagbe not only gives Portland another scoring threat but could open up space in the midfield for Diego Valeri, Rodney Wallace, and Lucas Melano to create chances. Valeri and Wallace are the team's leading assist men with eight and seven respectively.
As mentioned earlier, Darlington Nagbe has finally found his 2013 form where he scored nine league goals. The last few games have reminded fans why Nagbe is such a dangerous player and someone who should be on Jurgen Klinsmann's radar for time with the United States Men's National Team.
Adi has established himself as the scoring threat that Portland was hoping for when they brought him over from FC Copenhagen last season. The Nigerian has tallied 16 goals this season with many coming at crucial times for the Timbers. 10 of his 16 goals has come in the final 30 minutes of the match, with seven coming in the fifteen minutes.
The offense came alive over the last three matches of the season with Fanendo Adi finding the net four times and Darlington Nagbe scoring three as Portland outscored their opponents 10-3 en route to the third seed in the Western Conference.
Many were doubting the Portland Timbers after that last loss to Sporting Kansas City with the team struggling offensively as well as sitting on the outside of the postseason looking in. To that point, Caleb Porter's men had only scored 31 goals in 31 games while being shut out 12 times.
There has only been one goal scored in this series during the season, that coming after 263 minutes of play when Krisztian Nemeth scored at Providence Park on October 3rd. Sporting Kansas City leads the season series one win to nil with two draws.
If the season series between these two clubs is any indication then we should be in for a very tightly contested affair with goals coming at a premium.
The result last night means that if the Portland Timbers win tonight, they will advance into the Western Conference Semi-Finals to face the Vancouver Whitecaps while FC Dallas will play the Seattle Sounders FC. If Sporting Kansas City wins, they will advance to play FC Dallas while the Vancouver Whitecaps will play the Seattle Sounders FC.
What a start we have seen to the playoffs with two exciting matches yesterday including a thrilling match just up the road at CenturyLink Field. The Seattle Sounders FC able to finally get the Galaxy monkey off their backs with a 3-2 win on a sensational goal from Erik Friberg.
Good evening and welcome to VAVEL USA's live coverage of the 2015 MLS Cup Playoffs. Our first match tonight is a knockout round tie from the Western Conference as the number three seed Portland Timbers host the number six seed Sporting Kansas City from Providence Park in Portland, Oregon. My name is Matthew Evans and I will be your host.