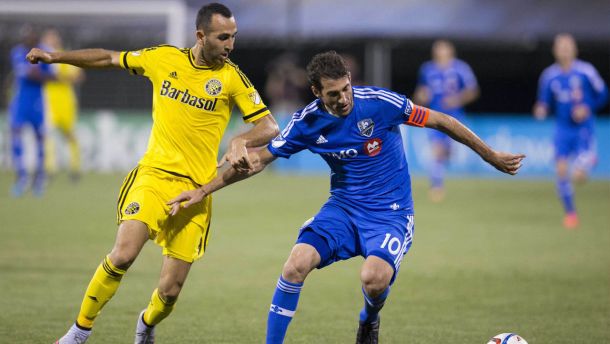 And that's the game folks! Montreal Impact take a 2-1 aggregate lead over Columbus Crew SC. Leg two will be held on November 8th, in Columbus, Ohio. My name is Tyler Fisher, and thank you for joining me for this epic matchup of MLS Soccer. Goodnight!
90+2: One minute remaining. Score is still Impact 2-1 Crew SC
90+1: A handball plea by Montreal and the referee says no. Fans are outraged
87'; Drogba gets booked for a slide tackle on Clark, then by grabbing on his leg. Confusion on who the card was to, the yellow was issued to Didier Drogba, not Clark.
82'; SUBSTITUTION: Crew SC sees Kevan George come on for Tony Tchani
81': Great save by Steve Clark! Crew SC are still within one. Corner kick Impact
Correction: 27 yards away
---
80'; Dangerous position for Crew SC. Giving up a free kick from about 23 yards away.
77': GOAL! Venegas takes exception to the slip my Parkhurst and gives Impact a 2-1 lead!
73': SUBSTITUTION: Venegas comes on for Bernier for Montreal
72': Sauro, already on a yellow card, gets booked for a foul. He needs to be careful especially at this time
70': Piatti takes a shot, but Clark makes the save. Score still 1-1
---
67': Drogba gets taken down in the box. No penalty.
66': SUBSTITUTION: Mabwati makes way for Finlay for Crew SC. Mallace makes way for Reo-Coker for Impact
65': Crew SC midfielder Cedrick Mabwati is getting last minunte instructions before entering the field
62': SUBSTITUTION Impact: Dilly Duka comes on for Dominic Oduro
58': Finlay finds space, but the play is broken up. Impact attack the other way
53': Sauro for Crew SC gets booked for taking down Drogba. Drogba takes acception and goes head to head with the Argentine defender
51': Oyongo gets booked for a late challenge on Higuain. Two yellow cards for IMFC now.
47': Ciman heads the service ball just wide of the frame. Goal kick to Crew SC.
45': Second half officially underway. Impact start and are quick on the attack.
HALFTIME: Crew SC 1-1 Impact
45+2': YELLOW CARD: Cabrera sees yellow for a wreckless challenge on striker Kei Kamara.
45+1': A minimum of two minutes have been added on.
44': Impact want a penalty kick. Referee says no. Tchani gets called for the foul at midfield.
43': OFFSIDE: Drogba gets called offside. Free kick Crew SC
37': GOAL! Montreal fires back to tie the game up at one all! Score is now 1-1
33': GOAL! Federico Higuain gets the most important goal in the series, and puts Crew SC up 1-0!
30': Sauro is exiting the field due to blood on the shirt.
26': Piatti ignites the counterattack. Montreal then lose possession.
23': Meram gets called for another foul. Another free kick Impact. Still scoreless, 0-0
19': Gaston Sauro gets called for the foul. Free kick Impact.
Correction: Drogba goal called back due to a handball. Great officiating to Chris Penso.
15': GOAL! But it's called back for a push in the back. Score still 0-0
12': Drogba goes in on net, crosses the ball but its deflected out for a corner kick.
7': Free kick is in. The header finds it's way to keeper Steve Clark.
6': Meram gets called for the foul on Drogba. Free kick Impact
5': The attack is on for Crew SC. Higuain sees the chip, but the bal sails over the crossbar
3': A bad back pass from Higuain sees Drogba alone on goal, but the ball is far out of reach
1': And the game has begun at Stade saputo!
---
7:05 PM EST Or so we thought. Sorry folks for the false alarm.
---
7:00 PM EST: Game time!
---
6:55 PM EST: We're just a few minutes away from kickoff! Stay tuned for this epic clash!
---
6:31 PM EST: Other scores from around the playoffs today. DC United fall at home to rivals New York Red Bulls 1-0; Portland Timbers and rivals Vancouver Whitecaps are currently tied at 0-0.
---
6:20 PM EST: Columbus Crew SC have announced their starting 11. Theirs also, goes as follows.
Clark; Francis,Sauro,Parkhurst,Afful; Tchani,Trapp; Meram,Higuain,Finlay; Kamara
---
6:17 PM EST: Montreal Impact have announced their starting 11. It goes as followed
Bush; Toia,Ciman,Cabrera,Oyongo; Donadel,Reo-Coker-Bernier; Piatti,Drogba,Oduro
---
6:15 PM EST: Per Adam Jardy (Columbus Dispatch), "the rain has subsided and tonights match is rather chilly."
---
6:09 PM EST: Teams have arrived at the stadium, and are getting ready to take the pitch for warmups.
---
6:07 PM EST: Lineups have yet to be posted. Lets check out some news coming out from both teams.
---
6:00 PM EST: Hello, and welcome to VAVEL USA's LIVE coverage of the 2015 MLS Cup Eastern Conference Semifinal leg one, between the Montreak Impact, and Columbus Crew SC.
---
Tonight's match will be played at Stade Saputo, in Montreal, Quebec. Game time starts at 7 PM EST. The referee assigned to this match, courtesy of PRO Referees is Chris Penso.
---
And here is th projected lineup for Columbus Crew SC, and they wil lineup in a 4-2-3-1 formation. Clark; Francis--Sauro--Parkhurst--Jiminez; Trapp--Tchani; Finlay--Higuain--Meram; Kamara
---
Here is the projected line up for the home team, Montreal Impact, in which they line up in a 4-3-3 formation. Bush; Oyongo--Cabrera--Ciman--Toia; Bernier--Donadel--Reo-Coker; Duka--Drogba-Piatti
---
"They're a different team obviously, with [Didier] Drogba," the striker said. "And they also have moved [Ignacio] Piatti out left. So it brings a different dynamic." He went on to speak about Montreal's style of play as a whole, saying, "I think they're lookig more at those two to create chances for them and they have a bunch of ball winners in the midfield. I think at the end of the day they're going to play the same style: counterattack. And we're going to have to be careful in the back."
---
There will be a mini battle within the war out on the pitch this evening in the play of Columbus striker Jack McInerney. He was with Montreal through the middle of the season but was abruptly traded to Columbus in July. McInerney spole to the media in preparation for this match, and spoke about the changes which he has noticed in Montreal since he last put on the blue kit.
---
While the Impact have their 1-2 punch of Dorgba and Piatti clearly defined, Columbus have a half decent dynamic duo of their own in striker Kei Kamara, and winger Ethan Finlay. Kamara has put the ball into the back of the net 22 times this season, and only lost out on winning the MLS Golden Boot award to Toronto FC's Sebastian Giovinco on the assists tiebreaker. Frankly, Columbus doesn't much need Kamara to create goals because they have Finlay around for that purpose. He has 13 assists on the season, which is good for 5th most in MLS.
---
In addition to Drogba, Montreal boast one of the finest creative midfielders in MLS in Ignacio Piatti. The 30 year old Argentine joined the Impact after winning the Copa Libertadores last season with Argentina's San Lorenzo. It's hard to overstate the Impact (pun intended) which Piatti can have on the pitch. He has the ability not just to dance past players in the middle of the park but also boasts th rare ability to pick out a pass which others cannot see. He leads the team in assists, and will be vital if Montreal are able to keep their MLS Cup dream alive.
---
If it weren't for the team on the other side of the pitch tonight, they would be clear favorites to advance on to the Conference Final. The Montreal Impact finished the season on a 7-2-2 (W-D-L) run, and then thrashed Toronto FC in a 401 Derby on Thursday night in the Eatern Conference knockout stage match. Ever since firing former manager Frank Klopas, the Impact have been nigh on unstoppable. Ivorian striker Didier Drogba has had one of the single greatest midseason impacts ever, scoring 11 times in 11 appearances since he joined Montreal. Although his comments about the lack of quality in MLS drew the ire of many in American soccer circles, he is belovd in Montreal for good reason.
---
This evening we have what has to be classified as the most intriguing of the four Conference Semifinal match-ups, simply because both teams enter in such great form. Columbus were victorious in their last two matches of the season, defeating Toronto FC at BMO Field by a score of 2-0 in the seasons penultimate weekend before going on to throttle DC United 5-0 on MLS Decision Day. The resounding victories were enough for them to claim second place in the Eastern Conference, and have given them the status of chief contender for MLS Cup.
---
Due to the direct knockout stage of the MLS Cup Playoffs, being played on both Wednesday nights and Thursday nights this past week, the first legs of all four Conference Semifinals are taking place today. At 3 PM EST, DC United will host the New York Red Bulls in the other Eastern Conference Semifinal. That will quickly be followed up with the kick off of the action in the Western Conference when the Portland Timbers take on the Vancouver Whitecaps in a Cascadia Cup clash at 5 PM EST. This will be the first time that the Timbers and the Whitecaps have met each other in MLS Postseason play. The third game of the day is ours right here, which will in turn be followe by the second Western Conference match-up of the day. The Seattle sounders feature in that one, and will host FC Dallas at 9:30 PM EST.
---
This is the third game of a sublime day of Major League Soccer action, which will conclude with one more game after this one.
---
Hello and welcome to this evening's 2015 MLS Cup Conference Semifinal between Columbus Crew SC and Montreal Impact. My name is Tyler Fisher, and I'm thrilled to be bringing you the first leg of this semifinal matchup. We've got a ways to go before the action gets started at 7 PM EST, so sit back, relax, and let us take you through the build up of this one.