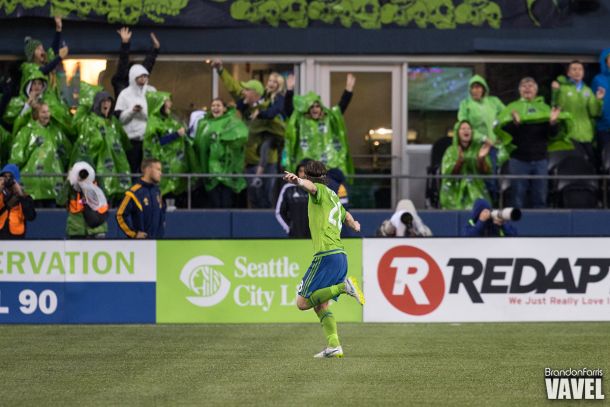 What a day for soccer in America. Thank you so much for joining us here on VAVEL USA. For all of the crew here at VAVEL USA, my name is Matthew Evans saying good night!
In the Eastern Conference, the early game will be New York Red Bulls hosting DC United at 3 pm ET. Columbus Crew will host the Montreal Impact starting at 5 pm ET.
Leg 2 of our series will start at 7 pm ET from Frisco, Texas. Leg 2 of Portland-Vancouver will come to you from Vancouver, British Columbia with a 10 pm ET kickoff.
The Eastern Conference matches will take the early timeslots on ESPN while the Western Conference matches will be in primetime on Fox Sports 1.
Next Sunday's schedule has been released.
Our VAVEL USA Man of the Match is Andreas Ivanschitz. His goal was the spark to lead the Sounders to the victory.
Oscar Pareja refuses a handshake to Sigi Schmid and walks directly up to Kevin Stott for a few words. We cannot speculate on what he said but he probably didn't ask for Stott's address for the annual Pareja family Christmas card.
Final Score: Seattle Sounders FC 2, FC Dallas 1
90+4': THERE IS THE FINAL WHISTLE
90+3': They finally break out for one last rush.
90+3': Dallas cannot escape from their zone.
90+2': The cross is cleared out by Ulloa.
90+2': Corner coming for Seattle.
90': Three minutes of added time.
89': Seattle Sub: Azira (In), Ivanschitz (Out)
89': This game has turned 180 degrees ever since Ivanschitz's goal.
87': Gonzalez thought that Ivanschitz was taking that one. What a goal into the upper 90.
86': DEMPSEY!!!!! GOAAAAAAAAAALLLLLLL!!!!!!!!!!!!!!!!!!!!!!!! FROM THE FREE KICK!!!!!!! WHAT A SHOT!!!!!!!!!
85': MISS!!! Obafemi Martins turns and fires a deflected shot that nearly beats Gonzalez from 30 yards. The corner is cleared but there is a foul at the top of the box.
84': The corner is cleared.
84': Akindele earns a corner for Dallas.
83': Seattle breaks out a counterattack. The ball is played in and played out. Rose plays a ball in towards Valdez who looks for a bicycle kick but cannot connect.
80': Barrios takes the ball to the touch line. He gets by Scott, attempts to play the ball towards Akindele but it is cut out by Seattle.
79': Marshall with the great angle as the ball is played into Akindele.
78': Mears plays the ball across, it is into Martins but he is flagged for offside.
77': Castillo beats three Sounders to the touch line but he cannot reach the ball before it is out for a goal kick.
76': Seattle Sub: Roldan (In), Friberg (Out)
75': Mears looking to combine with Ivanschitz but nothing doing there.
73': Rose is chopped down at the center stripe. A quick free kick towards Valdez but Hedges is there to make the defensive touch to the keeper.
72': SAVE!!!! Dempsey with a low cross to Martins who tries to get a cheeky touch on the ball. He does not get enough though as Gonzalez gets down to make the save. The Sounders tidal wave is brewing.
71': Dallas Sub: Akindele (In), Texeira (Out)
71': MISS!!!! OH WOW. Valdez fires a dipping volley that finds the roof of the net.
69': SAVE!!!! Castillo makes a low cross from the touch line that Frei gets down for. The ball falls to Texeira who cannot beat the Swiss keeper.
68': The crowd is back in this one... like they were ever out of it.
67': GOOOOAAAAAAAAALLLLLLLL!!!!!!!! IVANSCHITZ!!!!!!!!!!!!!! WHAT A HIT!!!!!! He makes a great diagonal run across the field before firing a left footed laser into the low corner. He beat three Dallas defenders and we are level!
65': Dallas starting to take the air out of the ball. Possession from the attack to the defense and back taking about 30 seconds off the clock.
64': The free kick finds Marshall but the header is straight to the goalkeeper.
63': Dempsey is plowed over in the midfield. A long free kick coming for Seattle.
62': Seattle Sub: Valdez (In), Pappa (Out)
60': Castillo earns another corner after blowing by Zach Scott. Chad Marshall comes to the rescue with a big tackle before Castillo could take the shot.
58': Pappa to the end line. He gets around Hollingshead, floats a ball into the area but the cross is cleared.
57': Texeira plows over Chad Marshall. Foul is called and the Dallas forward gets a talking to.
56': SHOUTS FOR A HAND BALL!!!! Castillo takes a shot that hit Mears in the arm. That looked to be a hand ball. No call.
55': Ivanschitz makes a run down the left. He tries to split the defense but his throughball is just too far ahead for himself. Out for a goal kick.
53': One thing is very clear. Dallas is fast.
51': Mears plays a cross into Martins but the ball is headed clear. Dallas on the counterattack. Castillo plays to Texeira but the ball is just past the forward. Frei cannot bring in the ball. It is back to Castillo. Dallas looks to play in again but the ball is cleared by Mears.
50': Castillo beats Friberg. Friberg pulls him down. Free kick to Dallas from midfield.
49': Barrios flies down the right side. He looks to cut the ball back in the middle but it is cleared by the defense.
48': Seattle with the early pressure.
46': A good chance as Pappa rolls a ball towards Martins making a near post run but Gonzalez gets to it first.
46': Seattle gets us underway.
And we are back here on VAVEL USA. 45 minutes more to go at CenturyLink Field before we moved to Frisco next week.
We will be back in just a few moments with coverage of the second half
HALF TIME: FC Dallas 1, Seattle Sounders FC 0
45+3': There is the final whistle.
45+2': Seattle breaks away to Martins. He plays back to Pappa. Pappa sends in a cross that is blocked and out for a throw-in. Nothing to show from that attack though as Dallas clears the ball.
45+1': Two minutes of stoppage time
45': Ivanschitz is called for a trip. A free kick coming to Dallas from about 40 yards out.
44': Seattle is pushing for an equalizer before the break.
43': Martins is called for a foul on Matt Hedges as the two battle for a bouncing ball. Did not see that the same as the assistant referee.
43': Momentum is starting to trun to Dallas.
42': Free kick for Dallas is played in and even quicker, played out by the defense.
41': SAVE!! Pappa's free kick deflects to Dempsey at the penalty spot. Dempsey untangles the ball from his feet and fires a low shot that finds its way straight to the goalkeeper. Another chance comes to Ivanschitz but he cannot pull the trigger.
40': Free kick coming to Seattle in a dangerous position after an FC Dallas handball.
39': Diaz and Castillo combine again. Castillo choses to fire a bouncing ball but the effort is wide.
38': Oneil Fisher steps up, speeds by Watson but his final touch is just too far in front. A goal kick coming for FC Dallas.
36': Seattle still with a majority of the possession. Will the FC Dallas defense break under the pressure?
33': MISS!!! Dempsey to Martins who lays the ball off to Friberg. His shot just misses the post. The Sounders are getting closer.
32': IVANSCHITZ, oh his shot is right into the hands of Gonzalez. He took the space given to him but could not beat the goalkeeper.
31': Seattle starting to play with more confidence. They need to be careful to avoid another counterattack from Dallas.
29': BLOCKED! Mears fires a volley from 25 yards out that is deflected. It is played out for a corner. The corner is cleared by Cirigliano.
27': Ivanschitz turns Barrios around at the edge of the 18. He plays in a cross that is punched out by a diving Jesse Gonzalez. Good play there from the Sounders winger
25': WIDE! Mauro Diaz sends the free kick just past the far post.
25': Rose pulls down Castillo at the top of the box. Here comes a dangerous free kick for Dallas.
24': Pappa looks to thread the ball through to Martins but it is cut out by the defense.
22': Andy Rose recovers to make a very good defensive play as Dallas was lurking at the top of the box.
20': Pappa called for a foul on Hollingshead as they both go for a header.
20': Dempsey plays the ball out to Mears, he looks to feed the ball back in. It is blocked by Hollingshead and cleared out.
18': GOAL!!! Fabian Castillo uses his speed to get behind Zach Scott on the counterattack, he slips the ball under Frei to give Dallas the 1-0 lead and a big road goal in this series.
16': Not much sustained possession for either team. The ball staying mostly in the middle third of the field.
13': Barrios tries to play a ball behind the defense to Castillo. Mears shields the ball towards the end line but the speedy Castillo is able to knock the ball out for a throw deep in Sounders territory.
11': Castillo makes a nice run into the box. He fakes out Zach Scott but cannot beat Erik Friberg on the second touch.
10': Seattle puts the ball down the wing looking for Fisher, he challenges Je-Vaughn Watson but the defender wins that battle.
10': Martins looks to play Ivanschitz down the wing but the ball is just over his outstretched boot.
7': The free kick attempt for Dallas does not amount to anything.
5': Pappa plays in Martins at the top of the box. Martins takes a dribble looking to free some space. His touch betrays him though and the ball is cleared. Barrios is involved in a footrace with Fisher which the defender wins. A foul is called though on Seattle.
4': Mears plays into Pappa, Pappa with a ball towards Martins but Zach Loyd is there to clear.
3': Seattle with a majority of the possession so far.
1': Mauro Diaz draws the first foul just inside the center circle. He looks to play the free kick down the wing but it is out for a goal kick.
1': FC Dallas will get us going moving from left-to-right on your keyboard. And we are underway from CenturyLink Field
Kevin Stott is your referee tonight.
Stefan Frei will be wearing his black keeper kit while Jesse Gonzalez is in light blue
BOOM. BOOM. CLAP.
The teams are coming out of the tunnel. Seattle will be wearing their rave green shirts with their blue shorts and rave green socks. Dallas is in all-red.
And the intros for the Seattle Sounders FC! Can FC Dallas take a good result back to Frisco for the second leg next week?
Pre-game introductions for FC Dallas. As expected 'Boos' ring around CenturyLink Field
The weather may not be that big of a factor tonight in terms of precipitation. The wind though may be a different story. It is howling at around 18 mph sustained at the moment.
The big news here being the absence of Alonso, Gonzalez, and Evans for Seattle. How will they deal with those losses? We'll see in a matter of moments.
Here is the Starting XI for FC Dallas: (4-2-3-1): Gonzalez; Watson, Loyd, Hedges, Hollingshead; Cirigliano, Ulloa; Barrios, Diaz, Castillo; Texeira
Here is the Starting XI for the Seattle Sounders FC: (4-4-2) Frei; Mears, Marshall, Scott, Fisher; Pappa, Rose, Friberg, Ivanschitz; Dempsey, Martins
And welcome to VAVEL USA for live coverage of the Major League Soccer Playoffs.
What do think about our match tonight? Send us your thoughts at @VAVEL_MLS.
The biggest key to this series will be if the Sounders can contain the speed of the FC Dallas attack especially Fabian Castillo. If Leo Gonzalez is not able to go today, the task will be placed on the shoulders of rookie Oniel Fisher.
There is really only one question mark for FC Dallas as they are waiting to see the status of Kellyn Acosta. Acosta has been dealing with a left hamstring strain recently. FC Dallas manager Oscar Pareja told the media that he is "on track" to being available to play.
Seattle could also be without left back Leo Gonzalez and utility infielder Brad Evans who both suffered injuries during the knockout round match on Wednesday. They are both listed as questionable.
When asked on Saturday about the possibility of Alonso appearing, Sigi Schmid said, "We're always going to hold out hope, but his progress is coming along slower than we expected."
Tonight's match though will be a little different as the Sounders will be without one of their key players and could be without two more. Midfielder Osvaldo Alonso is doubtful to play tonight while he is trying to recover from a groin injury.
Since that match, FC Dallas has earned just 1 point in 6 matches at CenturyLink Field while being outscored 15 to 4.
Winning at CenturyLink Field has not be easy for FC Dallas. It has been almost four-and-a-half years since Dallas has come away with three points after a trip to the Emerald City. Their last victory came on May 25, 2011 when an 18th minute goal from Orlando City fullback Brek Shea would be the difference in a 1-0 win.
Obafemi Martins and Leo Gonzalez would add the insurance goals to pad the 3-0 win for the Sounders.
Seattle manager Sigi Schmid shook things up at halftime when he brought on Brad Evans to replace Gonzalo Pineda in the central midfield. The move would pay off soon as a key tackle win and distribution from Evans would find Neagle open at the top of the box. Neagle fired a bullet past Dan Kennedy to give Seattle a 1-0 lead.
Just a few minutes later, Kyle Bekker saw his point-blank shot saved by Seattle goalkeeper Stefan Frei. That play was set up by Dallas forward Blas Perez who fed a very high quality ball to the feet of Bekker.
The clubs met for the second and final time on June 13th from CenturyLink Field. FC Dallas came out as the more aggressive team in the first half. Fabian Castillo created the first big opportunity in the 28th minute after he sped by Zach Scott on the counterattack. He got himself into space before firing his shot square into the post.
Both teams would go in separate directions between their two meetings. The Sounders would start to get their injured players back going on a stretch where they would earn 22 points in their next 11 games to put them at the top of the Western Conference. Dallas would only earn 12 points in their next 10 games which included 4-0 losses to both Sporting Kansas City and the Colorado Rapids.
Kellyn Acosta's 17th minute red card looked like it would be the break that Seattle needed on the road. The Sounders could not muster up any offense though from their attack led by Chad Barrett. In fact, neither team would find any offense as they would both fail to even find the target with a shot.
The first match came all the way back in March from Toyota Stadium where the clubs played to a 0-0 draw. It was a very difficult match to match as both sides were missing key players due to injury or international duty. The Sounders were without Clint Dempsey, Marco Pappa, and Obafemi Martins while Dallas was missing Blas Perez and Moises Hernandez while Mauro Diaz was a late scratch.
Seattle and Dallas have met twice this season with the Sounders holding a four points to one advantage.
It has been an exciting playoffs to this date and we expect that to continue tonight from the rainy Pacific Northwest. The rain has been coming down in buckets over the weekend, the forecast calls for a 40% chance of the good ol' Seattle Sunshine during the match tonight
This will be the final match in our Live MLS Cup Playoff Quadruple-header here on VAVEL USA.
Good evening and welcome to Whose MLS Cup Is It Anyway? Where the player acquisition rules are made up and your regular season points don't matter. We come to you live from CenturyLink Field for the first leg of the Western Conference Semi-Final series between the top-seed FC Dallas and the four-seed Seattle Sounders FC. My name is Matthew Evans and I will be your host.