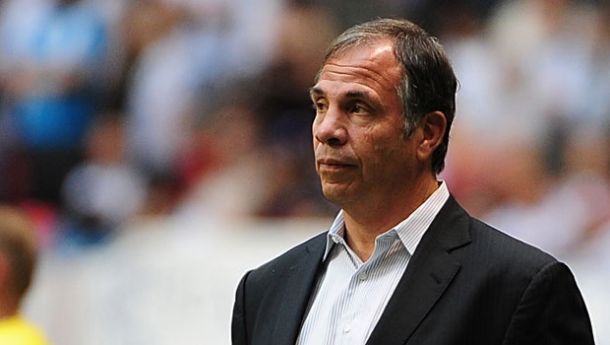 The LA Galaxy crashed out of the 2015 MLS Cup Playoffs in the Knockout Round against the Seattle Sounders at CenturyLink Field. Even with the additions of Giovani Dos Santos and Steven Gerrard, LA was not able to stave off their humiliating elimination from the playoffs. It is clear that changes will have to be made from across the field, but especially in the defensive side.
"This is, like, the first break I think I'll have in seven years on this job," LA's head coach Bruce Arena told Scott French of MLS. "So I don't think it will hurt me, [and] I think the last three or four years have been real hard on our team. It's been year-round [the past few years], so I think this break is going to be good, but there's also a lot of decisions we have to make in terms of deciding how we'll piece together our team next year."
There is no escaping how badly the Galaxy fell apart at the end of the season. In their final eight matches they only won one game, while the defense conceded 18 goals in the process and dropped from first place of the Western Conference to fifth place. That was a complete change from the club that went (W-D-L) 4-0-1 in the month of August, when the Galaxy scored 13 goals and they only gave up five in the process. However, the slump for LA began after the 1-0 road defeat to the San Jose Earthquakes to close out the month of Aug.
It is no secret that the main issue for this club is the defense. LA's backline began to crumble after Panamanian international goalkeeper Jaime Penedo left abruptly at the end of July. Arena and the Galaxy panicked and went for veteran and former Galaxy keeper Donovan Ricketts. The 38-year-old keeper's second stint in LA started off well in August, but in September and October his decision making and reflexes started to slow down dramatically.
Arena will have to decide whether to let 26-year-old prospect Brian Rowe or Brian Perk take over the starting job in between the post. One sure thing is that Ricketts is not the solution for the Galaxy. In his current form the former Jamaican international is not even a stop gap solution for LA.
If one of the two youngsters is to take over, the transition will have to begin this offseason. Perk sat out this season after dislocating and fracturing his left ankle in March. He had a surgery the same month which was successful but forced him to miss the entire MLS season.
On the flip side, Rowe saw action this season in MLS and in the CONCACAF Champions League; he only lost one game in nine matches played. This season Rowe went 3-1-1 while only conceding five goals and earning two shutouts in league play while going 2-2-0 and only conceding three goals in CCL action.
These two keepers have been in the shadows of Ricketts and then Penedo. However, for the first time they have a chance to emerge as the regular starter for the five-time MLS Cup champions. At the end of the day, it will be up to Arena if he wants to give one of them a vote of confidence or bring another keeper to the squad.
"We're clearly disappointed where this season ended," Arena told French. "It's all part of it. You don't win all the time – I know that. ... I don't think we played well [down the stretch]. We were, statistically over the last three games, the worst team in the league. We gave up 10 goals in our last three league games, two regular seasons and one playoff game, and some [were] gifts."
Another glaring problem is at center back. After multiple years of attempting to have U.S. international Omar Gonzalez and Leornardo anchor the defense, it is time for Arena wash his hands and move on to a different project. At times the pairing showed flashes of brilliance, but for the majority of the time they were exposed. This season the LA defense allowed 46 goals; this was their backline's fifth worst season dating back to 1996.
Yes, they finished with a +10 goal differential this campaign. However, when LA has successful seasons the defense usually never allows more than 40 goals. Los Angeles has won five MLS Cups (2002, 2005, 2011, 2012 and 2014) and four Supporters' Shields (1998, 2002, 2010 and 2011) in their 20 year history. However, these years all have two things in common: strong center backs and a commanding goalkeeper.
At this moment the Galaxy does not have either a strong keeper or a leader at the back. Since veteran Todd Dunivant spent nearly the entire season recovering from injuries before eventually retiring, LA has no real leader in the back. As a result of that, in the matches that matter their defense crumbled. LA fans wound up with a comedy reel of defensive blunders in the game against the Sounders.
LA's reserves in that position are Tommy Meyer, Dave Romney and at times A.J. DeLaGarza. Meyer and Romney are both players with potential, but might need some more time to take over either Gonzalez's or Leonardo's job full time.
The best fit is the 5'9" DeLaGarza; he already has experience with both of them. Additionally, he and Gonzalez have history of playing with each other since their college days at the University of Maryland. They also won the 2012 MLS Cup together and the 2010 and 2011 Supporters' Shields.
However, now there is a bigger dilemma in LA's squad. Gonzalez is entering the final year of his contract. Will the Galaxy want to resign him? Or will he even want to stay in LA? These are question that Arena will have to get the answers as soon as possible. If the U.S. international wants to leave, then Arena needs to begin the search for a replacement right away or prepare to pass the torch to the next in line.
The defensive problems are sure to give the Hall of Fame coach a migraine, but he will still need to address the offensive problems as well.
The stacked midfield of LA contains: Gerrard, Sebastian Lleget, Gyasi Zardes, Juninho, Jose Villarreal, Bagio Hušidić, Mika Väyrynen, Ignacio Maganto, Rafael Garcia and Kenny Walker. The Galaxy has so many players to choose from and not enough spots on the field to put them in, which causes a real issue that an offseason will be able solve.
However, everything changed when the rumors of Gerrard possibly heading back to his old club, Liverpool F.C. for good began to surface. He was supposed to just go and train with Liverpool until he is due back to LA, but what is now being reported is that Gerrard and new manager Jurgen Klopp have had multiple conversations about him rejoining Liverpool in the January transfer market.
If this occurs, the Reds will have to buy him from LA since the Galaxy has made it clear that they are not interested in loaning him. After a rough first season in MLS, the former England captain might be getting ready to head back across the pond before the final year of his contract with LA runs out. If that happens, then Arena might only have to make slight adjustments to LA's midfield.
With the addition of all the new pieces to their midfield, the once lethal Galaxy's offense slipped into a coma. In the final two months they played six regular season games and one playoff match. In that stretch LA was outscored 9-16 and went an abysmal (W-D-L) 1-2-4. An off season with all the pieces together might be the remedy for the five-time MLS Cup champions to improve, with or without Gerrard.
In the forward position the main question is always: will this be the year Robbie Keane begins to slow down? The 35-year-old Irish international has been playing professionally since 1997 when he began his career for the Wolverhampton Wanderes at the age of 17.
Since he arrived in Los Angeles in 2011, he has made 108 appearances and has scored 73 goals in the process. Life has been good for Keane in LA, but no matter what father time will always catch up. The next man in line in case the Irishman loses a step or two is the Mexican international Dos Santos.
Dos Santos arrived in MLS this season in the month of August when he made his debut for the Galaxy at the ripe age of 26. The Mexican international is at the start of his four and half year deal with LA, so that will bring Arena some peace of mind. However, after Dos Santos and MLS journeyman Alan Gordon, there is a gap in experience to the rest of the strikers.
Youngsters Bradford Jamieson IV, Raul Mendiola and Jack McBean are the next forwards in line. They are talented and when given the chance to play they perform well. However, they rarely saw action in MLS unless injuries occured. They gained a lot of experience in the CCL group stages and in friendlies. They've also gotten experience as starters in the United Soccer League (USL) with LA's farm team, the Los Angeles Galaxy II.
Now what Arena needs to do is find a way to get those youngsters playing time with the first squad regularly, and not just in the CCL.
Another option for Arena in the forward position is U.S. international Zardes. He can easily be transitioned into a striker, although he is often deployed out wide, particularly since Dos Santos arrived. Arena has normally used the U.S. international as a right sided midfielder. It appears that he likes Zardes in that position and he will most likely not be moved.
However, his complications in the forwards and midfielders position are minor compared to the identity crisis at the defensive end. Arena will have to move fast because the 2016 calendar is going to be busy. They first have their regular duties in the MLS season, and then the start of the knockout stages of the 2015-2016 CCL. The Galaxy will begin their run towards a first potential Champions League title at the end of February with a home and away series against Liga MX side, Club Santos Laguna.
With a busy offseason ahead for Arena, he is going have to get to work right away to solve these answers before the team reports back to training camp.