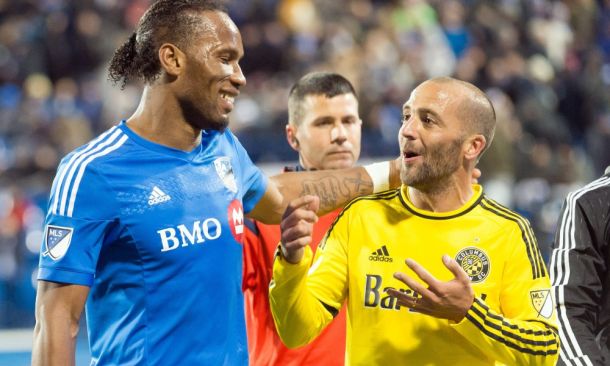 An emotional rollercoaster of a match ends with Crew SC defeating the Montreal Impact, 3-1, 4-3 on aggregate. My name is Tyler Fisher, see ya next Sunday! Now, I will guide you from a chilly night in Columbus, Ohio to a rocking BC Place where the Vancouver Whitecaps will take on the Portland Timbers!
GAME OVER! CREW SC ADVANCE TO THE EASTERN CONFERENCE FINALS!
120' Johan Venegas boots the ball high.
One minute of added time.
119' Crew SC are awarded a throw in. Score still 3-1, 4-3 on aggregate.
117' Piatti heads down a ball, but Clark is there to make the save.
117' Corner kick Impact.
116' Piatti goes upper 90, but it sails wide. Ladies and gentlemen, this is a game we have here!
114' Impact back in action, but great defending by Crew SC. Crew SC also use their final sub. Mbwati makes way for Tyson Wahl.
111' GOAL! KEI KAMARA! CREW SC NOW LEAD 4-3 ON AGGREGATE! WHAT A GOAL!
Kamara has been slipping a lot on the field. Not sure the cause of it.
107' Impact with a good opportunity, but can't convert.
105' Second half of extra time is underway.
The Impact are all out of substitutions. Crew SC have one left. Expect them to use it in the second half.
First half of extra time is up. Score still 2-1, 3-3 on aggregate.
104' Kamara misses a wide open McInerney. Now, a corner kick Crew SC.
103' McInerney takes a shot, and it hits the side netting. No deflection. Goal kick Impact.
102' Parkhurst defends very well, and Trapp is there to take the ball.
NOTE: There is also no golden goal. If on team scores, we must play both halves to the full extent. If score remains 2-1, 3-3 on aggregate, we will go into penalty kicks.
98' Kamara slips nad hits the deck hard. No medical staff is called and he's able to continue.
96' Ciman knocks the ball out of bounde for another Crew SC corner.
94' Corner kick awarded to Crew SC.
93' Afful performs a bicycle kick right target, but Bush is there to clean it up.
NOTE: Away goals do not matter in extra time.
91' The first half of extra time is underway. Teams switch ends.
END OF REGULATION. There are now going to be two minute halves. 30 minutes to decide a winner.
90'Camara sees yellow for a foul on Mbwati.
90' Both medical personnel are called into action for a heavy collision just inside the penalty area.
Three minutes of stoppage time. If score remains the same, we go into two 15 minute halves.
90' Corner kick awarded to Impact.
88' Impact now knocking at Crew SC door. Tension is growing between the two teams.
Impact also made their last substitution. Johan Venegas comes in for Oyongo.
85' YELLOW CARD. Donadel gets a yellow card for time wasting.
82' Kamara on a dangerous counter attack. He shoots but it sails out of bounds for a goal kick. Crew SC knocking at the door of the Impact defense.
Tonights attendance here at MAPFRE Stadium: 19,026.
80' Finlay has come alive, and is looking for another. A chip shot, just over the crossbar. So much emotion is pumping through the players' veins.
77' GOAL! Ethan Finlay ties things up on aggregate, and gives Crew SC a 2-1 lead. Score 2-1, 3-3 on aggregate.
77' Crew SC use their second substitution. MaBwati comes in the game for Justin Meram.
76' Parkhurst gets whistled for a foul, and he is livid. Free kick Impact.
74' Crew SC use their first substitution. McInerney comes in for Tchani.
73' Impact burn their second sub. Bernier makes way for
67' PENALTY! Finlay is taken down in the box! Ciman is the suspect, and Kamara is the spot taker.His shot ... SAVED! Impact still in the lead.
66' Meram finds Finlay and he heads the ball right to Bush.
65' Sauro shoots, but its deflected and cleared out from danger.
Here come Crew SC firing back with all their might. Corner kick.
63' Fans holler for a yellow card as Toia launches the ball the opposite way. No card given.
The Impact have outshot Crew SC 14-8.
58' A few chances made by the Impact and Duka fires a shot wide of the net. Almost 2-1 Impact.
57' A beautiful heel touch from Drogba but its sweeped up by Clark.
54' Drogba heads a floater on net, but its saved by Clark.
50' Free kick in a dangerous spot for Impact. Ball is played in, and handled well by keeper Steve Clark.
49' Sauro is down and in pain. Ball is played out. Replay shows Drogba may have stepped on his ankle.
48' Evan Bush wipes out his own teammate. Ball cleared away.
Second half kickoff is underway!
45+2 One last attempt to end the first half is a free kick to Crew SC. Ball is cleared out, and the halftime whistle blows. 1-1 (2-3) Impact leads on aggregate.
45+1 Two minutes of added time in the first half.
43' Impact now gaining poossession and playing in Crew SC defending half. Score still 1-1 (2-3)
40' GOAL! Dilly Duka puts it to his former team from a corner kick and ties it up at 1-1. Impact now lead 3-2 on aggregate. This game is changing dramatically.
38' Handball Crew SC. Free kick Impact.
36' Piatti hits another one time shot but it goes wide of the net. Goal kick Crew SC.
Sauro will need to watch his play for the rest of this game, hoping to not get another yellow.
29' Forward Ignacio Piatti hits a well shot on target, but it sails just over the net. And once again, Drogba is down. Defender Gaston Sauro is booked, and will not be able to play in leg one of the Eastern Conference Finals, if Crew SC were to advance.
It's evident to note, and to see firsthand, that Crew SC have made a tactical adjustment since leg one.
24' Crew SC dominating possession this first half.
22' A shot from Justin Meram is saved by Evan Bush. Ethan Finlay with another attempt, and that was also saved by Bush. Great sequence of events unfolding here.
20' Afful draws multiple defenders from the Impact. Toia needs to stay on his foot. Another mishappen and Afful is in the 18 yard box with an opportunity.
Crew SC playing better than last sunday in Montreal. This kind of pace and agility is what they need.
15' Corner kick awarded to Crew SC. Ball gets deflected out of bounds for a Impact goal kick
13' Multiple events within a 10 second span. Kamara hits the crossbar, almost 2-0 to the home side, Drogba still down, now walking off the field.
The goal by Kamara is what Crew SC needs.
11' Foul called on Harrison Afful for a foul on Didier Drogba. Boos ring out from the crowd.
The atmosphere here at MAPFRE Stadium is simply incredible. Fans are engaging in everything. Truly fascinating.
8' Crew SC attacking from the corners. This is a special spot where they can be very dangerous from.
Crew SC showing that they want the win at home. What. A. Start!
4' GOAL! Kei Kamara opens the scoring with an assist from Waylon Francis! Score 1-0 (2-2)
3' Great free kick taken; Ball falls to Ethan Finlays feet and a shot but it goes just wide of the net.
3' Crew SC are granted a free kick about 29 yards from goal
KICKOFF
5:09 PM EST: We'll be right back with the walkouts, and national anthems!
5:05 PM EST: In agreement with another writer for VAVEL USA, Liam McMahon, it's fascinating how game time is set at 5:00 PM EST, when in reality kickoff won't happen until 5:15 - 5:20 PM EST.
5:03 PM EST: Midfielder Wil Trapp hyping up the Nordecke faithful.
4:59 PM EST: UPDATE: Bradley Wright-Phillips for New York Red Bulls has just sealed the game against DC United. Score 1-0 (2-0) on aggregate. DC United has now been eliminated from the 2015 Audi MLS Cup Playoffs. The Red Bulls will now verge their eyes to this match here tonight, in the wake of who they will play for the Eastern Conference Finals.
4:57 PM EST: Update on United - Red Bulls: Four minutes of added time to that match. Score still 1-0 and Bill Hamid came up with a huge save!
4:55 PM EST: Impact will wear their road white kits. Crew SC in their all black kits.
4:52 PM EST: Currently watching the remainder of DC United vs New York Red Bull match. Score is 0-0 (1-0 ). Red Bulls lead 1-0 on aggregate with an away goal.
4:48 PM EST: In the mix of the technical difficulties, the teams had taken the field and began their warm-ups.
4:40 PM EST: Sorry folks. Technical difficulties coming from my part as the pictures haven't popped up. Crew SC lineup: Clark; Francis, Sauro, Parkhurst (c), Afful; Tchani, Trapp; Finlay, Higuain, Meram; Kamara. Impact lineup: Bush; Oyongo, Toia, Ciman, Cabrera; Donadel, Mallace, Bernier (c); Drogba, Piatti, Duka
4:35 PM EST: Just under half an hour before kickoff!
4:33 PM EST: And here is the starting lineup for Montreal Impact.
4:26 PM EST: Here is the starting line up for Columbus Crew SC.
4:21 PM EST: The pressbox here at MAPFRE Stadium is crowded. Very entertaining to talk to media from Montreal Impact as well. Great group of guys!
4:03 PM EST: No news coming out of either teams official Twitter feed.
4:00 PM EST: Fans are filing into the stadium. We are about an hour away from kickoff.
3:43 PM EST: In a short story behind this banner, forward Didier Drogba happened to leg lock Crew SC keeper Steve Clark in the 87th minute of play in their leg one fixture. The "Drogba Leglock" is simply a joke for a "Drogba Legend" banner that is seen at Stade Saputo in Montreal, and Stamford Bridge at Chelsea FC.
3:40 PM EST: Supporters of Crew SC mock a very familiar banner known to all Chelsea FC fans, and fans of the Montreal Impact. Picture coming.
3:29 PM EST: Tyler Fisher here! I'm all settled in here at MAPFRE Stadium and patiently awaiting kickoff.
The Crew will also look to their fans to rally behind them, and push them forward in hopes of winning their second MLS Cup in franchise history. For Montreal, this would be their first.
In order for Crew SC to advance, they need goals. Goals galore for the black and gold. Defense can also play a part. Trying to counter a lethal counter attack is hard. Speed, pace, and creativity combined make up the Impact's counter attack.
In order for the Impact to win and advance, they will have to use their deadly counter attack force. If all three forwards Dominic Oduro, Didier Drogba and Ignacio Piatti start, they can string together very creative passes and can catch Columbus' defense sleeping and create chances.
And here is the projected lineup for the Montreal Impact (4-3-3)
Bush; Oyongo, Cabrera, Ciman, Toia; Bernier, Donadel, Reo-Coker; Oduro, Drogba, Piatti
Here is the projected lineup for Crew SC (4-2-3-1)
Clark; Afful, Sauro, Parkhurst, Francis; Tchani, Trapp; Meram, Higuain, Finlay; Kamara
Here is the officiating crew for leg two.
REF: Armando Villarreal. AR: Corey Parker, Craig Lowry. 4th: Jorge Gonzalez. Game time is set for 5:00 PM EST.
The winner of this matchup, will go on to face the winner of DC United and the New York Red Bulls.
The match coming sits Crew SC in the hot seat. In order to advance to the Eastern Conference Finals, they will need to score just one goal, and "park the bus" where they would look to go through on the away goals rule. The other option is to score more than one, and let in zero. Either way it's good for them.
The card wouldn't matter in the end, when Montreal won the first leg, 2-1, going up on aggregate by the same score. The series now returns to Columbus for the do-or-die match.
Controversy came into play as the game neared its end. Crew SC played the ball back to Clark, and Drogba was right on top of it. When the ball left Clark's feet, Drogba slide tackled the keepr to the ground. When Clark raised to get back on his feet, the Ivorian striker held on to the right leg of Clark and prevented him from continuing to play. Referee Chris Penso seemed to have waved play on after the tackle. It was when [possibly] the near assistant had Penso whistle the play back for the leg grab that Drogba ended up seeing a caution for his actions.
When the second half started, both teams seemed to have lost the 'umph' in their step. Players were getting yellow cards left and right. A couple of opportunities were missed, but the score remained the same. With about 11 minutes left in the second half, the Impact scored to give Montreal a 2-1 lead. Substitute Johan Venegas was the hero in leg one. A mistake by defender Michael Parkhurst saw Venegas in with a 2 v 1 counter attack. He then curled the ball past Crew SC keeper Steve Clark to give Montreal the advantage heading into the second leg.
The Impact got on the board just ten minutes later in the 37th minute, when Patrice Bernier leveled the score at 1-1. But still, Crew SC had the advantage with an away goal.
Crew SC got the dream start they wanted in the 27th minute, when midfielder Federico Higuain put the away side up 1-0 with a one time shot past Evan Bush. The unofficial credited assist went to Didier Drogba. Yes, "The King" headed the ball down and Higuain slotted the ball home. The table was in the opposition favor.
Now, the teams meet again, but on a bigger stage: The 2015 MLS Cup Playoffs. Last Sunday, the two teams met in Montreal again, with the lower seed hosting the first leg (Montreal in that case), and the higher seed hosting the second leg, (Columbus in this case).
During the regular season, the teams first met in Columbus, Ohio, at MAPFRE Stadium. Montreal left Columbus with a 2-1 victory and three points. Their second meeting at the Stade Saputo in Montreal saw an identical result when the Montreal Impact defeated Crew SC by a score of 3-0.
This is the fourth time these two teams have met. Two mettings came in the regular season, and the third came last Sunday when leg one was hosted in Montreal, Quebec.
Hello, and welcome to VAVEL USA's LIVE coverage of leg two of the Eastern Conference Semifinals in the 2015 MLS Cup Playoffs, between the Montreal Impact and Columbus Crew SC. My name is Tyler Fisher and I will be your guide through this do-or-die matchup. This match will bring the dramatics and tension, so sit back, relax, and enjoy!