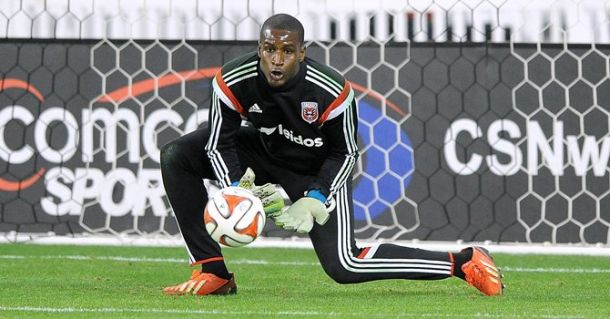 The New York Red Bulls are 90 minutes away from advancing to the Eastern Conference Finals. They currently hold a 1-0 aggregate lead against DC United heading into the second leg of the Eastern Conference Semifinals at Red Bull Arena. All New York has to do is not lose the match on Sunday and they will advance.
The Supporters' Shield winners took care of business in game one at RFK Stadium with captain Dax McCarty scoring the winning goal against his old club last Sunday. Now the Red Bulls are back home and feeling confident about their situation. In the 2015 MLS regular season, New York went (W-D-L) 12-2-3 at home and finished with a +17 goal differential.
New York faced their Atlantic Cup rivals twice at Red Bull Arena this season, and both times they came out victorious. They kept United scoreless in both games and scored a combined five times over the two matches. The Red and Black have not won a match in Red Bull Arena since 2012, when they eliminated New York from the Conference Semifinals with a 1-0 road victory.
Since that match, the Red and Black have only registered a point and a goal in six attempts at Red Bull Arena. The last time they scored at the Red Bulls home was 2013, in a game they lost 2-1.
For DC to pull out their first victory at Red Bull Arena since 2012 might be a bridge too far for the Red and Black this season. Life on the road for United this campaign has been rough, as they posted a meager 4-3-10 record and finished with an abysmal -15 goal differential. To make matters worse for them, two key starters will be entering this crucial game not up to speed.
United defender Sean Franklin (Achilles injury) and midfielder Chris Pontius (Right hamstring) have been listed as questionable for this match. However, with DC manager Ben Olsen needing a victory to advance, it is safe to say that both of these players will be on the field. The question is whether or not they'll be able to perform to their highest level.
Olsen will be facing a dangerous offense at Red Bull Arena. New York's goal tally of 62 was more than any other team in MLS. Red Bull forwards Bradley Wight-Phillips, Mike Grella and midfielder Lloyd Sam have combined for 36 of their 62 goals. New York has been even more productive at home, where they have dropped 35 goals on their opponents. For United to have any chance of advancing, they will need goalkeeper Bill Hamid to be heroic. Keeping a clean sheet will be imperative.
However, no matter how many shots he stops he will still need United attackers Chris Rolfe, Fabián Espíndola and Álvaro Saborío to capitalize on their rare opportunities. The midfield of New York will dictate the tempo, leaving the Red and Black to survive on the counter. So whenever Rolfe, Espíndola and Saborío get within striking range they need to trouble Red Bulls keeper Luis Robles.
Yet, even that might prove to be too tall of a task to complete for DC, since New York's defense finished with the fewest goals allowed in the East with 43.
Prediction: New York Red Bulls 4-0 DC United, (5-0 aggregate)
New York will score early and energize the home crowd that is thirsty for their first MLS Cup in franchise history. After that goal, United will be forced to go on the offensive and the Red Bulls offense will lay the hammer down and end the Red and Black's season.