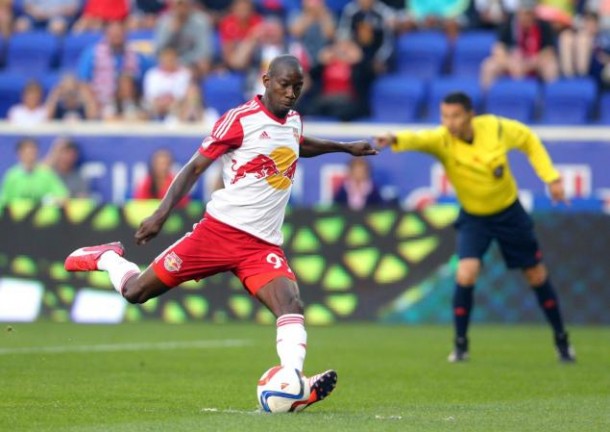 New York Red Bulls striker Bradley Wright-Phillips' MLS exploits have not gone unnoticed in his home country. In fact, so noteworthy have they been that the striker has been the subject of a number of rumors surrounding a potential short term loan move during the upcoming MLS offseason.
Wright-Phillips was the subject of a report from ESPNFC the other day which linked him to newly promoted Barclays Premier League side AFC Bournemouth. Bournemouth, by far the smallest club in the league, have struggled since making the step up to the richest league in the world. Although they spent big in the summer transfer window, star striker Callum Wilson tore his ACL early in the season. Bournemouth are now in desperate need of a man to bag goals for them, and it appears they've set their sights on the Red Bulls man.
However, Wright-Phillips does not appear to be as keen on the club as they are on him. He spoke to MLSSoccer.com on Friday after training and seemed to nix the idea completely. "I don't know anything about it. I don't know," said the man who wears number 99.
Although players often hide their intentions in regards to the transfer market, and BWP may well desire to focus solely on the rest of New York's season given that they've reached the Conference Final stage of the MLS Cup Playoffs. Yet, that is as close as you get to an unequivocal denial.
Jesse Marsch, his manager, also spoke out following training, saying essentially the same thing. "I haven't even spoken with Brad or Ali [Curtis, Red Bulls sporting director] about that, so that may give you some indication. I'm not surprised that there are teams that are interested in him, but that hasn't even been part of the discussion. We've all been focused on [Sunday's match]," said the 2015 MLS Manager of the Year.
The New York Red Bulls will take on the Columbus Crew at Red Bull Arena on Sunday evening in the second leg of the 2015 MLS Eastern Conference Final. The Red Bulls trail 2-0 on aggregate heading into the match.