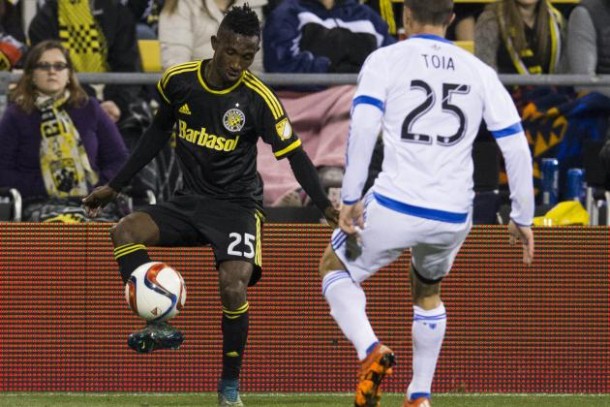 Throughout the season, we've seen Columbus Crew SC head coach Gregg Berhalter toy around with the starting lineup. We've also seen substitutes start in the role of a suspended player, more recently, Tyson Wahl started in the center back role for the suspended Gaston Sauro.
Now, if it hasn't become clear enough, Crew SC play a defending type formation in 4-2-3-1, and it has been almost the exact same since the beginning of the season. If these are the 11 players that can get you through a tough Montreal Impact side, and win a leg against the Supporters' Shield winners, the New York Red Bulls, why change it?
Here is the projected starting lineup for Crew SC in leg two of the Eastern Conference Championship.
Projected Lineup: Columbus Crew SC (4-2-3-1)
Clark;
Francis--Sauro--Parkhurst(c)--Afful
Tchani--Trapp
Finlay--Higuain--Meram
Kamara
If we were also to predict, the substitutes for this match, it would most likely be who we see most of the time, coming off the bench; A midfielder, and another striker. On the defensive side of things, there really isn't anything to change, unless fatigue kicks in. We saw that a few games ago, when defender Harrison Afful became fatigued and Tyson Wahl replaced him against the Montreal Impact in leg two of the Semifinals.
In the 69th minute, Crew SC will throw midfielder Cedrick Mabwati in the mix, and he will replace winger Ethan Finlay. Also coming off the bench, is striker Jack McInerney who will come into the match for Tony Tchani. The formation may end up switiching to an attacking 4-4-2, and will then, look like this.
Clark;
Francis--Sauro--Parkhurst(c)--Afful
Meram--Trapp--Higuain--Mabwati
Kamara--McInerney.
There's many possible combinations to try out, maybe even throwing in Icelandic midfielder Kristinn Steindorsson into the group who's coming off of the bench. But if the lineup is as the same, it will be the same as before. Berhalter knows what makes the team click, and he sure wouldn't change it now.