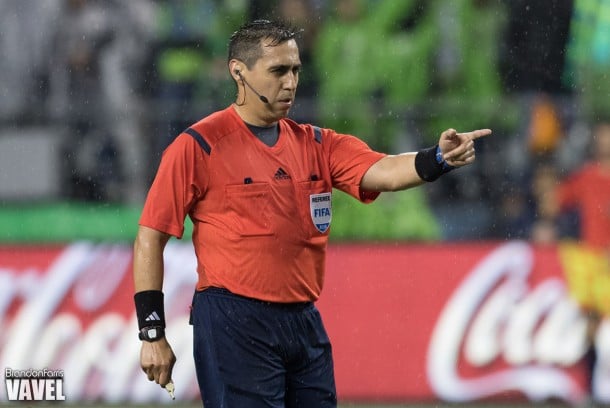 Jair Marrufo, 2008 MLS Referee of the year, has been selected by Professional Referees Organization (PRO) to be the center referee on Sunday for the 2015 Audi MLS Cup Final between the Portland Timbers FC and Columbus Crew SC.
This will be Marrufo's 21st game this season; so far he has called 421 fouls, issued 53 yellow cards and three red cards. Overall this will be the second playoff game of the 2015 MLS Cup Playoffs that Marrufo has taken charge of this post season. He was in charge of the knockout round match between the Seattle Sounders and LA Galaxy in October to open the playoffs.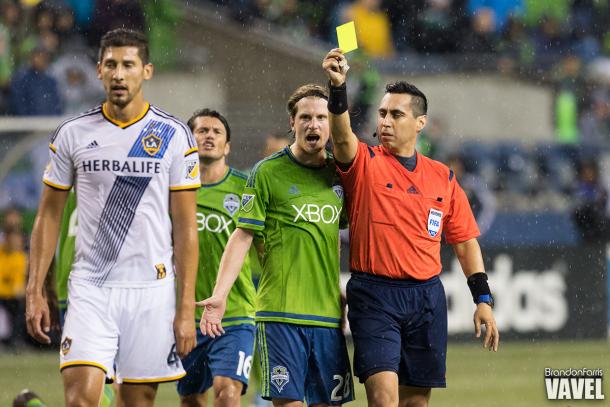 He is one of several PRO FIFA Certified center referees and will be assisted by Peter Manikowski as assistant one, who was an assistant referee in the 2011 MLS Cup, 2015 assistant referee of the year Corey Parker will be making his MLS Cup debut as assistant two. Chris Penso has been selected to be the fourth official, the same position he was in for the 2015 U.S. Open Cup final when he assisted Ted Unkel in Philadelphia for that exciting final and finally James Conlee will be the fifth official.
He was a surprise selection to some, but fits in perfectly for how MLS likes playoff games to be called. He is a very loose referee and plays advantage a lot which some fans don't like, but keeps the game moving.
Some coaches have also voiced displeasure about the way he calls his games. Some saying as much as it takes a player having a bone sticking out to get a call. But contrary to what that coach said, it is the belief of this writer that he is one of the best center referee's in MLS for the honor and will do a fine job of letting both teams play it out to get the result they need while enforcing the FIFA Laws of the Game.
This will be the highlight in Marrufo's career as it will be his first ever MLS Cup after starting his MLS referee career way back on May 10, 2000 when he took charge of the Colorado Rapids hosting the New England Revolution.
Overall, he bolsters an impressive resume that shows why he deserved the opportunity to control this match. He has participated as a referee in the 2008 Beijing Olympics, two Olympic qualifying tournaments, two U-17 FIFA World Cups, numerous MLS Cup Playoff games, 2014 Copa Central Americano, 2014 MLS All Star Game and finally the 2009, 2011, 2013 and 2015 CONCACAF Gold Cup tournaments.
The 2015 Audi MLS Cup kicks off Sunday at 4pm EST on ESPN where you can watch Marrufo and his crew handle this exciting match.