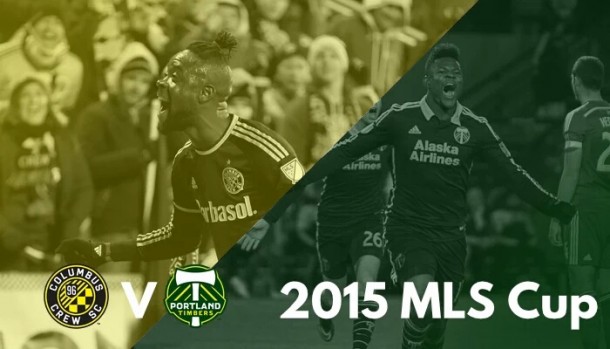 As the 2015 Audi MLS Cup gets closer we pooled together some of our writers and a couple special MLS beat writers to give a prediction for what's to come on Sunday when the Columbus Crew host the Portland Timbers in the 20th MLS Cup Final.
The format will be whose prediction it is followed by the score and why/how they think it is going to happen.
We start off with our two guest, Matt Pentz with the Seattle Times and Don Ruiz from the Tacoma News Tribune:
Matt Pentz: Columbus Crew 1 – Portland Timbers 0
In theory, this should be a thrilling game, with two attack-minded teams playing at the top of their game going at each other from the start. But cup finals rarely work out that way, and I think the Crew's home-field advantage ultimately makes the difference as they grab a second-half goal.
Don Ruiz: Columbus 2 – Portland 3
MLS Cup often goes to the team that gets hot at the right time. Timbers are ending the season as a very hot team.
Special Thanks to both Don and Matt for taking the time to share with us their predictions.
Now here are what our writers at VAVEL are predicting how the final will go:
Brandon Farris: Columbus 2 – Portland 2
Portland wins 5-4 in seven penalty kick rounds. Both teams are extremely hot right now, while Portland has been unbeatable on the road in this recent run including wins of 2-1 in Columbus, 5-2 in LA and 2-0 in Vancouver. The Timbers are a team that isn't afraid of traveling. But with it being MLS Cup, Columbus will fight hard and find that second goal to send the match into extra time and penalty kicks where Portland will win a second shootout in 2015.
Blayne Riffle: Columbus 4 – Portland 3
An early goal will open the match up and Columbus has been unstoppable at home. If Portland bunkers and plays ugly, this could be a 1-1 game.
Ivan Sanchez-Carrasco: Columbus 1 – Portland 3
Their win earlier in Columbus kick started their run to the finals. Plus after their epic game against SKC they seem like a team of destiny, and who am I to get in the way of destiny? She seems to get her way regardless.
Roberto Rojas: Columbus 2 – Portland 1
When you look at what players like Justin Meram and Ethan Finlay can provide on the wings and what Kei Kamara can provide as that deadly poacher of a striker, plus the sold out crowd and atmosphere at MAPFRE Stadium, it might intimidate Portland a bit.
Baxter Colburn: Columbus 1 – Portland 3
The Timbers' offense is running high and when they are all on the same page, it really makes it hard to any team to stop them. Darlington Nagbe and Fanedo Adi will play major roles in the match's outcome.
Marc McCormack: Columbus 2 – Portland 1
Portland gets a boost from what will probably be an impressive legion of away fans, but it's hard to bet against Kei Kamara right now.
Manuel Rodriguez: Columbus 1 – Portland 3
Higuaín, Adi (x2), Melano. The winner will be the team that manages to impose their style. Both are very effective with counterattack. The good momentum of Valeri with the speed of Nagbe and Adi will do much damage to Columbus.
Dylan Walsh: Columbus 2 – Portland 0
The home advantage is going to be extremely important and the Columbus trinity will be able to unlock the Timbers defense.
Jorge Belon: Columbus 2 – Portland 3
Both teams like to attack and are good at it. However, the Timbers just have too many play makers and an x factor from the bench. I see Nagbe and Valeri shaking up the sometimes vulnerable Crew defense.
Patrick Schmitt: Columbus 3 – Portland 0
Ethan and Kei run the show and end it early.
Nic White: Columbus 1 – Portland 2
Portland won earlier in the season in Columbus. Their attack right now is jelling and defense has been coming up huge. It will be 1-1 late and then Portland will score a late winner.
Liam McMahon: Columbus 0 - Portland 1
So often we head into finals and expect to see classy, attacking match-ups that disappoint. There's something about a big game that just leads to teams playing tentatively and looking not to lose as opposed to playing to win. I expect this one to be a tight, cagey affair between two well-matched teams. Between Diego Valeri and Darlington Nagbe, I think Portland will be able to manufacture a goal and nick the victory.
And with those predictions the Portland Timbers have just the slightest of advantage from this panel as the favorites to win the 2015 Audi MLS Cup by an 8-6 vote.