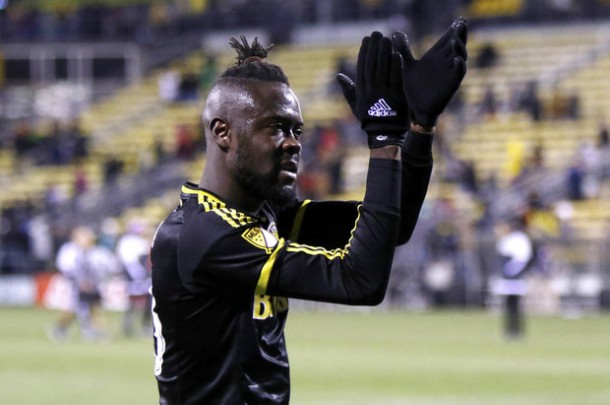 Columbus Crew striker Kei Kamara is a game-time decision for Sunday's Audi MLS Cup Final (4 PM ET, live coverage from VAVEL MLS) against the Portland Timbers. Kamara, who has been Columbus' go-to scoring threat all season long, landed awkwardly after skying for a header during training on Saturday. After landing, he appeared to sustain an injury to his right leg.
Columbus manager Gregg Berhalter spoke to the assembled media at the end of training, at which point in time he had yet to assess the striker. "I haven't had a chance to assess it yet," Berhalter said. "So, I'm going to go into the locker room and figure out what happened and figure out what the treatment is and if he's going to be available, but my guess right now is that he would be available."
It would be woefully disappointing for not just anyone connected with Columbus but anyone who will be watching Sunday's Final from a neutral point of view if Kamara can't go or is less than his best.
Following to the assessment from the Crew's medical team, the club's official Twitter account tweeted that he will be a game-time decision.
"Update: Kei Kamara suffered a right leg knock during Saturday's training session and will be a game-time decision on Sunday.

-@ColumbusCrewSC"
Berhalter went on to say that should his side be without the man who tied with Sebastian Giovinco in the MLS Golden Boot standings with 22 regular season goals, he will alter his strategy.
"It would change," Berhalter said. "The top goalscorer in the league would not be playing in this game, so it would affect us and we'd have to regroup, come up with another idea, another plan and try to execute it in a short period of time."
No one besides the Columbus medical team will now whether or not the league-leading goalscorer will be fit for the most important match of the season for quite some time yet, but we will bring the news as soon as the teamsheets are in.
Keep checking back with VAVEL MLS for the latest news from the 2015 Audi MLS Cup Final. Kick-off is scheduled for 4 PM ET tomorrow, and we will be bringing you live coverage from the match.