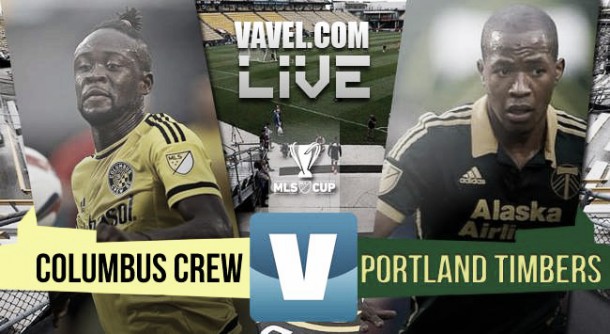 Thank you all for following VAVEL USA's coverage of Major League Soccer this season. Stay tuned for post match analysis and all MLS news to come this offseason. From MAPFRE Stadium in Columbus, Ohio, this is Josef Leizerowitz, signing off.
THE PORTLAND TIMBERS DEFEAT THE COLUMBUS CREW 2-1, AND CLAIM THEIR FIRST EVER MLS CHAMPIONSHIP!
ITS OVER!!!!!! THE PORTLAND TIMBERS ARE MLS CUP CHAMPIONS!!!!!!
90+ Free kick for Columbus goes out for a goal kick....
90+ Substitution: Jewsbury in for Wallace (POR)
90+ Yellow Card Diego Valeri (POR), Mohammed Saeid (CLB)
90+ Corner Portland. Ends up as a free kick.
90+ Four minutes of added time
90' Urruti in for Adi (POR)
89' Columbus gets close, but covered by Kwarasey. Adi down injured.
88' Desperation time for Columbus. They are pushing everyone foward.
85' Corner Columbus. Corner and ensuing shot are blocked.
82' Clark saves Adi on a mini break away. Corner Portland. Corner results in a Columbus counter attack.
81' Clark saves a Timbers' header on the goal line!
81' Corner Portland. The kick is headed to saftey.
79' Substitution: Saeid in for Meram (CLB)
78' Corner Columbus. Play results ina goal kick.
77' Close for Columbus! Great ball in but no head could reach the cross.
74' Chance Timbers! Nagbe with time on the top of the box, hits it high and wide.
72' Corner Timbers. Corner is cleared.
72' Substitution: McInereny in for Tchani (CLB)
71' Close for Portland, Adi hits the post! Corner Porland. The corner kick is cleared.
69' Corner Portland. Foul in the box and Columbus gets a free kick.
66' Higuain's free kick is high above the bar.
65' Yellow Card Alvas Powell (POR)
63' Substitution: Cedrick in for Finlay (CLB)
63' Higauin's shot is up and wide.
62' Corner Columbus. Higuain's corner is grabbed by Kwarasey.
60' Corner Portland. Portland hits the goalkeeper once, and also the crossbar! So close for the Timbers.
59' Substitution: Asprilla in for Melano (POR)
56' Back and fourth action here, both clubs getting high quality chances.
53' Point blanck chace for Melano is blocked by the Crew backline.
52' Columbus getting chances. Putting lots of pressure on Portland.
50' Portland has come out in a defensive shell so far.
48' Early free kick chance is saved by Kwarasey.
Second half underway
Halftime: Columbus Crew SC 1-2 Portland Timbers.
45' One minute of added time
43' Corner Portland. Corner is cleared.
40' Close chance by Adi. Corner Portland. Corner goes for a goal kick.
39' Another Columbus attack stopped by the Timbers defense
34' Yellow Card Harriaon Afful (CLB)
30' Columbus keeping possesion, looking to find the equalizer.
27' A great Crew attack is stopped on a close offside call.
24' A Valeri volley is saved by Clark.
22' Columbus comes close! Kamara's header is blocked, and Higuain's shot is just wide.
20' A Portland attack is nullified by a foul.
Columbus Crew SC goal scored by Kei Kamara in the 18th minute.
18' GOOOOOOOAAAAALLLLL COLUMBUS!
16' Columbus contnues to find no space in the midfield, and keeps giving the ball up.
13' A pentaly shout from Mearem and the crwod, but nothing doing.
11' Portland looking very dangerous on the counter, as the Crew have been sloppy early.
9' Corner Columbus. The corner leads to a foul and Portland escapes any potential danger.
Portland Timbers goal scored by Rodney Wallace. Goal comes off a officiating mistake.
7' GOOOOOOOAAAAALLLLL PORTLAND!
6' Chance Columbus! Higuain's shot deflected before reaching the goal.
4' Incredible start to the match. Columbus is now on the search for the equalizer.
Portland Timbers goal scored in the 1st minute by Diego Valeri, off a goalie error by Steve Clark.
1' GOOOOOOOAAAALLLLLL PORTLAND!
0' Underway in Columbus!
National anthem has been sung, time to start the match!!!
The players take the field for MLS Cup 2015!
Stage being set up for the prematch ceremonies.
20 minutes untill kickoff here in Columbus!
The players are out on the field for warmups, and the atmosphere is growing around the stadium!
The Starting XI for Columbus Crew SC: Clark; Afful, Parkhurst ©, Sauro, Francis; Trapp, Tchani; Finlay, Higuain, Meram; Kamara
Here is the starting lineup for the visitng Portland Timbers: Kwarasey, Powell, Borchers, Ridgewell ©, Villafaña, Chara, Nagbe, Valeri, Melano, Adi, Wallace.
In place at a very frigid MAPFRE Stadium in Columbus. Team new should becoming shortley.....
In the final training session before MLS Cup, Columbus Crew SC's leading goal scorer and best attacking forward, Kei Kamara, was on the ground for a few minutes at MAPFRE Stadium after jumping and landing awkwardly. "I haven't had a chance to assess it yet," Crew coach Berhalter told reporters. "So I'm going to go in the locker room and figure out what happened and figure out what the treatment is and if he is going to be available. My guess right now is that he'd be available." The Crew coach was asked whether he might risk playing Kamara even if he wasn't 100 percent. "I can't say that right now," Berhalter said. "I have to really assess what's wrong with him. I wouldn't put a player at risk. That's not my style. That's not our style of the club. We'll have to assess where he's at."
"I always feel in the programs I've been in, the clubs I've been in, I think it's always important to keep a piece of the past, always," Timbers head coach Caleb Porter said. "It's important to have guys who have been through the wars and suffered. I always believe that: You've got to have guys who appreciate that adversity and that journey. I think when you look at Jack and you look at Rodney and others, Chara, they have character."
The Portland Timbers' victory log travelled 2,400 miles from Providence Park in downtown Portland, Oregon, to MAPFRE Stadium in Columbus, Ohio, for the final. The log travelled on a large truck, despite the fact the Crew won't allow it in to the stadium for the match.
While they are the away side, expect to hear Portland Timbers' supporters all match long in the away end. The Timbers Army sold out their allocation of 900 seats for the final in just four minutes. "We want to show up and be louder and show more support than their home fans," said Timbers Army board member Fernando Machicado. "We want to show them up in their house."
"They're a good team," Crew SC's Ethan Finlay said to American Soccer Now. "Adi is a handful up top, and obviously Nagbe controls the midfield. We're a team that likes to control the tempo through our midfield. They're the exact same, I believe. They kind of play with wingers, just like we do, with a single forward. Saying that, I think I like our matchups. For myself on the right side going against Villafana, I like that matchup. I like Kei against whether it be Ridgewell, Paparatto, or Borchers. On any given day, [Higuain] can be the best on the field. We'll need him to have a big game. I like how we match up against them, for sure."
For the first time since the 2010 MLS Cup, both coaches will be in their first title match. It will also be just the second time two former MLS players have been the head coaches in MLS Cup.
Both clubs will be wearing their primary kits for the match, despite rarely using them at all during the postseason. Columbus will wear their famous yellow, and Portland will wear their chevron primary green kits.
The clubs met once during the regular season this year; a 2-1 Portland Timbers win on Sept. 26. Fanendo Adi scored a brace, in what became the catalyst for their MLS Cup run.
Crew SC is making their second appearance in an MLS Cup.Their first coming in 2008, when they defeated the New York Red Bulls 3-1 in Carson, Calif to win their first title.
The Portland Timbers are looking to become the 10th team in league history to win MLS Cup, and would become the third expansion team ever to take home the hardware.
Portland took a longer road to reach the final; beating Sporting KC in an epic penalty shootout, defeating Cascadia rivals the Vancouver Whitecaps, and advancing to MLS Cup after a convincing series win over FC Dallas.
The Crew, as the second seed in the Eastern Conference, beat both Montreal and the Supporter's Shield winners, New York Red Bulls, to reach MLS Cup.
Despite being the visiting team, the Timbers have nothing to fear. Portland is unbeaten in their last eight overall matches, and is 5-1-2 in their last eight road games. The Timbers did not lose a match in their run to MLS Cup 2015, winning two matches and drawing three.
The Columbus Crew is the hosts of the 20th MLS Cup, as they finished with a better goal differential than Portland.
Hello and welcome to VAVEL USA's LIVE coverage of MLS Cup 2015 between the Columbus Crew and Portland Timbers. My name is Josef Leizerowitz, and it is my pleasure to be taking you all through this evening's action. There's still quite a bit of time until kickoff, which is scheduled for 4:00 PM EST, so sit back, relax, and allow me take you through the build up to this one.