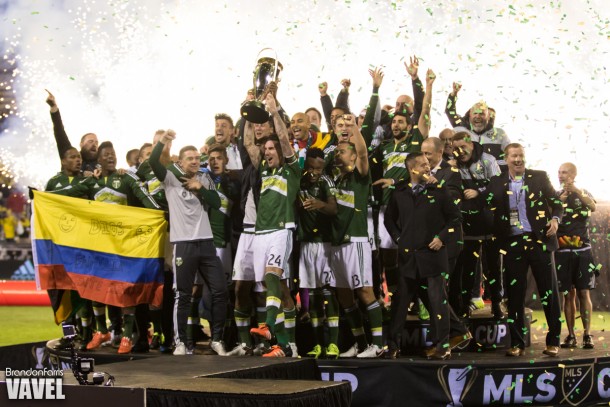 The reaction of the Columbus Crew SC watching the Portland Timbers lift the Major League Soccer (MLS) Cup on Sunday at MAPFRE Stadium was best summed up by Crew's forward Kei Kamara's stunned face. He sat on the field frozen in disbelief of what had just happened. Not only did the Crew miss out on their first MLS Cup since 2008, but Columbus became the second club in MLS history to lose the final as the host.
Here are the reasons why the Crew was not able to host the trophy for the second time in franchise history.
1) Rodney Wallace and Jorge Villafaña dominate left flank
The two of them did not allow Ethan Finlay or Harrison Afful to create anything on their side. If anybody ventured down their flank, they were followed closely until they either got rid of the ball, stole it, deflected it or forced the Crew players to commit a foul.
It was clear that their defensive efforts were getting to the heads of the Crew players. The best example of that frustration came in the first half: Villafaña was attempting to shield Afful off the ball and let it roll out of bounds for a Timbers throw in. Afful just ran the defender over and failed to get the ball while committing a foul.
On the offensive side the two of them wreaked havoc. Wallace scored the winning goal in the first half. However, he did not stop there. He was busy throughout the match running up and down the field while taking two shots on target. Villafaña nearly finished the game with an assist as it was his cross which Fanendo Adi sent into the post.
2) The Crew failed to keep a cool head
The game started with a huge error because Columbus goalkeeper Steve Clark decided to play with the ball in the penalty box. Instead of just blasting the ball out of the danger area he invented trouble. As a result, Diego Valeri took the ball off his foot and with less than 30 seconds on the clock the Timbers were ahead 1-0.
On a normal day with referees that were able to handle the pressure of the MLS Cup Final, Portland's second goal would not have counted. The play should have ended before Wallace scores. However, that was not the case and Crew midfielder Tony Tchani gave up on the play. The rest of the team momentarily stopped playing, and the Timbers were rewarded for continuing to play on by extending their lead to 2-0 lead.
The Tchani meltdown was just a part of their problem. After Clark's big mistake, the Crew failed to keep their cool. Yes, for the rest of the game the home club was on the attack. However, those first 20 minutes were enough for the Timbers to drop two goals and secure their first title.