As first reported by the Denver Post, it appears that Marco Pappa is on his way to the Colorado Rapids. Pappa was one of nine Seattle Sounders players to not have their contract option picked up last week. Colorado will be his third MLS club of his career.
Pappa, 28, was pulled from the 2015 MLS re-entry draft player pool just moments prior to the draft taking place. The Rapids had the number two pick in the re-entry draft and passed on selecting a player.
Pappa played for the Chicago Fire from 2008 to 2012. After the 2012 MLS season, he went to SC Heerenveen of the Eredivisie, the top level of soccer in the Netherlands. He only appeared in 11 games, starting one, between 2012 and 2013. In his brief time in the Netherlands, he scored zero goals and had to assists to his name.
Overall in his career, Pappa has appeared in 161 MLS games, scoring 35 goals and assisting on 27 others. While in Chicago, he scored 21 goals and notched 16 assists. He was the Fire's leading scorer in 2010 with seven goals and had five assists as well. In 2011, Pappa set a career high with his eight goals, assisting on two others. In his final season in Chicago, Pappa scored six goals to go along with five assists.
As previously mentioned Pappa only started one of his 11 matches with SC Heerenveen scoring no goals and assisting on two others. He found little success playing for the clubs reverse squad in the Beloften Divisie A, scoring one goal in eight appearance, seven starts.
Pappa found his way back to MLS and was acquired by the Sounders via allocation on January 31, 2013. He had mixed results in the early part of the season. In Seattle's second game of the season against Toronto FC, Pappa was careless with the ball and had it stolen from him in the midfield. The turnover resulted in Toronto's second goal of the game and it turned out to be the eventual game winning goal in Seattle's 2-1 defeat.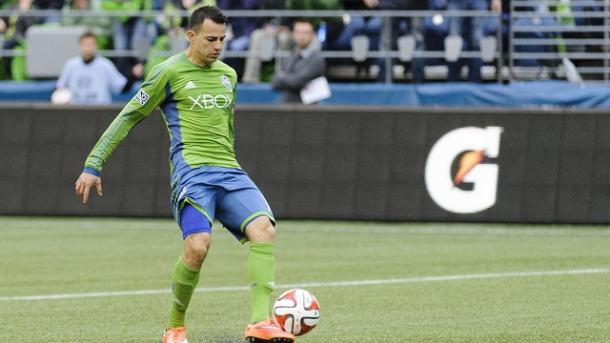 While scoring six goals to go along with five assists in 2014, Pappa will forever be remember in Seattle for his two goals he scored coming off the bench against the LA Galaxy in the 2014 MLS season finale. He scored both goals after he entered the match in the 73rd minute. He scored the first goal in the 85th minute to give Seattle a 1-0 lead. In stoppage time, he stole the ball from Galaxy goalkeeper Jaime Penedo and put the nail in the proverbial coffin and helped secure the Sounders first ever Supporters' Shield.
He had an up and down season in 2015. He only scored three goals and assisted on six others. During the summer, he was arrested for DUI and speeding and had to undergo an assessment by MLS' Substance Abuse and Behavioral Health Program. After he returned from his suspension, he scored one goal and added one assist in four matches.
Pappa is a very offensive minded player, but over the last two years has been seen tracking back on defense more than ever before. That is one of the things that Sounders head coach Sigi Schmid requires of his midfielders. Play defense as well as offense. He should be a great addition to a struggling Rapids team that has only won 17 games in two years.
It is not known yet what the Sounders received from the Rapids for Pappa's services. Stay tuned to VAVEL USA for all the latest on the MLS offseason.