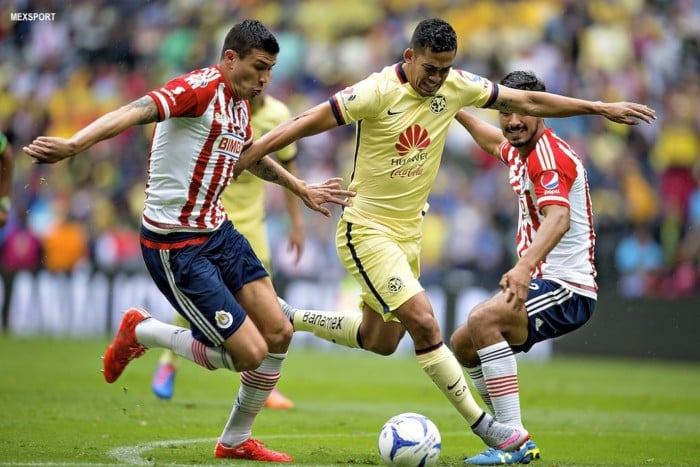 Some rivalries are a battle for a cities heart, others put a whole country at a standstill, and regardless the reason rivalries are part of what make soccer great. Here are the top five clásicos and derbies of Mexican soccer.
5. El Clásico Joven:
Roughly translated as the "Young Derby" between two of Mexico's "Big Four" and two of Mexico City's big clubs in Club America and Cruz Azul. Club America is one of Mexico's two biggest clubs and the most hated club in all of Mexico. Even though the first meeting took place in 1964, Cruz Azul still hadn't moved to Mexico City yet. That would come seven years later in 1971 and would begin playing their come matches in El Estadio Azteca, sharing a home with Club America. The derby took another level when Cruz Azul trounced America 4-1 in the final of the 71-72 season while also knocking them out of the Copa Mexico the same year all under one roof.
Today in modern Mexican soccer, the rivalry is as intense as ever with Cruz Azul as important of a team as Mexico has, and America being America. In 2013 they met in the finals of the Clausura finals, and in the first leg Cruz Azul took a 1-0 win at home. In the second leg, Cruz Azul took a 1-0 lead on the night and a 2-0 lead over the two legs, while also playing with a man advantage. Yet in the rain soaked Estadio Azteca, America would come storming back in the final five minutes, including a diving header from keeper Moses Munoz, to send the game into extra time. America would complete the comeback in penalties and give them their 11th title, and would leave Cruz Azul continue to wait for their first title since 1998. The all-time record between the two clubs in regular season and Liguilla matches are so tight with 41 wins each and 45 draws between the two clubs.
4. El Clásico Capitalino:
The Capital Derby, a battle of Mexico City clubs Pumas UNAM and Club America. When you're the most hated club in the country as soccer crazy as Mexico, you develop many rivals over time. Especially in such a soccer crazy city like Mexico City. Which is why it's no surprise that Club America find themselves on the list again, this time against the other Mexican city club and another one of the "Big Four" teams of Mexico.
America leads the all-time series with 40 wins in league and playoff matches, while Pumas have won 25 of the matches, and there's 42 draws between the two. The match is seen as the little brother - big brother match of Mexico City, with Club America as the team of wealth and the establishment and while Pumas is the team of the University, middle class, and intellectuals. In the 80s, the rivalry was close to its peak when they faced off three times in the finals with America winning two of the three matches. Mexico City stops in its tracks when these two rivals face, while you can feel the high intensity on the field. Every win from Pumas feels like a win for the little guys, while an America win feels like big brother taking what's theirs.
3. El Clásico Tapatio:
Mexico's second biggest city holds a rivalry that goes deeper than dislike and championships. This is Mexico's longest going rivalry, one that will reach its 100th year anniversary of Chivas De Guadalajara and Club Atlas doing battle for the heart of Los Tapatios (people from Guadalajara). While Chivas have won 11 domestic title to only one for Atlas, the two clubs are two of the best youth academies in Mexico. This means that much of the rivalry and dislike for each other starts at the youth levels until they finally reach the first team. Legend has it that Atlas won the first match an astonishing 18-0, while there is no fact to back up the story.
While Chivas have dominated the rivalry in terms of championships, in recent times while they've battled relegation, Atlas has been reenergized with new owners and a flux of money. They are now able to compete at a more consistent bases with their rivals. In the Clausura 2015 Liguilla, when the two clubs met in the quarterfinals, it was a first half hat-trick in the second leg by Marco Fabian that enraged Atlas fans so much that the game was stopped for almost 20 minutes as fans tried entering the field.
2. Clásico Regiomontano:
In terms of overall quality in today's Mexican soccer, there might not be a better rivalry right in Liga MX than El Clásico Regiomontano between city of Monterrey rivals FC Monterrey and Tigres. The battle between the two teams of Mexico's third biggest city really puts a city on hold. These are two of Mexico's most loyal fan bases, and around the nation the city of Monterrey is known as Mexico's most loyal soccer city with the love each fan base has for their own team. While both teams only have a handful of titles each, what really is setting this rivalry apart is the quality on the field the recent years.
In the past decade, both teams have been two of Mexico's most successful clubs with each winning two league titles during that time. Also during that time Monterrey have won three CONCACAF Champions League, and Tigres were finalist in the Copa Libertadores this past summer. All that success has made this rivalry more than just a north region rivalry and one that transcends Mexico and soccer in all of North America.
1. Clásico Nacional:
While the best quality of soccer when it comes to two rivals is played up north in Monterrey, no rivalry still means as much to the Mexican people than when Club America and Chivas De Guadalajara meet. They are still the two most successful clubs with Chivas holding 11 and America holding 12 titles. They are also the two most popular clubs as well. While in recent times the rivalry is more about pride than anything else with Chivas winning 9 of their 11 titles before 1990 and America winning the majority of theirs in the 80s.
The rivalry goes deeper because it's Mexico's two teams from Mexico's two biggest cities. It's the club that only plays Mexicans in Chivas, while Club America have been known for buying the best foreigners they can afford to help win titles. In 2005, an absolute barnburner took place when the teams would play out a 3-3 game that saw Chivas comeback twice in the match. Even if neither of these teams are ones you root for, you still have a horse in the race because they're either your second team, or the one you hate the most. When Chivas and America play, the league standings are placed aside, a country is at a standstill, and the most important thing at play is bragging rights and the pride of the country.
Keep following VAVEL USA Soccer for more of our Liga MX previews.
Monday: Intro To Liga MX
Tuesday: Know The Teams