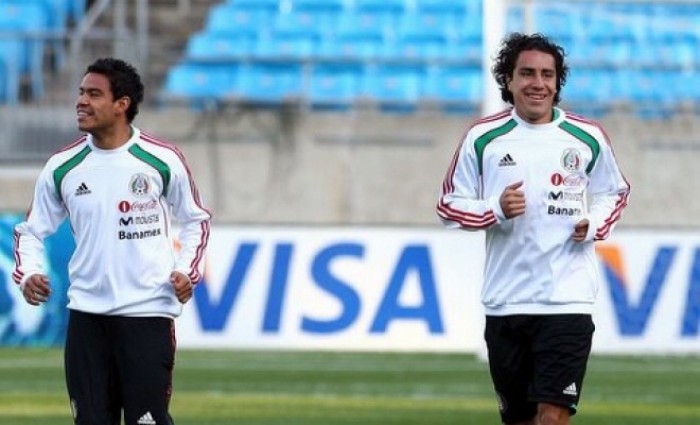 As Rafael Marquez makes his triumphant return to boyhood club Atlas after a career that has spanned almost twenty years, five countries, and countless trophies and winners medals it's easy to forget how hard it is to have that longevity. As Marquez begins his final phasing out of the Mexican National team and Mexican soccer, the era now belongs to those in their prime, Captain Andres Guardado, Hector Moreno, and Javier Hernandez to name a few.
A decade after the first success for Mexico in the youth level, the 2005 U-17 World Cup in Peru, El Tri is now starting to see the first batch of those players hitting the peak on what their primes are supposed to be. Moreno at 27 has carved an eight year European club career and one that has seen him be Mexico's most consistent export in that time. Hernandez, also 27, is one of Europe's hottest strikers at the moment. While Carlos Vela has seen a dip in form recently, he's still one of La Liga's most influential players on his day. Of course there's also Giovani Dos Santos who's seen his career take many twist and turns, he still produced and created some of Mexico's most memorable moments over that time. All five of those players, Guardado, Moreno, Dos Santos, Vela, and Hernandez were all part of Mexico's 2010 World Cup roster at the ages of 21-23. At the time, there were also two other players in that core group of young talented players that played significant roles during that time that were supposed to be corner stones for Mexico for years to come. Yet in what's supposed to be their prime, Efrain Juarez and Pablo Barrera have each had mirroring careers that find them far away from wearing the colors of El Tri any time soon.
Both started out at capital club Pumas in the strong Mexican City youth academy. From there they bust on to the Mexican scene by helping Mexico to the famed first U-17 title, playing on the same side on the field with Juarez as a right back and Barrera on the right wing. For Juarez, his performance was strong enough that FC Barcelona would snag him up. After spending two years with the Spanish club's youth and reserve team he returned to Pumas. There, he and Barrera worked their way up Pumas to the first team which included winning the Clausura title in 2009. While Barrera had earned two caps before the summer of 2009, it wasn't until that time that he and Juarez were both called up by new coach Javier Aguirre to participate in the 2009 Gold Cup. A young team of Mexican players won the trophy topped off by the 5-0 drubbing in the finals to the USA. A few weeks later Juarez would again play a big part in beating the USA when his run that beat Landon Donovan deep into the box in the last ten minutes of the match lead to the game winning assist and another victory over their bitter rivals.
Over the next year and in the lead up to the 2010 World Cup, Juarez became an instrumental part of Mexico whether it was on the right side of the defense, or just in front of the defense as a defensive midfielder. Barrera became a Mexico super sub as his lighting speed and quickness was the perfect combination to attack an already tired defense. That wasn't more evident than in Mexico's second group game at the World Cup against France when his blistering run into the box lead to Eric Abdiel fouling him in the box and to a Mexico PK.
After the strong showing at the World Cup, both players made their way across the pond as Juarez joined Scottish giants Celtic and Barrera joined EPL club West Ham. Yet both struggled to make an impact with their Great Britain clubs and the following year they would both join Real Zaragoza of La Liga under former Mexican National team coach Javier Aguirre.
Even though their club seasons didn't go well for either, they were both part of Mexico's 2011 Gold Cup roster where they looked to have cemented their place for El Tri for years to come. Under Chepo De La Torre, Juarez was the undisputed right back and Barrera the right wing as they helped Mexico run through the competition on the way to another Gold Cup trophy. Barrera even scored a double in the final in Mexico's 4-2 comeback victory over the United States.
While the playing time for both increased the following club season at the start at Zaragoza, bad results lead to the sacking of Aguirre and the hiring of Manolo Jimenez, and both saw their playing time decrease in dramatic fashion and in the summer of 2012 both returned to Mexican soccer. 2012 also saw the last time either have suited up for Mexico, a dry spell that is now entering year four.
Juarez on his arrival joined Mexican giants and Pumas rival Club America, but the stint was a poor one that only saw him make six appearances in the year and fall out of favor with Miguel Herrera. The following year a loan move to Monterrey would follow, as the appearances increased he lost much of his accurate aggressive runs from the right back that made him so successful in the first place.
Barrera joined Mexico City club Cruz Azul where in two and a half seasons saw him make 50 appearances, saw him lose much of the cutting speed and acceleration that made him so dangerous early in his first time in Mexico. In 2015 Barrera would again be reunited with Juarez as he joined Monterrey from Cruz Azul. While he performed at an adequate level, it was a shadow of the player he'd hoped to have been at that point of his career.
While they both seemed to have settled decently at Monterrey, and look more comfortable than they've been in the years following the 2011 Gold Cup, they both seem like a long shot to play any part for Mexico again, let alone an important part. With Paul Aguilar and Miguel Layun playing some of their best soccer and looking the like A and B options for Mexico at the moment, and youngers Raul Lopez, Josecarlos Van Rankin, and Rodolfo Pizarro all climbing up the youth ranks all of the right defense. While on the right wing the future looks bright with the likes of Hector Herrera being able to play there, and Mexican starlet Jürgen Damm looking to make his claim.
So while Marquez basks in the twilight of his illustrious career, it's easy to forget how it can quickly turn south for so many in this cruel sport of soccer.