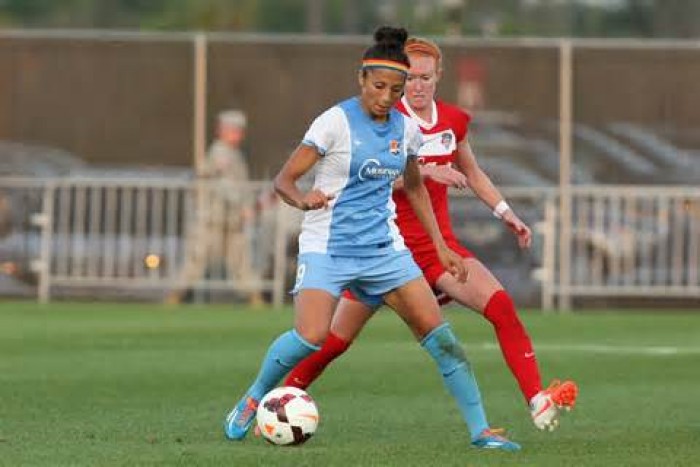 While all eyes were on the NWSL draft this morning, the Portland Thorns made a major move, acquiring forward Nadia Nadim from the Sky Blue FC. Per the trade, Sky Blue FC acquired the number two overall pick from Portland in Friday's NWSL College Draft, as well as a natural first-round and conditional fourth-round selection from them in the 2017 NWSL College Draft. Portland, in addition to Nadim also received the number three pick in Friday's draft and a natural second round pick in the 2017 NWSL College Draft from Sky Blue FC.
The move is a particularly questionable one for the Sky Blue, dealing their leading scorer from a team that struggled mightily at times to put the ball in net. It is the second blockbuster trade of the offseason, topped only by Wednesday's deal that included sending Sydney Leroux from Western New York to FC Kansas City. As the deal stands now, Portland has clearly emerged as the winner, landing the ultra-talented playmaker as well as keeping two of the top overall choice.For the Sky Blue, it simply allowed them to move up and select forward Raquel 'Rocky' Rodriguez out of Penn State.
Whether or not Rodriguez would have been there for them at the third spot or not, moving up one spot as well as dealing Nadim for her puts a lot of pressure on the former Nittany Lions and MAC Hermann trophy winner's shoulders. "I am absolutely delighted to add a player of Raquel's caliber," said Christy Holly, Sky Blue FC's newly appointed head coach. "Raquel is truly one of the best players to come through the draft in recent years. She has already proven herself at the college level as well as on the international stage. She will be a huge part of everything that we are trying to accomplish in the upcoming season, and she is someone who will play a vital role in the success of our team."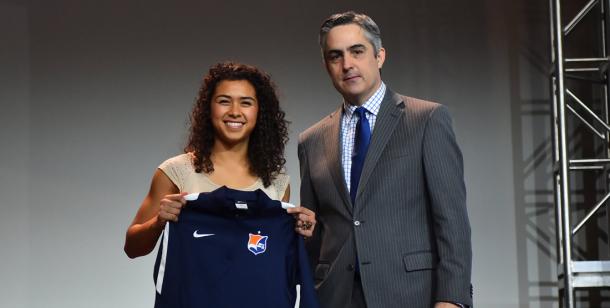 Rodriguez joins Kelley O'Hara as the second MAC Hermann Trophy winner on the Sky Blue FC roster, an elite distinction awarded to the best player in NCAA Division I soccer. She recently completed an exceptional senior campaign in Happy Valley, starting 27 matches for Penn State and recording 18 points, including six goals. None of those goals were bigger than her game-winner in the NCAA Women's College Cup final, where her 72nd minute tally lifted Penn State to its first ever national championship by defeating Duke, 1-0. In addition to claiming both the NCAA's greatest team and individual awards, the Nittany Lion captain was also honored in 2015 as the NCAA Women's College Cup Most Outstanding Offensive Player, NSCAA Scholar Player of the Year, TopDrawerSoccer Player of the Year, TopDrawerSoccer Best XI First Team, Honda Sport Award winner, NSCAA All-America First Team and All-Big Ten First Team, among others.
As for Nadim, her brand of fast, no holds barred soccer will be a treat for Portland fans and makes the Thorns an immediate contender.
"We would like to thank Nadia for her contributions to our club over the past two seasons," Holly stated. "We wish her all the best as she heads to Portland."