DC United is heading into the 2016 Major League Soccer season and the CONCACAF Champions League quarterfinal round with a lot of questions still to be answered.
The Black and Red did have a busy offseason. They had few additions, but instead chose to clean house. A total of seven players will not be returning to RFK Stadium this year. The list of players are: Perry Kitchen (Out of Contract), Jairo Arrieta (Option Declined), Michael Farfan (Option Declined), Facundo Coria (Waived), Chris Pontinus (traded to the Philadelphia Union) and Conor Doyle (traded to the Colorado Rapids). Plus, former US international striker Eddie Johnson retired due to his heart condition last season.
Here comes the cavalry
United responded by bringing four midfielders to the club. Two are speedy and creative MLS-tested midfielders in Lamar Neagle and Patrick Nyarko. Former LA Galaxy and Colorado Rapids midfielder Marcelo Saravas was also brought to the nation's capitol, where he will be alongside Luciano Acosta, who has joined on loan from Boca Juniors. Acosta, also known as La Joya, was signed by Boca in 2014. He was then loaned to Estudiantes de La Plata in 2015.
Between the two clubs, the crafty five-foot-three-inch midfielder has combined a total of 52 appearances. He has struggled in the goal department-between the two clubs, he has scored only three times. However, his pace and footwork will help DC's offense in 2016.
No Bill Hamid means rough 2016 ahead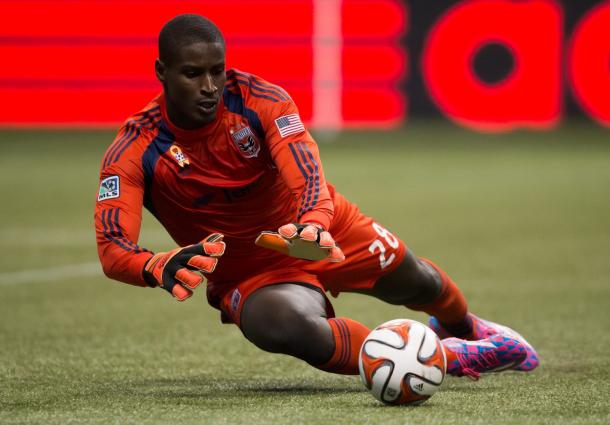 It appeared that DC had done a good job in their off season until starting goalkeeper Bill Hamid's knee injury occurred. He was forced to leave the USMNT's January Camp early after the U.S. medical staff examined him and saw that his right knee was not up to par. He left the camp and immediately afterwards had surgery to repair meniscus damage to his right knee.
It only got worse for DC as news broke on January 21st that the U.S. international will miss at least four to six months of action. Instead of the Red and Black reacting and filling his spot with someone else, they just stood still. Now, DC has placed their CCL and MLS campaign in serious jeopardy since they are left with two untested goalkeepers.
Andrew Dykstra and Travis Worra have a combined 13 MLS games under their belt for DC. The two of them have mainly played in the lower leagues of the United States when United loaned them out. Now it will be up to one of them to step up between the posts.
Their first big test will be the CCL quarterfinal series against Queretaro FC. The first leg will be in Mexico at Estadio La Corregidora on February 23rd. They then return to the States for the final leg at RFK Stadium on March the first.
The forward corps isn't young
Regardless that DC has the crucial home game for the second leg, they will most likely be eliminated by the Mexican club due to their failure to replenish at the right position. The midfield and defense is stacked. In fact, 20 of their 25 players on the rosters are either defenders (8) or midfielders (12). They made a mistake with the keeper and have failed to acquire new strikers.
There are only two strikers on United's roster. Yes, Fabian Espindola and Alvaro Saborio are MLS veterans and proven goal scorers. However, the two of them are starting to get up there in age, as Saborio is 33 and Espindola is 30. Regardless of their age the two of them can still score goals, but if one of them picks up an injury then DC's season might be lost.
Once again the Red and Black made smart moves in picking up their four midfielders in the off season. However, the failure to replenish the forwards and goalkeeper corps will come back to haunt them in both the CCL and MLS this year.
Prediction
MLS: 7TH, No playoffs.
CCL: Eliminated by Queretaro in the quarterfinal round 3-1 on aggregate.