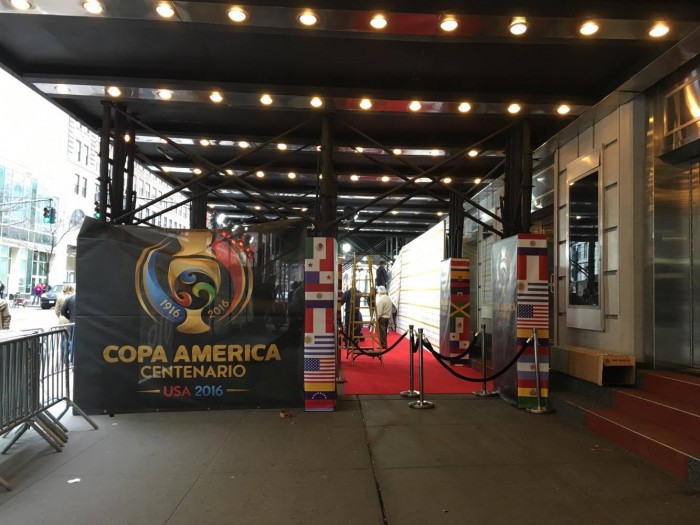 Well, a tough group for the Americans and tough matches for the remaining 15 teams in the Copa America. A truly exciting tournament will be in store in June and we cannot wait for it to happen. Well, that's all the time we have, I'm Roberto Rojas saying good night from New York City.
And so finally the groups are in Group A: USA, Colombia, Costa Rica and Paraguay. Group B: Brazil, Ecuador, Haiti and Peru. Group C has Mexico, Uruguay, Jamaica and Venezuela. Group D is Argentina, Chile, Panama and Bolivia.
Mexico, Uruguay, Jamaica and Venezuela in Group C.
Ecuador in Brazil's, Haiti's and Peru's group.
Chile in Argentina's, Panama's and Bolivia's group. A rematch of the Copa America final.
Colombia in USA, Paraguay and Costa Rica's group.
Costa Rica in the United States and Paraguay's group.
Jamaica in Mexico and Venezuela's group.
Haiti in Brazil's and Peru's group.
Panama in Argentina and Bolivia's group.
Paraguay in the United States' group.
Venezuela in Mexico's group.
Peru in Brazil's group.
Bolivia in Argentina's group.
Argentina in D1.
Mexico in C1.
Brazil in B1.
USA in A1.
The group draw is underway. USA is in Group A, Brazil in Group B, Mexico in Group C and Argentina in Group D.
''We will have the best representatives and best soccer countries in this tournament.''- Mario Kempes
"Without a doubt it is going to be the biggest men's soccer tournament hosted in the United States since the 1994 FIFA World Cup.''- Alexi Lalas
Mario Kempes of Argentina, Carlos Valderama of Colombia, Alexi Lalas of the United States and Jorge Campos of Mexico will help pick out the balls in the pots to make the draw.
Boston, Chicago, Houston, Los Angeles, New York, Orlando, Philadelphia, Phoenix, San Francisco and Seattle are the host cities to remind everyone.
Puerto Rican rapper Yandel performing now.
Here is the official ball of the 2016 Copa America. The Ordem Ciento.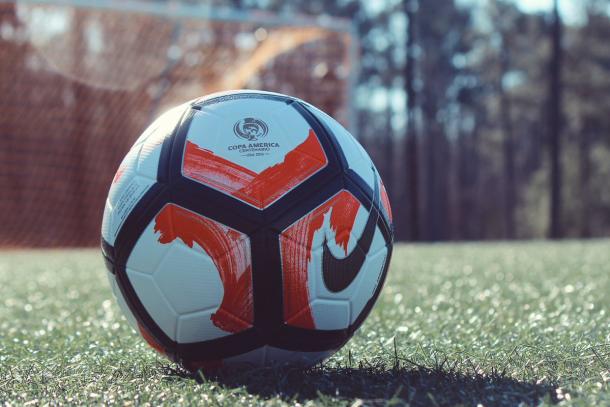 Adriana Monsalve and Jenny Taft currently speaking.
Who will be win the 100th edition of the oldest soccer tournament in the world?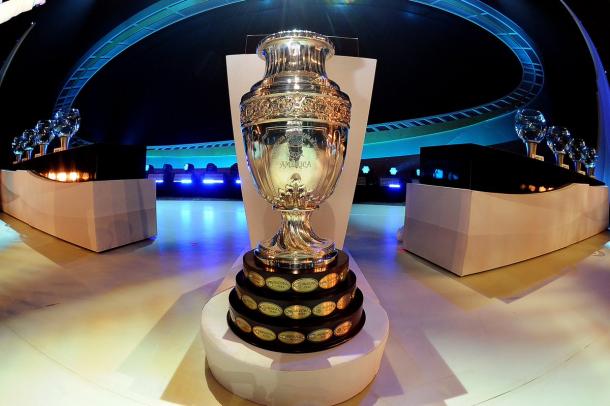 Argentine singer Diego Torres currently performing now.
Huge round of applause around the Hammerstein Ballroom as all the nations flags that are in the Copa America are being waved on the stage.
And we're live!
The draw will be broadcasted to 100 million people around the world, according to the MC.
The event will be televised in just a few minutes with hosts Adriana Monsalve of Univision and Jenny Taft of Fox Sports. The draw will be on Univision Deportes Network and Fox Sports 2.
A reminder of the pots. In Pot 1, it's Brazil, Argentina, Mexico, USA. In Pot 2, it's Chile, Ecuador, Colombia, Uruguay. In Pot 3, it's Costa Rica, Haiti, Jamaica, Panama and in Pot 4, Bolivia, Paraguay, Peru, Venezuela.
Some news has arrived that musical performances will be Diego Torres and Yandal and legends Mario Kempes of Argentina, Carlos Valderama of Colombia, Alexi Lalas of the United States and Jorge Campos of Mexico.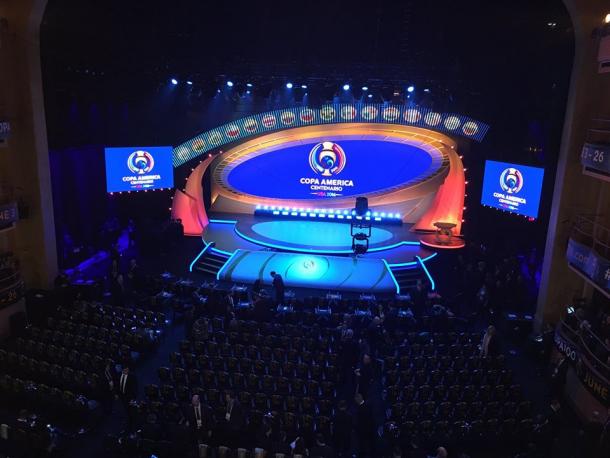 About 30 minutes away from the start of the Copa America draw, here is a live view of the stage of the event at the Hammerstein Ballroom.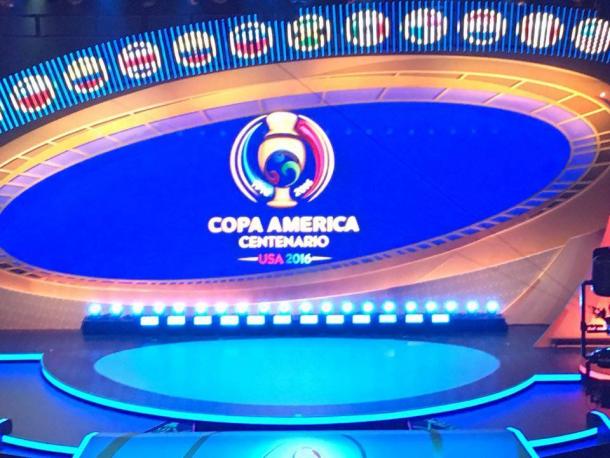 ''Once you have your own group and you know if you would go through who you would meet then in the next stage. It obviously gives you a lot more meat to the bone. It helps you prepare things, but it also raises a little bit the bar on excitement and obviously in expectations.'' said the German.
Here are some quotes from the United States national team manager Jurgen Klinsmann when asked about the draw happening later tonight.
Group D (Argentina): vs. D2 (June 6, Santa Clara, Calif.), vs. D3 (June 10, Chicago), vs. D4 (June 14, Seattle)
Group C (Mexico): vs. C3 (June 5, Glendale, Ariz.), vs. C3 (June 9, Pasadena, Calif.), vs. C4 (June 13, Houston)
Group B (Brazil): vs. B2 (June 4, Pasadena, Calif.), vs. B3 (June 8, Orlando), vs. B4 (June 12, Foxborough, Mass.)
Group A (United States): vs. A2 (June 3, Santa Clara, Calif), vs. A3 (June 7, Chicago), vs. A4 (June 11, Philadelphia)
Some quick reminders of dates and venues of matches for the top seeds in Pot 1.
And welcome back to VAVEL USA's coverage of the Copa America Centerario 2016, live from the Hammerstein Ballroom in New York City. We are less than under 3 hours from the main event in which 16 teams will be grouped into four groups of four to see who will be South America's best. Here is the press center where all the major journalists from across the two continents will meet in a truly special event.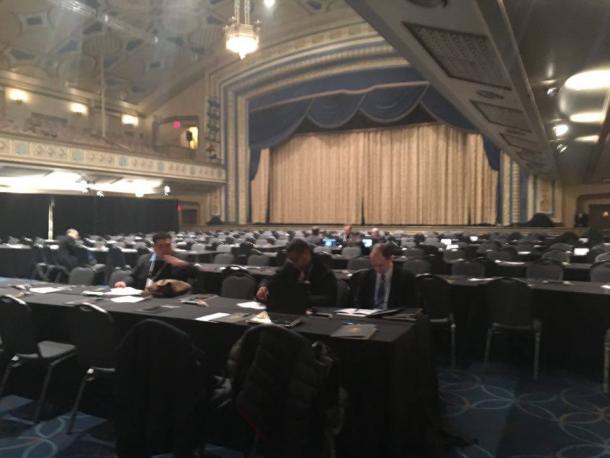 What potential groups and matchups do you want to see? Stay tuned as we reveal the groups LIVE and directly from New York City here on VAVEL USA.
There are a few questions that could be asked before and after this draw. Here is VAVEL's Roberto Rojas article on it.
Last summer, the tournament was hosted in Chile and the title was won at home after defeating Argentina 4-1 on penalties in Santiago, with Alexis Sanchez scoring the winning penalty to give them the greatest moment in the history of their country's sport.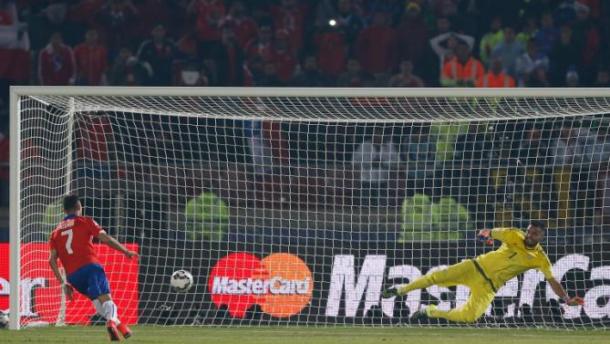 Uruguay: 15 time championships, Argentina 14, Brazil eight, Paraguay & Peru two each, Chile, Colombia and Bolivia, one each. The remaining 12 sides from both continents have failed to win and look to do so in the United States in 2016 this summer.
Here is a history of all the teams in the history of the Copa.
The pot parings are as followed: Pot 5 (A1, B1, C1, D1), Pot 6 (A2, B2, C2, D2), Pot 7 (A3, B3, C3, D3), Pot 8 (A4, B4, C4, D4)
After the top seeds are officially placed into their groups, the draw will move in reverse order from Pot 4 through Pot 2. A team is picked out of one of the team pots, and then a group assignment is picked out of the group seeding pots.
A lot of the tension and excitement will be apart of this draw itself to see who the North and South American opposition will take on each other. Teams will be pull out of four pots, one by one from each pot to be drawn into the four groups The pots are as determined as followed below.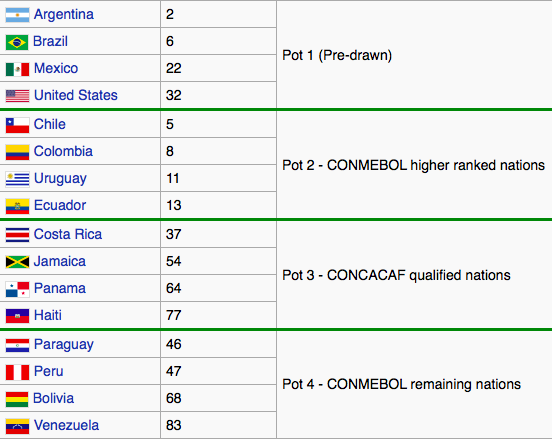 To celebrate 100 years since the competition's inception, a tournament has been arranged out of sync of the usual four-year cycle that had been in use since 2007. Instead, four more teams will come, all 10 nations from CONMEBOL of South America and six from CONCACAF of North America, to compete a 16 team tournament in which four groups of four teams will be made.
In a historic event for the tournament and us at VAVEL, we will have the groups ready for most important international tournament in South America to see who will be the best in the continent. 16 teams will participate, being drawn into four groups of four teams. Here are a few rules to keep in mind to be prepared for the event.
Hello and welcome to VAVEL USA's live coverage of the 2016 Copa America draw. Tonight, we will be bringing you live coverage for the draw of the groups for the centennial edition of the oldest international soccer tournament in the world. My name is Roberto Rojas and I will be your host, coming to you live from the Hammerstein Ballroom in New York City at 8:00 PM EST.