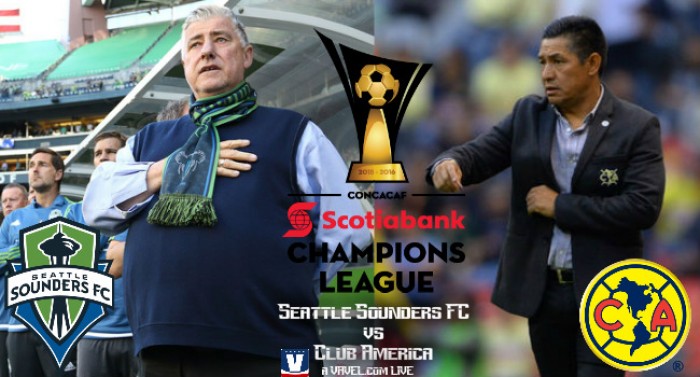 That is it for me tonight. Thanks for joining me and until next time, have a great night!!!
Sounders will need a result next week if they want to advance to the semifinals.
My player of the game goes to Seattle Sounders forward Clint Dempsey for his two goals tonight.
90+- Ivanschitz takes the kick. He send it in trying to find someone at the back post but Club America clears and that is the game.
90+ - Dempsey fouled just outside of the penalty box. This could be the last chance of the game for either club.
90+ - Ivanschitz gets a yellow for dissent after he didn't like how Alonso was fouled and no card.
90+1' - We have a minimum of two minutes of stoppage.
90' - just a few minutes left here in Seattle. Will the Sounders find another goal or will Club America make it three?
88' - Diving save by Frei to keep this one tied at 2-2.
87' - Club America second sub. Quintero out, Osmar Mares in.
86' - Foul called against the Sounders about the same spot Deuce scored from late in the first half. Will Club America be able to creat that magic as well?
85' - Sounders final sub of the night. Morris out, Darwin Jones in.
85' - Weak foul called on Dempsey as he was going up for the ball in the box.
84' - Club America killing some time here after a foul was called on the Sounders. They wouldl ove to leave here with two goals.
83' - Kovar sends in a teasing ball looking for Dempsey near the back post. Club America clears.
83' - Sounders doing a better job at controlling possession.
80' - Club America causing issues here in the Sounders final third and luckily the Sounders have a foul called in their favor to relieve the pressure.
78' - Sounders had a deep throw in Club America's final third but had to play it all the way back to the 'keeper.
77' - Sounders need to settle down and stop turning the ball over in midfield or Club America is going to bag some more goals.
75' - Ivanschitz was looking for Evans on then near post run, but Club America clears.
75' - Morris earns a corner kick for the Sounders. Ivanschitz to take again.
74' - Sounders making two subs. Roldan in for Friberg. Kovar in for Valdez.
Club America has been the better team for the last 15 minutes or so. Clearly dominating the Sounders all over the field.
73' - Quintero takes a shot from 18 yards, but Frei has it covered. That ball looked dangerous.
72' - Ivanschitz takes a free kick and was looking for Dempsey again at the top of the box, but America was there to clear it.
70' - GOAL Club America. Sambueza sends in a perfectly waited ball that Peralta finds and guides it in with his front foot to the right of Frei. That is a huge goal for Club America and a big let down for the Sounders.
68' - Jones again shutting down the attack on that right side of the field. This time he stops a cross sent in by Paul Aguilar.
67' - Jones doing work on the defensive side. He shuts down Sambueza and earns a goal kick for the Sounders.
Announced attendance tonight is 42,836. Not bad for a Tuesday night in Seattle. Good job Sounders fans.
66' - Deuce taken down for at least the sixth time.
65' - Morris with his first real chance of the game since the 12th minute. He cuts back in on his left foot and takes a shot, but it appeared he scuffed it. He's looked like me out there trying to take a shot. Okay, who am I kidding? I would have fallen flat on my face.
64' - Foul called on Valdez this time around. Looks like the Club America player fell down on his own. I don't know what I am seeing here.
62' - Sounders get their first card and it goes to Alonso.
61' - first sub of the game goes to Club America. Lozana comes out for Andres Andrade.
Looks like Paul Aguilar gave a little extra to Nelson Valdez as he tried to get by him. The referee and assistant referees will need to keep an eye on the extra stuff.
59' - Sounders look to be the more threatening team here in the first 15 minutes of the second half. The have dominated the midfield a little bit better than late in the first half. They will need to continue to do that if they want to take a lead down to Mexico City next week.
58' - This free kick is about 30 yards out and Dempsey over it to take it. This time no magic for Clint and the Sounders as the ball is deflected by the wall.
58' - First card of the night goes to Club America's Ruben Sambueza for taking Erik Friberg down from behind.
56' - Great save by Frei on Peralta. Peralta was in one on one with him and he made the save with his chest to keep his team in front.
55' - Lozano has the ball taken from him by Alonso and he pushes him down and gives up the foul. You can't do that to the Honey Badger!
54' - America tried to replicate what the did in the first half, score right away. However, the Sounders were ready this time.
52' -GOOOOAAAALLLL Sounders off the corner. Ball sent in by Ivanschitz and scored by DEUCE! That is his second of the night.
51' -Jones sends in a great cross, but it is snuffed out. Corner upcoming with Ivanschitz to take.
50' - Now Ozzie is taken out in midfield. Sounders trying to play fast, but the referee makes them retake the kick.
50' - Valdez is fouled again and another free kick for the Sounders.
Here are some first half stats for you. The Sounders dominated possession in the first half 58.9% to America's 41.1%. They also completed 79.5% of their passes compared to America's 77.7%. Both team had five shots in the first half, both also had two on target.
47' - Sounders earn a corner here early in the second half. Ivanschitz takes the corner. Ball is sent in, but the referee calls for a foul in the box.
46' - and the second half is under way.
We are just two minutes away from second half kicking off. The Sounders will want to get that one goal back and keep America off the board to give them a shot next week in Mexico City.
Well that will do it for the first half. Sounders 1, Club America 1. What are your thoughts on the first half? Great strike by Dempsey and horrible let down at the end to let America back into this one before the break.
45' -Club America comes right back down and ties it. That is a crucial away goal in this one. Goal credited to Quintero. I told you he would make them pay. Sambueza with the assist.
44' - GOOOAAAALLLLL Sounders!!! Dempsey takes it from 28 yards out and beats the 'keeper to the far corner. Heck of a free kick by Deuce.
42' - Dempsey earns a free kick out 28-yards from goal. Seemed like a soft foul call to me.
Valdez is working his tail off for the Sounders tonight. Tracking back and playing defense and going after all balls.
40' - Ivanschitz sends in a great ball, but Dempsey can't get on the end of it. Evans gains possession and makes a deep run, but his cross goes all the way across and out for a Club America throw in.
39' - It's that Quintero fellow again. He has been making Evans and Marshall run all night. They will need to find a way to stop him. He's bound to get on the end of one of these balls and make the Sounders pay.
38' - Dangerous ball played at the top of the box that Peralta gets to, but he can't control and it goes out for a goal kick.
37' - Club America is looking more dangerous here in the last five minutes or so than the Sounders have. Seattle will need to control the midfield better.
35' - America threatening on the Sounders end, but luckily for the Sounders fan they are able to relieve some of the pressure and eventually earn a thrown in deep in their final third.
33' - America with their first corner of the match. Ball is sent in by Sambueza and a foul is called in the box on Peralta and the Sounders get a free kick just inside the 18-yard box.
32' -Quintero has been a thorn in the sides of the Sounders back line. He stayed onside this time, but the Sounders defense able to get back.
32' - Ozzie brought down by Peralta and gets a talking to by the referee.
We are 30 minutes into the game here in Seattle and we are still scoreless. The Sounders and Club America have both had chances to take a lead early in this match.
Game is getting a little physical and the referee is letting them play. Not calling to soft fouls.
28' -Club America fans think they have scored, but the AR rightyfully called the player offside.
27' - Sounders saved by the cross bar after a bad turnover in the midfield. Marshall was able to stop the initial attack, but the ball bounce favorably to an America player and his shot had Frei beat, but thank goodness for the cross bar.
25' - ref stopping play while Sounders have possesion of the ball to check on a downed Club America player. Normally that only happens for head injureis and from what I could see, he did not grab his head. Looks like he whiffed on the header and hurt himself from the replay I just saw.
24' - nice little one, two with Morris and Ivanschitz, but Andreas' shot is blocked.
23' - both teams have slowed it down a bit here. Trying to find that perfect pass, that perfect lane to hit.
21' - Jones had Dempsey making a run, but he didn't put enough mustard on the pass and and Club America stopped the pass.
18' - You can see that America is a dangerous team. Great quick passes, but the Sounders have been there to snuff them out.
16' - Ivanschitz to take again. Ball is sent in and cleared by America.
15' - First shot on goal of the night goes to America, but Frei has it covered. Sounders go right back down the field an earn a corner.
14' -Sounders turn the ball over in the midfield, but Marshall was there on the back end to stop the attack of America.
14' - America get their first shot, but it no wide left of the goal. I think Frei had it covered anyway.
Replay shows that was the correct call. The ENTIRE BALL did not cross the line.
12' - first corner of the night goes to the Sounders. Ivanschitz to take. Ball is sent in to the middle of the box. Morris gets his head on it, but the 'keeper somehow keeps it out. Fans and players think it went in.
11' - Sounders trying to play out the back, but America is giving them high pressure.
10' Mears cuts out a dangerous ball. If he misses that, Club America is in on goal.
9' -Valdez thought he times the ball well, but he is called offside by the AR, good call.
From the replay, it does look like he as undercut, but no luck for the Sounders.
8' - Crowd looking for a foul as it looked like Marshall was taken out in the penalty box.
8' - Valdez taken out from behind while going up for a header. Free kcik for the Sounders.
6' - We have our first foul of the game as Dempsey is taken down. Quick restart with no result for the Sounders.
6' - Crowd not happy with that decision by the AR. They think the ball went off an Club America player last.
5' - Ozzie doing Ozzie things. Dances around a few Club America players to get the ball clear.
4' - Valdez was looking for the ball from Jones, but Joevin realized he was offsides and held on to it. Good eye by Jones.
2' - first shot of the game goes to the Sounders as Alonso fires a rocket, but it is just wide left of the goal.
1' - Ameria already attacking the Sounders back line and Evans is able to thwart the attack for a moment. Cross is sent in, but Frei is there to grab it.
1' - Club America gets us started and we are off in Seattle. Hold on to your seats kids. This has the potential to be a good game.
It looks like the Sounders will defend the South goal and attack the North goal. That puts the Club America 'keeper in front of ECS in the second half.
Players have shook hands and now it is time for the coin toss to see who wants to start things off first. No anthems prior to CONCACAF Champions League games as usual. Don't ask me why they don't do it.
One of our staff writers, Jorge Belon, predicted a 1-0 Sounders victory. I'm going to go with 2-1 Seattle.
Before we get started tonight, are their any predictions?
Sounders are wearing their new green tops with blue sleeves, blue shorts and green socks. Club America is wearing their all too familiar all yellow kits, head to toe. Honestly, I love that look.
The players are heading out of the tunnel now and making their way across the field. It's almost go time!
Jordan Morris gets a loud ovation as his name is announced by stadium PA announcer James Woollard.
Queretaro has defeated D.C. United 2-0. United will have to fight their tails off at home next week and also hope to not give up any away goals.
Enough about that game, players should be coming out of the tunnel here in the next 4-7 minutes.
United just misses a chance to get one back against Queretaro.
Queretaro is now up 2-0 over D.C. United in the 88th minute. Not what United wanted on the road. They need to try to scratch out one vital away goal if at all possible.
Who is ready for soccer to be back? I know I am. Hard to believe it has been ten weeks since we have seen MLS clubs playing competitive, meaningful soccer.
Now the Sounders are heading to the locker room as well. It's almost that time folks.
Club America players are walking off the field and heading back to the locker rooms to make final adjustments prior to kickoff in 15 minutes.
The Emerald City Supporters have started chanting here 15 minutes before the game.
In the other Scotiabank CONCACAF Champions League game, it is currently Queretaro 1 and D.C. United 0 in the 79th minute.
We are about 20 mintues from first kick here in Seattle, WA.
From Soundersfc.com, the new turf is an improved version of the market leading fiber and is also currently installed at Detroit's Ford Field, Indianapolis' Lucas Oil Stadium, New England's Gillette Stadium and Portland's Providence Park.
Evans continued "I think last year's turf was more of an advantage for us. Just the way that it played, I think teams were shell-shocked when they came in here. Teams wouldn't even travel; certain players wouldn't even travel to come play here. I think that says something about the old turf."
Sounders Captian Brad Evans had this to say about the new turf; "Night and day … It's great. I think it actually plays really nice. The turf before was so matted down, definitely bouncy when it was wet; it didn't play true. But this one, even though it was wet [Sunday], I think it played pretty true."
I must say, the new turf looks great and much, much better than last season.
Club America's field players take the field for warmups.
The Sounders have Tyler Miller, Cristian Roldan, Aaron Kovar, Darwin Jones, Nathan Sturgis, Zach Scott and Oniel Fisher on their bench. That's four midfielders, one goalkeeper, a center back and a left or right back depending where Sigi would put Fisher.
Club America has Luis Pineda, Erik Pimentel, Andres Andrade, Osmar Mares, Ventura Alvarado, Francisco Rivera and Jesus Moreno on their bench tonight.
America is currently seven games into their Liga MX season while the Sounders are roughly ten days away from their first MLS game.
Club America's goalkeepers are currently on the field warming up. The field players have yet to make it out to the field.
The Sounders are out on the field taking pregame warmups and get a good applause with the few amount of people that are currently in the stands.
Looks like Morris gets his first career start in his first career game for the Sounders. No real surprise with the Sounders coming out in a 4-3-3. They have been using it all preseason long. Time to see what they can do against a good, competitive team.
For the Sounders (4-3-3): Stefan Frei; Tyrone Mears, Brad Evean (C), Chad Marshall, Joevin Jones; Erik Friberg, Osvaldo Alonso, Andreas Ivanschitz; Jordan Morris, Nelson Valdez, Clint Dempsey
First up we have Club America (4-4-2): Hugo Gonzalez; Paolo Goltz, Miguel Samudio, Pablo Aguilar, Paul Aguilar; Osvaldo Martinez, Rubens Sambueza (C), Brian Lozano, Jose Guerrero; Oribe Peralta, Darwin Quintero
Looks like the two teams have announced their Starting XI for tonight.
We are an hour away from kickoff here in Seattle. Any predictions for any of you out there? Feel free to comment at the bottom in the comments section or send me a tweet at @Chris_VAVELUSA. I will do my best to answer all tweets sent my way.
Here is our preview of tonight's match put together by Jorge Belon. Enjoy.
Last but not least, the Sounders will be the first team to play on the new turf that was installed just a couple of weeks ago. It seems that the players love it!
The Sounders added Nathan Sturgis to the roster on Monday. Sturgis played with Seattle in 2009 and 2010. Here is a nice little write up about him courtesy of soundersfc.com.
It also appears that the Sounders will take their time in replacing Martins, which is a good idea. Take a look here to see what Sounders GM and President of Soccer Operations Garth Lagerwey said on Monday.
Yesterday, Sounders forward Clint Dempsey had some nice things to say about Obafemi Martins. Take a look here.
We are still a few hours away from kickoff, but I figured I would give you ladies and gents somethings to read leading up to kickoff.
The Sounders will look to show they belong here and Club America will look to show they are the champions of the region and look to repeat. It's CONCACAF, so be ready for some interesting things to happen on Tuesday night in Seattle.
Besides the backline and midfield needing to hold serve, Stefan Frei will also need to step up big in goal. Frei is coming off his best season in Seattle and MLS where he posted ten shutouts and gave up just 33 goals in 31 games. He also saved 111 shots. Stefan will need to stand on his head and make save after save if the Sounders allow Club America to run all over them.
Clint Dempsey will look to improve on his ten goal 2015 season. Clint only played in 20 MLS games due to injury, national team call-ups and suspension. Dempsey will not have Oba to work with and he will need to quickly form a bond with Morris or Nelson Valdez.
Sounders fan will be curious to see how midfield Osvaldo Alonso (Ozzie) plays in this game. The 2015 season was one to forget for Ozzie. He was oft-injured and missed the crucial playoff games late in the season. If the 30-year-old is back to his old self, the Sounders will have a huge opportunity to upset the reigning champs.
The Sounders will also need to keep an eye on Oribe Peralta. He may be 32, but he is well known for his movement off the ball. If Seattle loses track of him, they could be in for a long night as he is considered one of Liga Mx's best goal poachers. Think Chris Wondolowski of the San Jose Earthquakes to get a good understanding of what I mean.
Dario Benedetto of Club America currently finds himself without a goal during this 2016 calendar year. He is a capable player in the air and will also help out when it comes to pressing on the ball. He can cause nightmares for the Sounders backline and if they aren't careful, he could break his goalless drought on Tuesday night.
Club America is one of the most competitive clubs in Liga MX. Quite interestingly enough, is the clubs seventh manager in the last five years. They won their 11th title in the 2013 Clausura with former manager and current Club Tijuana Head Coach Miguel Herrera. He was replaced by Antonio "Turco" Mohamed and he led them to the 2014 Apertura title, but his contract was not renewed as his playing style was "unentertaining to fans".
The Sounders more than likely wanted to slowly integrate new Homegrown Player signing Jordan Morris to the club and league, but it appears he may be getting more minutes sooner rather than later. The Sounders have been experiencing with a 4-3-3 all preseason and it looked that it might have finally started to click in their last preseason match against the LA Galaxy.
The Sounders will be missing a key ingredient to their attack in Obafemi Martins. Even though it has not been confirmed, Oba is gone and the Sounders must move on and prepare for life without the goal scoring, back flipping machine that he was for the Sounders.
At the moment, America currently sits six in the Liga MX table, four points behind Monterrey. They have a big game coming up this Saturday against Pumas and it will be curious to see what players Ignacio Ambriz brings to Seattle.
Club America has a slight advantage over their MLS counterpart as Club America has already played seven Liga MX matches and the Sounders are just about two weeks away from the start of the 2016 MLS season.
In the United States, three of the four spots are decided by how the teams finish in the Supporters' Shield standings. The fourth and final spot is given to the winner of the U.S. Open Cup and that is technically how the Sounders have gained entry into every CONCACAF Champions League tournament they have appeared in.
Mexico's participants are decided by how they finish in their two tournaments they have every year. Each season the league holds two tournaments; the Apertura, which starts in the summer, and the Clausura, which starts in the winter.
Both Mexico and the United States are given four entries into the Champions League tournament. All four from Mexico come from Liga MX and all four come from MLS in the United States.
Club America gained entry into this tournament by being the 2014 Apertura Champions. The Sounders gained entry by winning the 2014 Supporters' Shield as well as the 2014 Lamar Hunt U.S. Open Cup. Since they had already clinched a spot by winning the U.S. Open Cup earlier in the year, Real Salt Lake was given entry into the tournament by finishing 4th in the Supporters' Shield standing at the end of the 2014 MLS season.
The Seattle Sounders are making their fourth appearance all-time in CONCACAF Champions League and first since the 2013-2014 edition. The deepest run they have made in the tournament was during the 2012-2013 edition and they made it all the way to the semifinals, but ending up losing to Santos Laguna 2-1 on aggregate.
There are only eight teams left in the tournament, four from MLS and four from Liga MX. Club America are the reigning CONCACAF Champions League Champs after defeating the Montreal Impact in last year's final 5-3 on aggregate and is their third appearance overall during this current format of the tournament.
Hello and welcome to VAVEL USA's LIVE coverage of the 2015-2016 Scotiabank CONCACAF Champions League match between the Seattle Sounders of MLS and Club America of Liga MX. My name is Chris Blakely, and it is my pleasure to be taking you all through this evening's action. There's still quite a bit of time until kickoff, which is scheduled for 10:00 PM EST Tuesday night, so sit back, relax, and allow me take you through the build up to this one.