 Tim Howard has found life on the pitch difficult at Everton. After shaky play and injuries, Howard was replaced by Joel Robles. Now, the Colorado Rapids and Howard have expressed mutual interest in one another and Howard will more than likely be getting a move to Colorado the upcoming summer transfer window.
Tim Howard out at Everton
Howard was recently replaced at Goodison Park by manager Roberto Martinez with the younger Robles. Howard had been in and out of the starting lineup with a knee injury, which allowed Robles to get games.
In his time in the starting lineup, Robles shined. He kept two clean sheets in his first two matches while Howard was sidelined.
Robles, 25, is far younger than Howard, 36, and will more than likely be Martinez's option for the future between the sticks, so the move to replace Howard in net made sense.
In a press conference, Martinez had said Robles and the defense had been solid and he planned to move forward with cohesion and consistency.
Howard to the MLS?
According to espnfc.com, Howard is now on the verge of agreeing to a move to Major League Soccer side Colorado Rapids. Espnfc.com's sources said Rapids general manager Tim Hinchey flew to England to finalize the deal. The two teams agreed on a fee between $600,000 and $750,000.
Howard will finish out this season in the Premier League with Everton and then join the Rapids when MLS' summer transfer window opens in July.
Howard's contract with Colorado will run until 2019 and his annual salary will be around $2 million per year. This salary will make him the highest-paid goalkeeper in MLS and would also put him amongst the top 15 MLS salaries.
Colorado's Struggles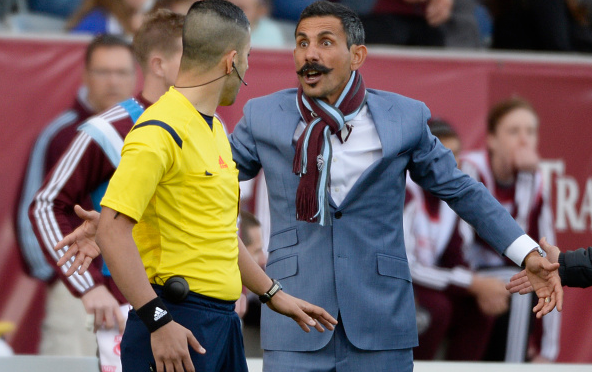 Last season, Colorado finished rock bottom in the Western Conference with a mere 37 points, and according to soccerstats.com, scored the least amount of goals in the entire league, 33. However, defensively, Colorado was stout, allowing the seventh least goals with 43.
However, Colorado have lost numerous amounts of defensive players. Shane O' Neill, one of more promising young talents for Colorado, left the Rapids to play his soccer in Cyprus. And James Riley, Drew Moor, Bobby Burling, Michael Harrington and Maynor Figueroa left the club this offseason. Colorado is in desperate need of a commanding force at the back.
Pablo Mastroeni and his team have not gotten to the MLS Playoffs since 2013 and continue to seemingly move in the opposite direction. After an eighth place finish two seasons ago, Colorado went backwards and finished tenth in the conference this past season. Adding a veteran like Howard into the mix could be extremely beneficial if Colorado want to get back to the playoffs any time soon.
Both parties, Howard and Colorado, could benefit heavily from this transfer.