D.C. United is less than 24-hours away from hosting the final leg of the Scotiabank CONCACAF Champions League (CCL) quarterfinal series at RFK Stadium. United is at home for game two, but they have to defeat Querétaro FC by a few goals to advance to the next round. If they fail to do that then the Black and Red will be eliminated from the CCL.
D.C. lost game one by conceding two goals in the second half in Mexico to eventually be defeated 2-0 by the Champions League newcomers. DCU will now have to dig deep in the second match as they are currently down by a score of 2-0 in the aggregate. However, there are a few ways for the Black and Red to secure their passage to the semifinals or be booted from the tournament.
How D.C. United Can Advance or Be Eliminated
If United do not want to take any risks and just win the match in regulation, then they have to defeat the Liga MX club by a score of 3-0. However, if by the end of the 90 minutes United has a 2-0 lead then the match goes into extra time or potentially penalties to decide a victor. The reason for that is because the aggregate score will be 2-2.
Things begin to get tricky for United if Querétaro score a goal at RFK Stadium. If that happens, then the Black and Red have to win by a score of 4-1 or 5-2 and so on. United cannot end the match 3-1 because Querétaro will advance due to the away goal. If the game ends in a draw, then D.C. is eliminated.
The truth is D.C. has many chances of overcoming their 2-0 deficit, but for this to happen they will need to capitalize on their chances. In game one, the Black and Red created 17 shots and were not able to convert on any of them. Querétaro goalkeeper Tiago Volpi did enjoy the performance of his career as he completed nine saves in the match.
However, the United offense has to put Volpi game one stellar performance behind them quickly. So the likes of Fabian Espindola, Álvaro Saborío, Lucian Acosta, Chris Rolfe and Patrick Nyarko will need to find a way to score on Tuesday or they will be out of the tournament.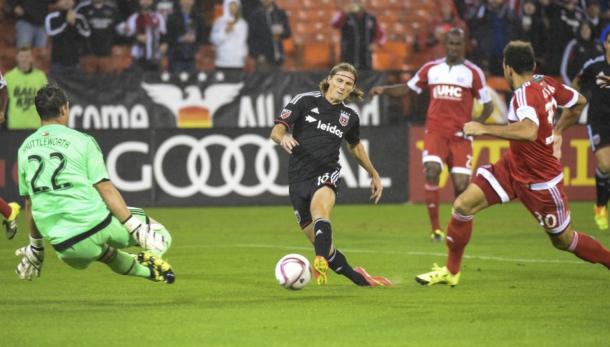 D.C. Have to Leave It All on the Table on Tuesday Night
There is no point of D.C.'s manager Ben Olsen to have a conservative game plan for this match. United is not safe till they score two goals which mean the full backs must get involved and spread the field wide open.
The athletic Sean Franklin and Taylor Kemp must get behind the defense and send in passes to the penalty boxes. Those crosses can lead to potential goals, penalties, own goals or corners. If they fail to do that, then the defense of Querétaro can easily dictate the offense of the Black and Red and just suffocated them down the middle. That will result with a bunch of hopeful long range shots that will not trouble Volpi.
However, the two players that must perform well on Tuesday to help secure their advancement to the semifinals are: midfielder Marcelo Sarvas and goalkeeper Andrew Dykstra. Sarvas will need to make sure that he controls the midfield, never allowing Querétaro to build momentum. If he fails to slow down their attack, then Dykstra and the defense will need to stop the Mexican club before they score.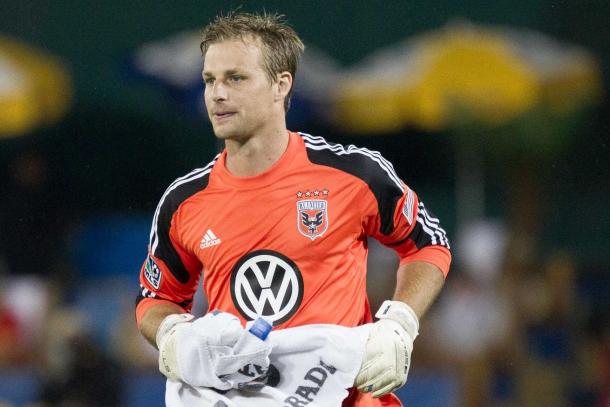 United must be wary of the counter that will come from Querétaro. The Liga MX team will most likely choose went to attack, and their pace will cause trouble for the recovering Black and Red players. The one good news for United is that Querétaro's leading goal scorer of the CCL, Emanuel Villa will most likely miss this leg due to the hamstring injury he picked in the first match last Tuesday.
However, if D.C. scores early then Querétaro will start attacking more to restore their two goal lead, which will result with holes being created in the back line for DCU's strikers to take advantage of.
Prediction: D.C. Defeats Querétaro 3-0 in Extra Time.