 The Philadelphia Union kick of the 2016 Major League Soccer season against Western Conference powerhouse FC Dallas at Toyota Stadium in Frisco, Texas on Sunday in what is likely to prove to be one of the toughest starts to a season the Union have experienced in recent history.
Last year's Western Conference champions certainly strengthened in the off season, not only retaining their budding South American talent in the form of Fabian Castillo and Mauro Diaz but adding to the terrifying duo with a quartet of South Americans including Colombian midfielders Carlos Lizarazo and Juan Esteban Ortiz, as well as Ecuadorian defensive midfielder Carlos Gruezo, and Seattle Sounders legend Mauro Rosales. Dallas also cleared out several veterans and under-performing squad players such as Blas Perez and Michel.
Philadelphia have also strengthened in all areas of the field though both remain relatively shaking at forward. For more on that, click here.
Preseason Form
FC Dallas come into the match having won all five of their preseason matches including an impressive 4-0 performance against the victors of El Salvador's 2015 Apertura Alianza F.C. which saw doubles from both Mauro Diaz and Max Urruti.
Philadelphia also had a positive set of preseason matches overall, displaying their defensive solidity in draws versus DC United and the New York Red Bulls as well as snatching a 1-0 victory against Eastern Conference favorites Toronto FC.
League Series History
Despite a victory on penalties in the 2014 edition of the Lamar Hunt US Open Cup that ultimately led to Philadelphia's first ever cup final, the Union possess a torrid all time record against FC Dallas in the league, failing to win in eight attempts for an overall record of 0-4-4, despite this fact, the Union have never lost by a margin greater than two goals.
Last season's match up saw the Union fall 2-0 to the men from Texas in just the third match of the season with goals from Tesho Akindele and Ryan Hollingshead at PPL Park. The match also saw former Union Homegrown Player Zach Pfeffer sent off for elbowing Mauro Diaz, having started for the injured Cristian Maidana in what was in a way, the beginning of the end for Pfeffer in Philadelphia.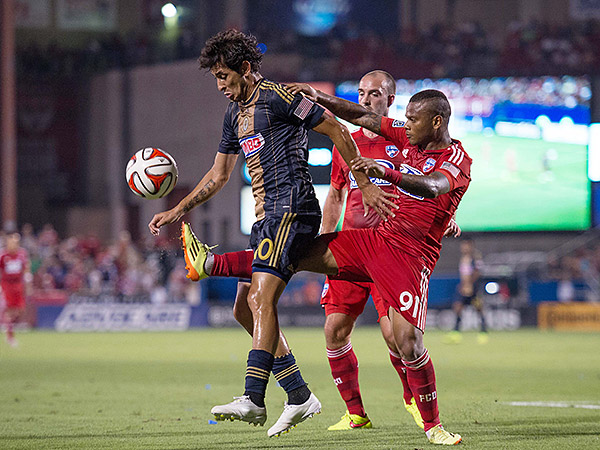 Key Players
Philadelphia:
With captain Maurice Edu and creative maestro Tranquillo Barnetta expected to miss the match through injury, veteran defensive midfielder Brian Carroll and Philadelphia's newly christened number six, Roland Alberg will play an important role for the men from Chester in breaking up and starting attacks in midfield, especially if they're to keep an offensively stacked FC Dallas off the score board. \Carroll, a 13 year veteran of the league has been Coach Jim Curtin's go to man in midfield in the absence of Maurice Edu, although that may change this season with the re-emergence of Brazilian midfielder Leo Fernandes after a loan spell with the New York Cosmos. As for Alberg, the 25-year-old former ADO Den Haag midfielder racked up 16 goals with the Eredivisie side in his three years in The Hague.
FC Dallas:
Dallas are likely to rely on the usual suspects that brought them such success last season, namely attacking midfielder Mauro Diaz and center back and captain, Matt Hedges. Hedges, a finalist for 2015 MLS Defender of the Year was a key figure in FC Dallas' position as joint second best defense in the league having only conceded 39 goals, while Diaz's eight goals and ten assists was one of the best combined performances of any player in MLS and is only expected to grow in his third season in the league. This is particularly true should he stay fit, having not appeared in more than 17 regular season matches prior to the 2015 season.
Anticipated Lineups
Philadelphia:
Andre Blake, Ray Gaddis, Ken Tribbett, Anderson Conceição, Fabinho, Brian Carroll, Vincent Nogueira, Ilsinho, Roland Alberg, Chris Pontius, CJ Sapong.
Dallas:
Jesse Gonzalez, Atiba Harris, Zach Loyd, Matt Hedges, Maynor Figueroa, Carlos Gruezo, Victor Ulloa, Fabian Castillo, Mauro Diaz, Michel Barrios, Max Urrutti
Match Prediction
Despite a much improved Philadelphia side on paper, expect the historical trend of losses to continue. A much more put together Dallas side on home turf hold the advantage but Philadelphia should put up a bigger fight than in past years, overall this entertaining affair is likely to end 2-1 to FC Dallas.