The Seattle Sounders are coming off a 1-0 loss to Sporting KC in their opening match of the 2016 MLS season. There were some questionable no calls and a questionable red card given to O'Neil Fisher in the 42nd minute of the match (not questionable in this authors opinion).
We know that the Sounders will be without Fisher due to his red card and it's not known yet if Tyrone Mears will be able to start this coming weekend against Real Salt Lake. Mears missed Sunday's game because of a quad injury and that is why Fisher was in his place.
After Fisher's ejection, Cristian Roldan slide to the right back position until Zach Scott was brought on in the 70th minute. At that time, Brad Evans slide over to the right back position and played there until he was subbed off for an injury in the 89th minute.
Brad Evans Injury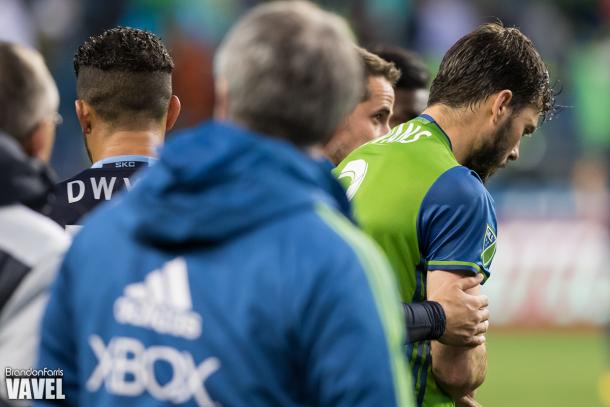 Evans was injured after going up for a header. It appeared that it would be an uncontested header, but Sporting KC forward Dom Dwyer backed into Evans and this cause him to fall awkwardly to the turf. As soon as he hit the turf, he was in immediate agony and trainers rushed onto the field.
Sounders Head Coach Sigi Schmid indicated that Evans dislocated his shoulder and indicated that he could play in a week; "It popped out, it popped back in," Schmid said. "It's not about healing, it's about the pain. He could play within a week."
Some will say that this is the type of play that players should be punished for with at least a yellow card or a red depending on the severity of the play. Take a look at the video here to and make your determination of the play.
In this authors opinion, Dwyer should have at least received a yellow card for his actions. Dom had no play on the ball in the air and it appeared that he purposely backed into Evans. We see this all the time and most of the time, no injury becomes of it. Sounders center back Roman Torres was involved in a similar play like this last year and he suffered a torn ACL and more than likely won't be back until June at the earliest.
Now this is two instances in the last six months that have injured players. There are probably more out there, but these are two good instances on why this play should receive harsher punishment.
What Will the Sounders Do?
The Sounders were already thin at center back with the aforementioned injury to Torres and now Evans. On Tuesday, the Sounders signed defender Tony Alfaro. Alfaro was the Sounders Second Round selection in the 2016 MLS SuperDraft. The 22-year-old was a Division II All-American last season at Cal State Dominguez Hills. He was the team captain and the California College Athletic Association Defensive Player of the Year in 2015. He led his team in minutes played, 1,954, and scored six goals.
Depending on how well he does this week in training and how quickly Evans will be ready to go, Alfaro could find himself in the 18 this Saturday against Real Salt Lake.
Schmid feels he can provide depth to the Sounders backline this season; "Tony is a big center back with good feet and solid technical abilities who did well for us throughout the preseason. He's a player with real potential who we think can provide good depth for us on the backline this season."
The Sounders will go into this weekend's game two players, possibly four depending if Mears and Erik Friberg (concussion) are ready to go or not. It's not a great way to begin the season missing three contributors to a team that may struggle to find goals even with the firepower they have at the top of their formation.