 FT - Andrew Wenger is easily Man of the Match with Horst a good second. The Dynamo defeat their rivals for the first time since 2013. A six match losing streak over all competitions. And they do so emphatically.
Full Time - Houston Dynamo 5 - 0 FC Dallas
90+ - Down to the final seconds of the match...
89 - Willis easily catches another long range chance from Dallas as they look to get a consolation goal. The Dynamo seem content to play out the match and perhaps catch them on the counter.
87 - Crafty little chip from Miranda lets Bruin easily get behind a flat-footed FCD defense.
85 - It's been a few years since we've seen fans in Houston this pumped! GOAL DYNAMO!!! Bruin gets behind the defense and circles Gonzalez for a tap in!!
83 - 4 on 2 break for the Dynamo sees Bruin taken down hard in the box just as he gets his shot off. Ref waves off the PK shouts from the fans.
82 - Willis makes a great save off a volley from Dallas!!
81 - Garcia picks up a yellow card for delay of game after he refused to step 10 yards back on a FCD freekick. YELLOW CARD!
79 - Alex and Acosta getting into a shouting match that the ref has to break up. Alex feels that Acosta fouled him and is upset that the ref felt otherwise.
77 - Rico walks off to a standing ovation as Spaniard Rocha takes his place.
75 - FCD earn a coner after a dangerous shot deflects wildly over the touchline. It goes over everyone's head for a goalkick.
72 - Frustration starting to show for FC Dallas. Their offense is not on the same page as a through ball rolls out for a goal kick.
71 - FC Dallas breaks on the counter after a failed Dynamo corner but Garcia chases down the attacker and makes a sick tackle to save the day.
69 - Barrios gets down the left flank and squares a wicked ball that Urruti dives at but misses. Rodriguez clears the ball and it bounces off the striker for a goal kick.
67 - Horst isn't the fastest player on the field by a long shot but his positioning tonight has made the a moot point.
65 - Wenger and Bruin dancing by a pair of defenders each but can't mount an attack and opt to retain possession.
64 - Gruezo comes off for Dallas in favor of homegrown Victor Ulloa.
62 - Dynamo ceding a lot of possession lately as FCD looks for their opening goal. Diaz on the break but the defense does well to close him down.
61 - Diaz takes a shot from outside the box but Willis easily smothers it. Defense doing well to keep the box relatively safe, forcing FCD out for long shots.
59 - Castillo's night is done. He comes off for Tesho Akindele.
59 - Alex getting into the party with some nifty one-two to get into the box and sends his shot wide and high...after the ref raises his flag for offsides.
58 - Dallas puuting a lot of pressure on the Dynamo defense these last several minutes. A couple of corners earned but can't make anything of them. Dynamo defense doing well to absorb the pressure but need more of the ball.
55 - Joe Willis comes up with two huge saves off a Dallas freekick!
51 - Dynamo still looking for more goals as they press early. Dallas' defense does well to absorb and get out of trouble.
49 - This game has been crazy so far. Feel free to share your reactions below or on Twitter @ElNaranja22.
48 - Dynamo's Beasley goes down with a minor injury and gets a looksie from the very, very busy trainer.
46 - And the second half is off!! FCD makes a sub. Harris off for Hollingshead.
HT - Dynamo can't get comfortable despite the sizeable lead. FCD is fully capable of putting several goals away. Plus the home team has burned a pair of subs due to injury. That and all the yellow cards means things could get interesting very fast.
HT - Some interesting stats: 3rd time Dynamo have scored 4 goals in a half. Last time was in 2008 when they did it in back to back games.
HT - Andrew Wenger leads the way with two assists and a goal, plus some sick skills. David Horst also been rock solid in the back.
Halftime - Dynamo 4 - 0 FC Dallas
45+ - David Horst has been very good in the back so far. He's smothered several chances and been a brick wall.
45 - Barrios does well to get down the left flank and squares a pass for Urruti who taps his shot just wide.
44 - Maidana can't continue to young Leonel Miranda comes in. That's two subs burned due to injury for Houston.
43 - Ref confers with the linesman and decides to hand Figueroa a yellow. YELLOW CARD.
42 - Maidana with his head split open. The towel is covered in blood. He comes off to get attention. Figueroa for FCD is also getting attention.
40 - Two players down, one for each team. Ref went straight for the back pocket. Waiting for medical personel before handing out his card.
36 - Wenger with some sick skills in midfield to get around a defender and get the shot off. Saved cleanly by Gonzalez.
34 - Wenger picks up a yellow for a professional foul in midfield. YELLOW CARD.
33 - Another YELLOW CARD. Carlos Gruezo brings down Garcia just outside the right hand corner of the box.
32 - Rodriguez gets into a shouting match with the ref and gets a well deserved caution as a result. YELLOW CARD.
31 - Andrew Wenger with a goal and two assists in under 30 minutes tonight. I mean...how do you even....?
28 - GOAL DYNAMO!!!!!!!!!!! Another miscommunication in the back means that Gonzalez is nowhere so Wenger taps it in!
23 - GOAL DYNAMO!!!! Beasley crosses it from the left but it goes over everyone. Picked up byWenger who finds Clark all alone in the box for an easy volley.
21 - Attiba Harris comes in hard on Oscar and gets a yellow for his effort. YELLOW CARD.
18 - Barnes goes down with an injury. Oscar Garcia is coming in to replace him.
13 - GOAL DYNAMO!! Clark plays the ball over the top to Barnes who gets passed defender Matt Hedges. The defender does well to get in front of Barnes but taps the ball into his own net.
10 - Wenger causing all kinds of issues as he squares a pass that Barnes can't quite get on. FCD keeper Jesse Gonzalez down and receiving treatment.
8 - Horst with a rare foray forward that pays off well. Bruin and Horst combined for two big bodies in the box that the defense couldn't handle.
6 - GOAL DYNAMO!!! Andrew Wenger with a beautiful cross into the box that Horst heads home! 1 - 0 Dynamo!
6 - Over/Under on the total number of fouls for this game? I'd start at 30 and go from there.
3 - Not much going so far as both sides try to figure each other out. Dynamo doing well to keep the ball so far and Bruin gets the ball on the right and his service into the box is great but Barnes shoots it high over the bar!
1st minute - Kick off!
19:35 -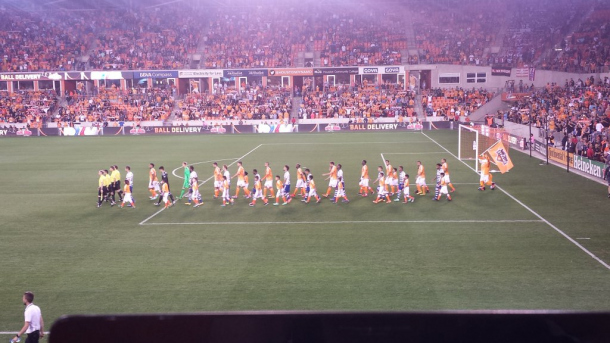 19:21 - Fun video with a bunch of Houston celebs encouraging the Dynamo to beat Dallas. My fav? Hakeem The Dream. Legend doesn't even begin to describe him...
19:15 -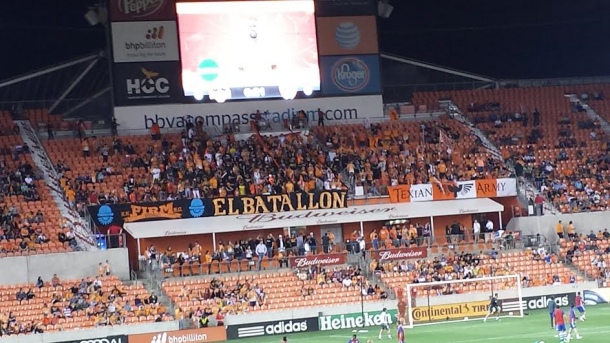 19:14 -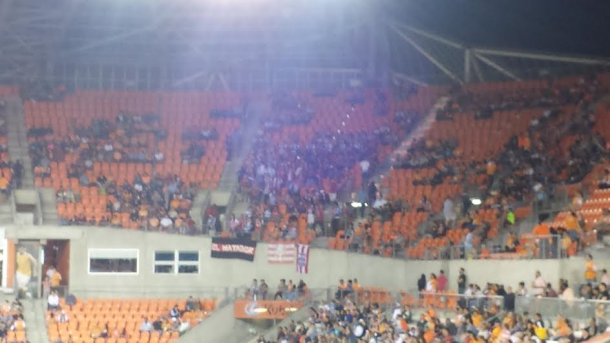 19:10 - Oh so close to kick off! Both teams warming up nicely as fans start to gather inside the stadium.
18:53 - Time to get your pre-game predictions in now!
18:52 - The teams take the field for warmup!
18:48 - The Dynamo Starting XI is out and Deric and Williams are still out injured.
18:39 - FC Dallas fans are in the stadium and warming up their lungs for what will surely be an intense match.
18:17 - About an hour away from kick off! If you can't make the game, turn on Root Sports and follow along here!
18:03 - As usual MLS is giving us all kinds of crazy scores so far this week. Some big teams dropping some huge points already. This season should be a very fun one.
17:57 - As I was flipping through the media pack, it hit me that Will Bruin is one of the longest tenured players on the roster. Man...where has time gone?
17:55 - If you've got any comments or questions, feel free to drop them in the Comment Section below!
17:71 - The projected lineups have Beasley and Castillo in for the Dynamo/Dallas respectively. Those will be two players to keep an eye on and whether they can finish out the match.
17:35 - Good evening everybody! We're getting set up here for what is absolutely going to be an exciting match between FC Dallas and Houston Dynamo, right here in the heart of downtown Houston. My name is Kyle Nowotny and if you have any questions/comments/concerns/complaints/motivations, tweet them @ElNaranja22!
This game has all the points of being a dog fight, similar to the games of old. Ultimately, however, the Dynamo are heavily injured and it'll come down to the health of Clark and Maidana. If the two stars are rejuvenated and healthy enough to play up to their talents, it's possible the home team could pull out a rare draw or even a shocking win. More likely however will be a Dallas victory, though a narrow one would be progress. The key will be to keep Dallas off the score board early so as not to demoralize themselves.
To control the counter, Coyle will be needing his flank players to remain sharp and disciplined on the defensive side of the ball. Andrew Wenger, recently acquired from the Union, was fantastic in the opener. His speed and power on the right flank helped keep the Revs' potent offense quiet for large stretches of the match. He'll need to replicate that performance. The question than is the left flank where captain Giles Barnes roams. There's no denying his offensive capabilities but his defensive skills can be brought into question. Without Beasley behind him to take care of the slack, Mansally will be asked to be nearly perfect defensively. Whether he'll be able to chip in offensively is an open question.
Dynamo coach Owen Coyle attempted to control the ball against the Revolution and largely succeeded in doing so. The passing was crisp and quick and the team generated many chances, both on the counter and under sustained possession. Against Dallas and their speed, though, the team will need to be more disciplined defensively. While they may cede possession for stretches, they'll constantly be looking to hit the defense on the counter. The architect of that counter will likely be Mauro Diaz, one of Major League Soccer's best attacking midfielders. Whether he has Castillo or not, Diaz will be looking to find Urutti so the ball can be held up to bring the rest of the midfield into the attack.
Despite getting the start last week, star midfielders Ricardo Clark and Christian "Chaco" Maidana still carry little injuries. Last week the injuries were severe enough to prevent them from going the distance. Another week to rest up and heal might mean they could play the whole 90 minutes. Against a tough opponent that will run them to the ground, though, means it's questionable that both will be able to do so. Needing to burn two substitutions last week cost the Dynamo dearly as they were unable to provide relief for injured players on the field when Beasley was forced off and Alex Lima had to remain on the field due to lack of subs.
If only the Dynamo had but one major injury than this game would simply be a discussion of tactics, talent and preparation. Instead the home side is carrying a load of injuries into the match, suffered during pre-season and the home opener last week. Still out is starting goalkeeper Tyler Deric. His backup, Joe Willis, put in a mixed performance last week and will have to up his game against a much tougher test this weekend, regardless of Castillo's availability. Both fullbacks, Sheanon Williams and DaMarcus Beasley, are injured. It's questionable whether Beasley will play while Williams is closer to being ready for some minutes. If neither can start than Abdoulie Mansally and Jalil Anibaba will replace them, respectively.
Dallas dispatched the Union exactly how fans and experts thought they would: with quick speed and faster passing. With a bit more sharpness in front of net, and a lesser performance from Union goalkeeper Andre Blake, the score line could have been far steeper in Dallas' favor. Goals from Castillo and newcomer Max Urutti were the difference. Despite an impressive performance, the 2015 Supporters' Shield runner-up didn't enjoy a perfect game. Castillo had to be carted off the field late in the match and it's questionable whether he'll be available for Saturday's match. Head Coach Oscar Pareja has a long season ahead and rushing back Castillo, even against their biggest rival, is a dangerous gamble. Should he play and his injury is exasperated it would be a huge loss for the team.
Under a new coach last year, fans thought the tide might be turned with fresh ideas and tactics. Instead it was more of the same as FC Dallas swept the series. So dominant has the series been these last several years that the Dynamo have been outscored 23-5. On the strength of that score line, Dallas has managed to keep hold of the 19th century howitzer that is the namesake for the rivalry. With a new year comes renewed hope. Both teams have started the season well with Dallas defeating the Philadelphia Union 2-0 at Toyota Stadium while the Dynamo gave up a late 3-3 draw against the New England Revolution.
FC Dallas traveled down I-45 to take on the Houston Dynamo in what has been a lopsided affair these past few years. During the early years, the Dynamo enjoyed the better of the rivalry, especially at home. However, starting in 2013 the competitiveness went from a tight slugfest to a one sided beat down starting in 2013. After a 3-2 loss in March, it's been one embarrassing defeat after another. Score lines of the 3-0 and worse became common place. The architect of so much suffering for the Dynamo? Fabian Castillo. As the young Colombian has grown over the years, so has his terrorization against the Dynamo.
Hello and welcome to VAVEL's LIVE coverage of the Texas battle for El Capitan. My name is Kyle Nowotny and it is my pleasure to be taking you all through this evening's action. There's still quite a bit of time until kickoff, which is scheduled for 8:30 PM EST Saturday night, so sit back, relax, and allow me take you through the build up to this one.