 The 2015 Supporter's Shield winning New York Red Bulls were defeated 2-0 at home by Toronto FC just five days ago. Though New York held 63 percent of the possession during the match, a lack in shots on target hindered one of the league's best offenses.
Chances were created consistently, but no opportunities possessed a slick finishing touch to them. The Toronto back line gave Red Bulls a tough time all afternoon as well. Twenty balls were crossed into the box, and over 181 passes were completed in the final third. But not one pass could carve through a well rounded TFC defense.
Defensively for New York, Sunday afternoon was a bit of a struggle. Sure, the team kept in possession of the ball for a good majority of the game. Dax McCarty and Felipe held their ground in the center of the park, but on Toronto's best chances they were gifted by mistakes on Red Bulls behalf. The job was being done by NYRB in the defensive half until an 81st minute Kemar Lawrence tackle in the box allowed for Sebastian Giovinco to step up for a spot kick and bury it to Joel Robles' right, in the corner.
Nine minutes later, Giovinco stampeded through midfield to play in Marco Delgado against a completely disorganized Red Bulls defense who were pushing for an equalizer. Delgado slotted past Robles with ease and sent the Canadian club to a 2-0.
All around, the home side played a very well game but missed opportunities in the attacking front, and also gave up careless mistakes defensively which led to Toronto coming into Red Bull Arena and knocking off early season favorites.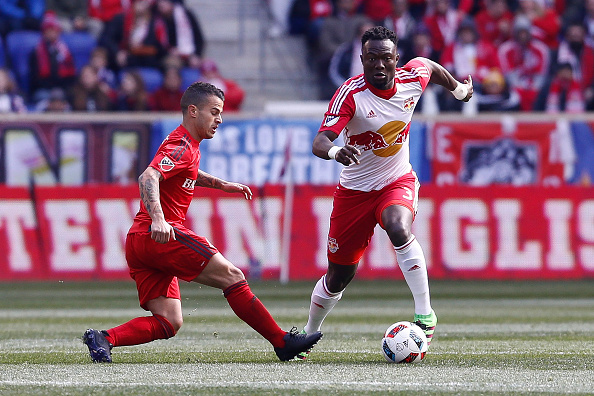 Now, turning the tide to Montreal Impact. What a game they had in Vancouver on MLS Opening Day. In what was the first away victory for Montreal in Canada (previously 0-4-4), the Impact defeated Whitecaps 3-2 with the help of a brace and assist from Ignacio Piatti, one of the hottest players in MLS ending last season and after week one of 2016.
Apart from the attacking prowess of Piatti, Dominic Oduro, and Harry Shipp, the play of goalkeeper, Evan Bush, was significant to victory for Les Bleus. With eight saves on the day, and an important save to deny Octavio Rivero of a goal when the score was 2-1, Bush helped push Montreal to three huge points in the first week of play.
KEYS TO THE GAME: New York Red Bulls
For New York Red Bulls, the key to victory on Saturday afternoon is to connect and click on the offensive side of the ball. New York must create clear cut opportunities and test goalkeeper Evan Bush, who as mentioned earlier is coming off of a fantastic week between the sticks.
Defensively, stop Ignacio Piatti. The Impact attacker is toying with defenses in MLS and one way to shrinken the threat that MTL possesses up top is to keep focus on Piatti. It will take a lot of determination from a young Red Bulls defense to keep tabs and halt the play of the Argentine. He is the main talisman for the Impact and if he can be stopped, then Montreal will have trouble finding other options in the attacking third to open up New York's defense.
KEYS TO THE GAME: Montreal Impact
Montreal has an easy job. Play through Piatti. A threat anywhere on the pitch, and most of the goal scoring will come through the play of the skillful midfielder. Do not forget about Harry Shipp also who impressed in the last game for Impact. To change up the attacking flow, easily switch up and play through Shipp.
On the defensive side of the ball, and this is shouted at the midfield as well, do not put Evan Bush under much stress and pressure. With the likes of Bradley Wright-Phillips, Lloyd Sam, and Mike Grella, Bush will have enough pressure on his hands trying to keep these players off the scoresheet. Smart plays need to be made defensively and the midfield can not get outplayed like they were in Vancouver when the 'Caps posted up 21 shots throughout the match.
INJURY REPORT: New York Red Bulls
Defender, Damien Perrinelle, remains sidelined after left knee surgery in November.
Forward, Gonzalo Veron, has been reported OUT of the match up with Montreal after still undergoing a hamstring injury sustained in pre-season.
INJURY REPORT: Montreal Impact
Four players are OUT of the matchup with New York Red Bulls. Forward, Cameron Porter, and Midfielder, Patrice Bernier, both will miss the clash with NY with apparent hamstring injuries.
Didier Drogba is still suffering from an inflamed knee and is not even with the side currently as he is training with Sacramento Republic FC.
Lastly, midfielder Andres Romero remains out with a torn ACL from October.