 The Los Angeles Galaxy look to continue their winning ways as they travel to Denver. There, they will take on an up and coming Colorado Rapids squad at Dick's Sporting Goods Park.
Form
Against D.C. United, the Galaxy fought back to gain all three points to begin the season, bought it was not always easy. The visitors scored five minutes into the match and looked to be a tough nut to crack. But the second half was another story. Mike Magee entered the fray in the 46th minute and changed the proceedings. He contributed to each of the four goals score in the second half; scoring two, assisting one and drawing the penalty in the last. This completed his side's comeback and scored four unanswered goals.
The Colorado Rapids started off their season with a 1-0 nothing loss to the San Jose Earthquakes. Chris Wondolowski scored shortly after the second have got underway and wrapped up the three points. But the good thing was that Colorado looked miles better than last season. For the most part, the Rapids' defense held their own and were adventurous further up the pitch.
Over the course of the last couple of seasons, the Galaxy have dominated the head-to-head battle. They have won three matches, while drawing and losing one. One of these victories contained a 6-0 thrashing at the StubHub Center back in 2014. Joe Nasco got sent off in the first minute of the match and that changed everything. Los Angeles dominated possession, controlling 74% of it. The crazy thing though is that all six of their shots on target were scored.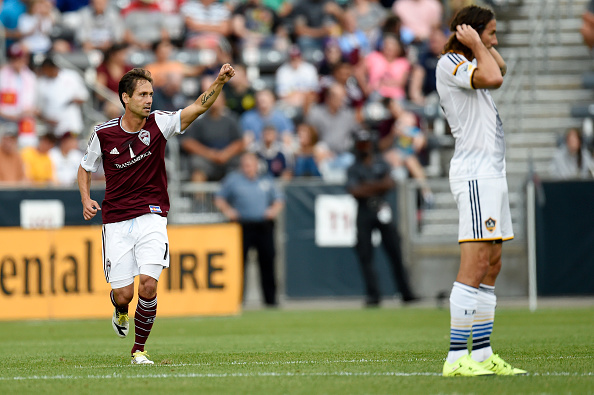 Key Players
While Mike Magee stole the show in the opener, Robbie Keane is still the important figure up front. Keane demands the ball when he is in space and has the ability to work against defenders one on one. And more times than not, the Irish international will make trips into the final third of the pitch count. The offense will run through Keane and it is up to the Colorado defense to stop him.
For Colorado, you should look no further than Jermain Jones. The US Men's National Team player got traded to the Rapids right before the start of the season. However, he will add experience to the middle of the field when he finally makes his debut and will give a boost to the rest of the squad.
Prediction
There are no two ways about this: the Galaxy are the better team. With that said, Bruce Arena's men will walk away from DSG with all three points. They will control possession throughout the majority of the 90 minutes and dictate how the game is played. Los Angeles will most likely come away with at least two or three goals as well, 2-1 or 3-1.