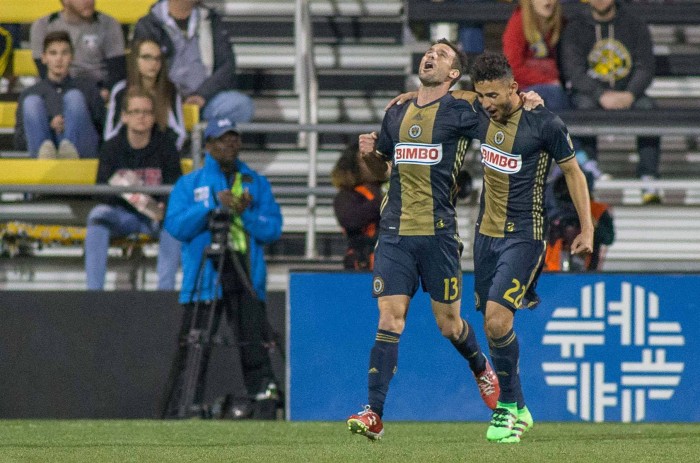 Well that about does here at Talen Energy Stadium. I am Jordan Wohl and be sure to stick around for a recap and post game articles. Thanks and have a good night!
Defense played excellent as well as there's nothubg more to say other than Union simply were top class today
Sapong wreaked havoc on this Revs defense all day. Besides the obvious two goals, he created many chances.
THATS THE WHISTLE AND THE UNION TAKE ALL THREE POINTS IN A 3-0 WIN
90'+4': Le Toux almost repays Fernandes but Fernandes' header is parried away by Shuttlesworth
Fernandes found the wide open Le Toux for the tap-in goal and the 3-0 lead
90'+3':GOAL LE TOUX! Revs give up a last second goal that all but seals the three points!!
90'+2': Herbers has his shot deflected out for a corner kick
Snow/rain starting to fall here at Talen Energy Stadium as the game looks well in hand for the Union
Four minutes of stoppage time
90': Herbers has his hard shot parried away by Shuttlesworth. Corner Kick Union
Sapong recieves a large ovation for his play today
89': Union final sub: Herbers comes in for Sapong
89': Another great save by Blake to parry a Revs shot away from danger
88':Revs pressing forward as Shuttlesworth is now by the midfield line
87': Union try to break but the ensuing cross is cleared by the Revs defense.
86': Creavalle whistled for a tough foul. Free Kick Revolution in the attacking half
85': Revolution sub: Caldwell comes out for Herivaux
84': Fernandes nearly got through on a long pass but it is collected by Shuttlesworth
81': Blake knocked down again and free kick Union. Hes been roughed up today
80': Saved by Shuttlesworth!! Le Toux tried to go right down the middle but Shuttlesworth got his legs on it
79': PENALTY! SAPONG GOES DOWN IN THE BOX AFTER A HARD BATTLE! Le Toux to take it!
78': Free header for Fernandes is cleared off the line.
77': Union Corner Kick coming up after Union sub: Fern