 Sporting Kansas City being the last unbeaten team in MLS may or may not surprise anyone, but the manner in which they achieved that status is anything but ordinary. One player in particular comes to mind when you think about the success of Sporting over the last few season, Benny Feilhaber. The MVP finalist has yet to make his 2016 debut. Add in the loss of the 2015 team leading goal scorer, Krisztian Nemeth and a few nagging injuries to potential starters and you have a recipe for disaster. Despite all the things against them, SKC has started 3-0-0 against three tough opponents.
Along with Feilhaber, newcomer Brad Davis started the season with an injury that kept him out of the first game. Justin Mapp, Seth Sinovic, and Ike Opara have yet to dress for Sporting this season. That's a lot of potential unavailable. For those that don't follow Sporting, this might seem like a disaster or that the start is completely down to luck, but Peter Vermes has assembled a great group of young talent to fill in along with one seasoned veteran.
Who Has Stepped Up?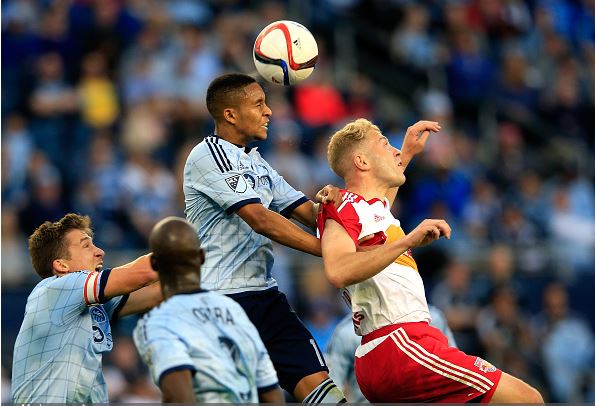 Filling in at LB is Amadou Dia, an MLS sophomore, who showed he had what it takes in 2015 filling in for both Chance Myers and Sinovic as they battled injury. With zero goals from the run of play in 2016, it's easy to say he has been an asset instead of a liability.
Connor Hallisey, another MLS Sophomore, has been called on early to fill Nemeth's spot. Many speculated that Davis or Mapp would be the first choice, but Hallisey has been the guy so far. His performances may not be dazzling, but they have been enough to hold on.
Filling the biggest role is Jordi Quintilla, a 22-year-old Barcelona academy product. In the absence of Feilhaber, it's been Quintilla who has filled the void. While not as flashy or productive as Feilhaber, he has been a vital part of the lineup through the first three games.
Nuno Coelho is the oldest of the new players and has filled Opara's role beside Besler. The new center back was a potential starter over Opara, but has certainly solidified his position alongside Besler for the time being. The hero of the season opener scored a skipper from deep to seal the game.
How Did They Get Here?
Sporting has played two close games against three quality opponents. The opener with Seattle didn't start well, but one monumental error turned the tide for the visitors. A quick start against Vancouver was nearly wasted by a costly mistake, but Sporting was able to hang on. Finally, they managed to contain Sebastian Giovinco and sneak out a goal late.
Starting the season in Seattle is never an easy task, and one Sporting lost out on late in 2015. The Sounders started the game quickly in 2016 and dominated the opening half hour. If it wasn't for the emphasis by the Professional Referee Organization and MLS on two footed tackles, Oneil Fisher might not have been sent off 41 minutes in. The red card for the second year player was enough to turn the tide of the match and allow Sporting to steal all three points on the road. It's hard to say Fisher showed any malice in the tackle where he also won the ball, but two footed tackles are outlawed by the laws of the game.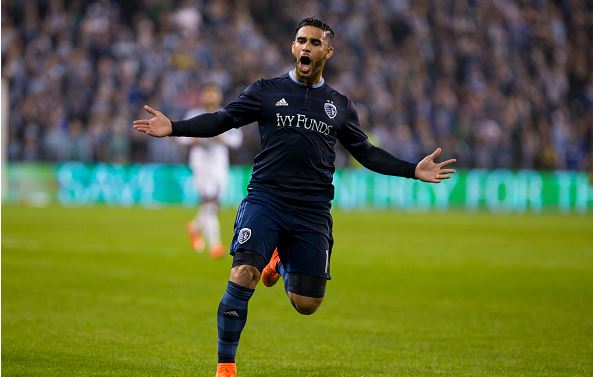 Dom Dwyer scored early against Vancouver to give the home side a lead. A second goal in the first half was enough to set Jordan Smith off. As Graham Zusi looked to be clear on a breakaway, Smith decided he had had enough and took Zusi out from behind. There was no hesitation on the red card in first half stoppage time. Although Pedro Morales converted a PK in the second half, the game was never really in doubt after the red card.
To cap off the spectacular start, Sporting was able to hold off Sebastian Giovinco and Toronto FC for their second shutout of the season. Brad Davis, the former Houston Dynamo captain, got his first goal in Sporting Blue which proved to be the game winner. But again, this one came with more questionable refereeing. PRO came out after the game and said that Davis' challenge to win the ball that resulted in his goal was a foul and the goal never should have happened. Fair or not, the goal stands and Sporting won despite a late red card to Roger Espinoza.
How Long Will the Run Continue?
Given the parity in MLS, it's very unlikely that any team will go unbeaten for an entire season and SKC is bound to drop points sooner rather than later, but the upcoming fixtures aren't terribly difficult.
Real Salt Lake, one of Sporting's most hated rivals, will be in town on April 2nd, but fortune favors the home side once again. RSL captain, Kyle Beckerman, was sent off early against Portland for a crunching tackle on Fanendo Adi. Jamison Olave got himself sent off for a flailing arm that clipped Adi's face. To pile on the bad news, Burrito Martinez was issued a suspension by the Disciplinary Committee for a bad tackle during the game. Missing Espinoza doesn't seem like as big a deal when compared to the holes RSL will have to fill.
Built For the Long Haul
With the great start in spite of the injuries, it appears the Vermes may have cracked the code for MLS success. With talented young players and the new Targeted Allocation Money, SKC is built to sustain their lineup all season.
Sporting is becoming more well known for developing talent each year, whether it be academy players, young draftees, or international signings. Vermes has gone the last two avenues to build a solid group of young players able to contribute now. With Dia, Hallisey, and Quintilla all having proven themselves as viable options, Vermes knows he can sustain the winning ways in the absence of several regular starters.
Given all the TAM floating around, teams have two options. One has clearly been realized by so many teams, including the Colorado Rapids and their new goalkeeper Tim Howard. Big money signings are now available to all clubs in MLS. The other is buying down players and artificially increasing the salary cap. Instead of tying up all TAM in one player, multiple players can be bought down. This is how Sporting is able to stock their bench with quality veterans and put together the deepest midfield in the league.
If this recipe holds true, Vermes and company look to be capable of challenging anyone for the Supporters' Shield.