 FC Dallas winger Michael Barrios has been voted the MLS Player of the Week for Week Four of the 2016 MLS season. Barrios scored a brace in the first half to lead Dallas to a 3-0 road win at RFK Stadium against D.C. United. Dallas now has a record of 3-1-0 (W-L-T) and currently sit in second placed of the Western Conference and Supporters' Shield Standings.
Barrios Scores Brace Inside 30 Minutes
Barrios, 24, scored his first goal of the game in the 14th minute and his second goal in the 28th minute to all but put away D.C. United. Both goals were similar as he cut inside the box from the right. Both goals were launched into the far side netting.
Barrios in Second Season with FC Dallas
The 2016 MLS season is Barrios second season in MLS, all with FC Dallas. The Colombian was signed by Dallas back on February 20, 2015. Prior to arriving in Dallas, he played for seasons with Colombian first division side Uniautonoma. In 136 appearances, he scored 35 goals in 10,091 minutes played.
In 2015, Barrios appeared in 26 regular season matches, starting 19. She scored seven goals and assisted on two other in 1,755 minutes played. He also appeared in four postseason games, logging 385 minutes, but scored no goals or assisted on any either.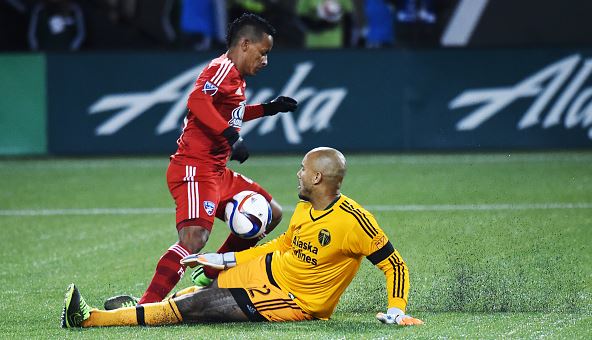 So far in 2016, he has appeared in all four matches, starting two. He has logged 338 minutes and his brace this past weekend were the first two goals of the season for him. So far he has yet to tally an assist.
Barrios joins Mike Magee (Week 1), Andrew Wenger (Week 2) and Felipe (Week 3) as the MLS Player of the Week award winners.
The MLS Player of the Week is selected each week of the regular season by a panel of journalists from North American Soccer Reporters (NASR). The group consists of members of print, television, radio and media.