 When one says the term, "Dos A Cero," any United States Soccer fan will respond with, Columbus, Ohio, or MAPFRE Stadium. The beloved field that hosts Columbus Crew SC of Major League Soccer, is known for its textbook history when hosting both United States men's national team, and United States women's national team.
Scoreless Draw with Costa Rica
The USMNT played out to a scoreless draw with Costa Rica in what was known as Crew Stadium at the time. Both teams did, however, advance to the final round of CONCACAF's World Cup Qualifying competition just the next year. The USMNT were led by head coach, Bruce Arena.
"La Guerra Fria"
The Cold War, soccer edition. 2001 saw a freezing cold Hexagonal opening match between El Tri and the USMNT held in Columbus. With temperatures ranging in single digits, the cold held off El Tri from participating in warm ups. This played a huge factor in that match, and gave the USMNT the advantage to take control of the game, and defeat their rivals 2-0. Thus was born, Dos A Cero.
Later, Arenas' team went on to defeat Mexico in the 2002 FIFA World Cup, then soon returned back to Columbus for a qualifying encore. The only other option to play El Tri again, was the Home Depot Center, in Los Angeles, California, (now known as StubHub Center), so it was back to Crew Stadium once more where USMNT prevailed yet again, 2-0. Before the game, a newspaper based out of Mexico City headlined an article titled, "Casa del Terror," which translates to 'House of Terror.'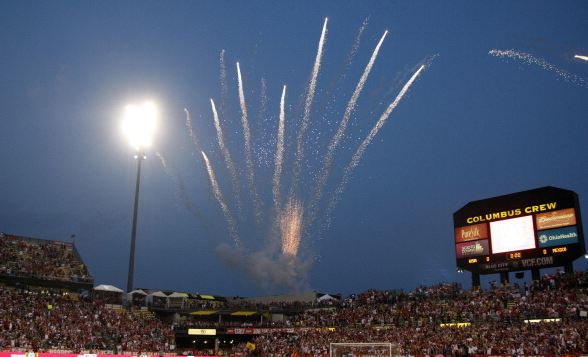 Back again it went to face Mexico in Columbus for a third consecutive 2-0 win. Michael Bradley knotted both goals. Now it may seem that this is just all about El Tri against the USMNT, the women's sport also had some success.
In 2011, the USWNT visited Columbus in qualifying for the FIFA Women's World Cup. They faced a strong team in Japan, and were able to create their own Dos A Cero magic, defeating Japan by a score of 2-0.
Undefeated In Columbus
Before the USMNT match against Guatemala, the USMNT were undefeated in ten games, seeing an impressive record of 7-0-3 when playing in Columbus. The men's team prevailed a 4-0 win on Tuesday night, and are now undefeated in 11 games, (8-0-3).
There are other places in the U.S. that could be the unofficial home for U.S. Soccer, but for one particular reason, MAPFRE Stadium and Columbus, Ohio, is the unofficial home for United States Soccer.