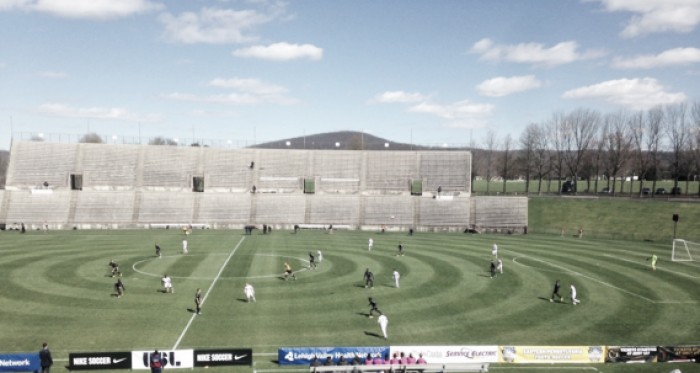 Bethlehem, PA- On Sunday, Bethlehem Steel FC dropped their inaugural home opener to FC Cincinnati, 2-1, in front of a paid attendance of 3,655 at Goodman Stadium at Lehigh University.
"It was great, I thought it was excellent." Bethlehem Head Coach Brendan Burke said. "If we get that sort of support going forward I think we're going to be in great shape. We'll get the results that goes with a nice attendance like that next time."
Featuring numerous former Philadelphia Union players in their lineup and bench, FC Cincinnati opened the game heavy on the attack. Former Union as well as current FC Cincinnati midfielder Jimmy McLaughlin helped create chances with his crossing and finishing abilities, which caused the Steel defense and Steel goalkeeper John McCarthy problems from the opening whistle.
Steel Answer Cincinnati's Strong Start
Bethlehem answered back with flanking attack led by Ryan Richter, who provided great service from his fullback position. In the 20th minute, Richter put a nearly perfect cross across the Cincinnati goal line that was just out of the reach of forward Gabe Gissie.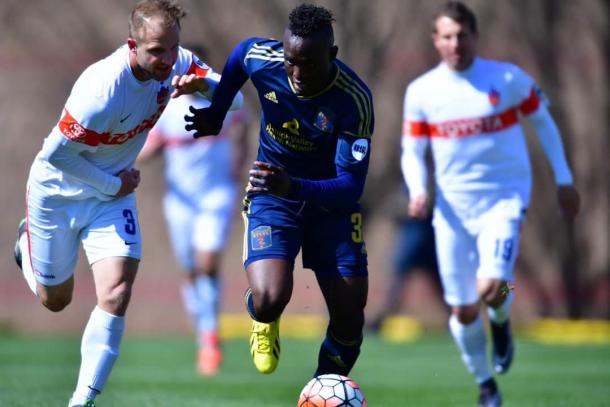 Despite Bethlehem finding some offensive attack in the middle of the first half, Cincinnati would open the scoring off the foot of Andrew Wiedeman. In the 25th minute, Cincinnati midfielder Corben Bone and Wiedeman linked up with excellent combination play, leaving Wiedeman from about 15 yards out, where he slipped the ball past McCarthy near post for the 1-0 lead.
Just ten minutes later, Cincinnati would double their lead. In the 34th minute, Wiedeman and forward Sean Okoli combined for a textbook give and go, which left Okoli in on net with just McCarthy to beat. Okoli beat McCarthy to the 50-50 ball and slid it into the net for the 2-0 lead.
The game did turn chippy late in the second half when Cincinnati midfielder Antoine Hoppenot threw the ball away to stall for time on a Steel throw-in. Steel midfielder Boluwatife Akinyode apparently pushed Hoppenot to the ground during the mix-up, which earned him a second yellow card and an early exit from the game. Hoppenot, the former Union forward, earned a yellow card for his antics as well.
Steel Scores First Goal of Season at Home
Steel would add a 90th minute goal to cut the lead in half thanks to Eric Ayuk, but the comeback would fall short as Bethlehem fell to Cincinnati 2-1.
"I was happy to score, but disappointed in the game." Ayuk said of his goal. "We just have to keep working hard and keep moving forward in our game."
The man of the match for Cincinnati was Wiedeman, who provided a goal as well as the assist on another goal. His ability to find space behind the Bethlehem backline was vibrantly on display Sunday afternoon.
For Steel FC, the man of the match likely were Richter and McCarthy. Richter was ever-present on the flanks on Sunday with his ability to cross the ball into dangerous areas as well as his defensive abilities controlling the Cincinnati wingers.
Despite of problems with distribution versus heavy gusts of wind, the young goalkeeper was exceptionally busy on the day and made excellent saves all game to keep his team in the game.
"It was tough." McCarthy said of his day in net "I'm sure some guys might have had some nerves being the first home opener in club history. I thought the team did well, we two rough patches in the first half for like five minutes and that's what cost us the game right there."
Considering that both teams are in their inaugural seasons of existence in the United Soccer League, both Cincinnati and Bethlehem have compiled impressive arrays of talent for the season. In addition to the expansive talent on the team, Bethlehem had an impressive fan showing on a very cold, windy Sunday afternoon.
Both Ayuk and McCarthy did not believe that the crowd would be as large.
"It was great." McCarthy added post-game "I didn't think we'd have nearly as many fans. It was a long way to get here and to see that type of crowd, in that type of environment, it was great to play in front of."
Ayuk added, ""I was so happy. I was not expecting the fans to come a lot. I was happy to see the fans in Bethlehem, but we have to keep working hard."
Bethlehem continues their season on April 10th, when they take on New York Red Bulls II at Red Bull Arena. Cincinnati opens up their inaugural home campaign against Charlotte Independence on April 9th at Nippert Stadium.