 I recall the spring of 2015, walking through a hallway while listening to Sepp Blatter's resignation speech on a dodgy on my phone in sheer amazement. The only thing which could be felt was utter disbelief, that the man many have characterized as the dark lord of FIFA was finally going to be leaving.
Suddenly, I felt hope, that thing with feathers, fluttering in my chest. For one shining moment, it felt as though some semblance of real change could come to FIFA, that organization which has prompted football fans the world over to sport t-shirts which say "MaFIFA" on them.
FIFA Made People... Hopeful (For a Bit)
Fast forward a little less than a year, and things seem to be very different. Indictments have continued around the world, and various former CONCACAF, CONMEBOL and marketing executives, largely from the Americas, are either in the US to face charges or are in varying stages of fighting extradition to the US.
Blatter is gone, as is his chief lieutenant and former FIFA Secretary General Jerome Valcke. Blatter's "disloyalty payment" to Michel Platini (some people might just call it a bribe) has led to their respective bans from football for the next six years, and ending Platini's candidacy to replace Blatter.
Back in February, FIFA held their "Extraordinary Congress" to push through a number of reforms in addition to electing a new FIFA President. The Executive Committee was changed, and there was a new movement to represent more of the world in a less unequal way, and to finally make room for women to have a real say in world soccer's governing body.
And, most importantly, Infantino was elected as the new President. At the congress, the organization promised a new frontier: "Embracing reform. Stronger government. Greater diversity." All the great buzzwords which any politician that claims they will bring about lasting change espouse.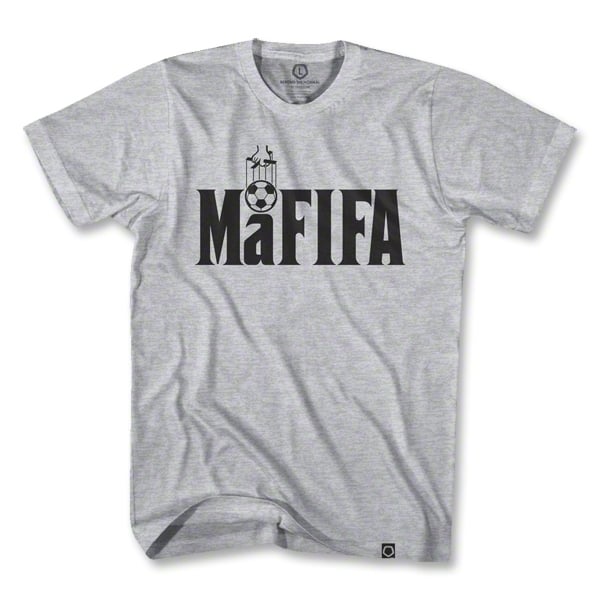 Now, just over a month since Infantino's election, all the bad memories of Blatter's tenure of patronage have been brought back up.
The Panama Papers
The Panama Papers, that secret treasure trove of offshore accounts which prompted the resignation of Iceland's Prime Minister, awkward moments for British Prime Minister David Cameron during Prime Minister's Questions and a deeper understanding of the corruption within Vladimir Putin's Russia, have now led to yet another raid of UEFA's headquarters by Swiss police.
The 11 million documents from Panamanian corporation Mossack Fonseca led to the discovery that a current member of the FIFA Ethics Committee, Juan Pedro Damiani, has some significant links to Eugenio Figueredo, a former FIFA Vice President who has been linked closely with corruption.
Far worse than that, the new President, one Gianni Infantino, signed broadcast contracts in Ecuador for the UEFA Champions League and UEFA Cup in 2003 and 2006 to a company called CrossTrading, which proceeded to sell them on broadcaster Teleamazonas.
UEFA Maintain No Illegality
UEFA, to their credit, maintain that nothing illicit occured, and there is as yet no evidence of that. Yet, they also had maintained that they had no dealings with any of the companies which were indicted by the United States last year. Considering that CrossTrading was one of the names which kept cropping up in the indictments, it seems interesting that UEFA has taken that stance.
When one is informed that CrossTrading proceeded to sell on the broadcasting rights to Teleamazonas for between three and four times their actual value, that evokes memories of an awful lot of what led to the indictments in the first place.
In fact, not only did UEFA fail to acknowledge their prior dealings with CrossTrading, but they also signed a hospitality contract for Euro 2016 with Brazilian company Traffic Sports, whose embattled President was indicted back in May.
It's entirely possible that nothing illegal, illicit or wrong in any manner occured. In fact, Infantino defended himself on Wednesday, and he said he was "dismayed and will not accept that my integrity is being doubted by certain areas of the media, especially given that Uefa has already disclosed in detail all facts regarding these contracts."
He expanded, and went on to welcome an investigation, saying, "I welcome any investigation conducted into this matter. Should I be required to contribute to bringing further clarification on the matter, I will of course gladly do so. It is in my interest and in the interest of football that everything should come to light."
I desperately hope that he is telling the truth, and that this will prove to be merely a case of the wrong contract coming out at the wrong time. Yet, this sounds so much like "old FIFA" that it's frightening. I want so badly to believe that the body which is in charge of maintaining this game which is beloved by so many is acting in the right way, and that they've entered a new age centered around transparency, equality and fairness.
Sadly, this latest news feels like the whole business of the Extraordinary Congress and the election was nothing more than a case of putting a fresh coat of paint on a crumbling facade instead of the complete rebuilding job which was needed.
Keep checking back with VAVEL USA for the latest developments regarding FIFA and the Panama Papers.