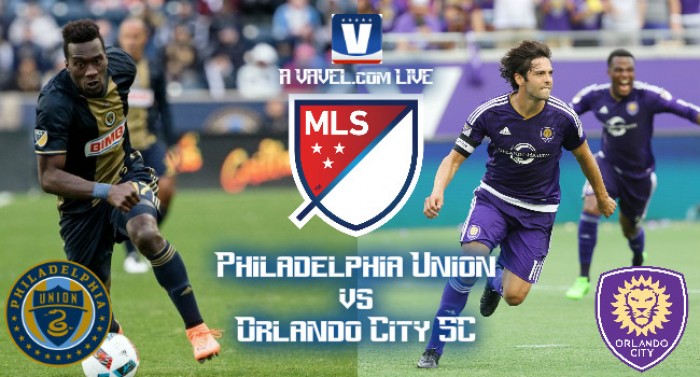 Stay tuned for Recap and quotes from the locker room.
90'+3': FULL TIME!!! UNION TAKE ALL THREE POINTS IN A THRILLER.
90'+2':Union taking their time with throw-ins
90'+1': Orlando close! Winter hits an excellent volley but it is saved by Blake with an excellent reaction.
90'+1': Orlando sub: Baptista in for Nocerino.
90': GOAL!!! GOAL!!! Barnetta puts an absolute world class free kick strike in the top corner off the post. What a strike! 2-1 Union
89': Sapong fouled on top of the box from about 23 yards out. Barnetta and Fernandes standing over it.
88': Union throw-in deep in Orlando territory
86': Orlando sends in a dangerous cross but no one is home to hit it on net.
85': Union last sub: Fernandes comes on for Pontius.
83': Corner is deflected out of danger by Orlando.
83': Union earn a Corner Kick as Fernandes waits to come on.
82': Leo Fernandes looking to come in for Philadelphia.
80': Throw-in leads to nothing dangerous. Goal Kick Orlando.
79': Collin sends a ball out of bounds leading to a Union long throw-in.
78': Barnetta sends the ball over the net. Goal Kick Orlando.
77': Union earn a free kick 24 yards out. Barnetta and Pontius both standing over it.
75': Union earn a corner kick after Orlando heads it out of bounds.
74': Union trying to slow down play by trying to build out of the back. It leads to a Free Kick in the offensive half. Barnetta stands over it.
71': Union Corner Kick is cleared out of danger. Kaka tries to catch the Union defense sleeping, but he is well marked on a 1 on 2 and sends a shot wide. Goal Kick Union.
69': Close! Union knocking on the doorstep as the ball is again scrambled along the box, but cleared by Orlando
69': Kaka pushes down Rosenberry for a Union free kick in the offensive half.
68': Blake collects the corner ont he short hop near post.
68': Orlando win a corner after Tribbett deflects the ball out of bounds.
66': Close! The ball is batted around in the box before being cleared by Orlando's defense. Orlando win a Free Kick in the defensive half on the clearance.
65': Game back on as Union win a corner.
Play has stopped as Andre Blake was cleated on the retrieval of a cross.
63': Union subs: Barnetta for Alberg & Herbers for Le Toux.
59': Sapong fouls an Orlando defender while trying to retrieve a pass. Free Kick Orlando.
58': Free Kick Union in the offensive half. A Union player gets a head on it, but it is wide. Goal Kick Orlando.
57': Orlando getting close on finding the tie-breaking goal but Kaka puts his shot over the crossbar. Goal Kick Union.
56': Union cant find the right cross and again it leads to a throw-in for Orlando in the defensive half.
54': Good Hustle by Le Toux to retrieve a cross int he offensive side. But his ensuing cross is unbelievably shanked. Throw-in Orlando.
53': Brian Carroll is fouled at midfield. Free Kick Union.
52': Fancy footwork by Winter almost puts Kaka through on net but Kaka shanks his shot. Goal Kick Union.
50': Were back! Ceren mishits a volley on top of the box way wide. Goal Kick Union.
Players are falling down left and right as Marrufo blows the halftime whistle. He needs to get control of this game in the second half.
45':1 minute of stoppage time added
43': GOAL ORLANDO WINTER! Winter flicks the ball over Rosenberry and hits on the half volley for the equalizer. 1-1 tie.
41': Throw-in leads to nothing. Goal Kick Orlando.
40': Philadelphia throw-in in the offensive third.
38': Pontius with a nasty cutback and shot forces a good parry out of Bendik. Orlando defense pushes the ball out of the box.
37': Orlando trying to regroup out of the back
36': Corner is played out of danger by Philadelphia
35': Tribbett nearly puts the ball into his own net. Corner Kick Orlando.
31': Free Kick Orlando in a dangerous area is cleared out by the Union defense.
31': YELLOW CARD FABINHO! Fabinho takes out Molino's legs from behind and earns a caution in the process. Free Kick Orlando.
30': Sapong commits a foul in the box. Free Kick Orlando.
Game is getting chippy and Marrufo might be starting to lose control of this game
27': Alberg tries a shot from long distance, but it is collected by Bendik.
25': Good one-two play between Pontius and Sapong leaves alone back post, but Pontius' cross is just a little far.
24': Orlando player is up and the ensuing corner is collected by Blake.
23': Orlando player is down on the field as play stops.
22': Kaka again is almost through but Tribbett deflects the shot out of bounds for another Orlando Corner.
22': Union back on the attack as they force a clearance from Orlando.
21': Orlando's header goes wide ont he second attempt at the corner. Goal Kick Union.
20': Corner is put out by a Union deflection. Corner again for Orlando.
19': Kaka almost gets past the Union backline but Marquez makes a great tackle to force the corner.
18': Pontius fouled in the defensive half. Free Kick Union.
16': Corner Kick Orlando with Kaka standing over it. It is punched out by Blake.
15': Tribbett is fouled in the corner. Free Kick Union in the defensive half.
13': Kaka's shot goes wide and it is a goal kick for Philadelphia.
12': Orlando has begun to show signs of life in the last five minutes by controlling possession.
10': Goal Kick Union. It is collected by Orlando as they try to bulld possession.
9': Orlando intercept a pass and try to build out of the back.
8': Orlando has not really touched the ball much early in the game as the Union control possession.
7':Union just content to build possession around the field right now
6': Pontius is clipped at midfield. Free Kick Union at midfield.
3': Ugly goal but the Union will certainly take a one goal lead
2': GOAL! Ramos mishits a cross hit in by Rosenberry and Sapong easily taps the ball in for the early lead. 1-0 Union
2':Orlando clears their lines and it is a throw-in for Philadelphia in the offensive half
1': Sapong fouls an Orlando defender on the edge of the box. Free Kick Orlando in the defensive half
1': Kickoff!
About to kickoff! Here we go!
One slight surprise for the Union is Sebastien Le Toux getting the start tonight on the wing. It will be worth watching to see how he reacts to his first start of the season.
That is not a typo. Orlando only has six on the bench. Cristian Higuita was a late scratch, leaving the team with an empty spot on the bench.
Philadelphia Bench: Restrepo, Fernandes, Jones, Gaddis, Herbers, Barnetta, Anderson
Philadelphia Starting XI: Blake; Fabinho, Marquez, Tribbett, Rosenberry; Nogueira, Carroll, Le Toux, Alberg, Pontius; Sapong
Bench: Rivas, Edwards, Mateos, Baptista, Barry, Alston
Orlando Starting XI: Bendik; Ramos, Boden, Hines, Collin; Carrasco, Ceren, Nocerino; Winter, Kaka, Molino
We are live from cold Chester, Pennsylvania! Both teams are currently on the field warming up.
Here's a look at the MLS Eastern Conference Standings as they sit Friday morning. (Photo Courtesy of MLS).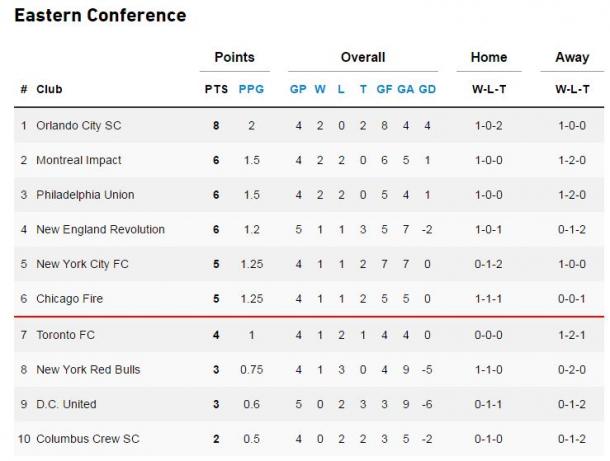 One player that could alleviate some of the burden of missing those players is the possible debut of Julio Baptista. The Beast will likely not start the game, but could see minutes in Friday's match. Baptista is a central attacking midfielder and a forward. With Larin out, Baptista could see minutes behind likely replacement Servando Carrasco.
That Brek Shea tackle that earned him a suspension can be viewed here.
With Philadelphia's possible selection choices outlined, let's talk about Orlando. Orlando will be missing serious pieces of their starting eleven. To begin, forward Cyle Larin will miss Friday's match with a hamstring injury. Due to suspension, fullback Brek Shea will not play on Friday. Last, defender Tommy Redding will also be out with a head injury. By that count, Orlando will have to replace three starters in their usual starting eleven. This is the same starting eleven that has Orlando on top of the Eastern Conference after four games is undefeated and has the team sitting on eight points.
On the wings, Chris Pontius and Ilsinho will get the likely start. At forward, CJ Sapong will round out the starting eleven for Curtin's side.
For the defense, Curtin will likely trot out a backline that has only allowed two goals to be scored in three games played together. The backline comprised of Keegan Rosenberry, Ken Tribbett, Richie Marquez and Fabinho will be heavily leaned upon to stop a potent Orlando offensive attack led by the legendary Kaka.
While discussing the main opening in Philadelphia's lineup, let's discuss the probable lineup in its entirety. At goalkeeper, Andre Blake is without question the starting goalkeeper for Philadelphia and could, in fact, be an MLS All-Star this season. Blake has shown fans over the last year why he was chosen first overall in the 2014 MLS SuperDraft. His ability to react quickly to shots, organize the defense and be a difference maker for his team is certainly a breath of fresh air for fans that remember the Rais Mbohli era.
Another option is to place the also possibly returning Vincent Nogueira alongside Carroll and keep Alberg in the ten role. However, both possible options for Curtin depend on the health of Barnetta and Nogueira.
There are a couple options to consider for this with Creavalle out. One option is to move midfielder Roland Alberg back into the double pivot. Alberg has played in the number ten role a couple times this season for Philadelphia, but could certainly play that number eight role as well. By putting Alberg in the double pivot, it frees up the central attacking midfielder spot for the possibly returning Tranquillo Barnetta.
The double pivot in this type of formation is usually made up of two defensive midfielders. Brian Carroll is a player that gives the Union more of the defensive side and less on the offensive side. With Carroll playing more of the number six role, Curtin will look for a number eight or a box-to-box midfielder to pair with him.
In such a crucial game, there will be some selection decisions for Curtin to make. Primarily, the Philadelphia technical staff will have to determine who will take over for the red card suspended Warren Creavalle. In Philadelphia's current formation (4-2-3-1), Creavalle formed the double pivot with Brian Carroll.
Philadelphia, who have been playing without Captain Maurice Edu and, to this point, Tranquillo Barnetta, have certainly been one of better stories of the very early season. With a win Friday night, the Union can go to the top of the MLS Eastern Conference and move up to 1.8 Points Per Game.
When the schedule came out, few predicted Philadelphia would have six points in their first four games. After being thoroughly dominated by FC Dallas, Philadelphia Head Coach Jim Curtin rallied his team to two straight wins over Columbus Crew and New England Revolution.
For Orlando, they roll into Talen Energy Stadium coming off a very impressive 4-1 win over the MLS Cup defending champions, the Portland Timbers. However, that victory came at a cost, which will be discussed in a bit.
In their last game out, Philadelphia fell to Chicago Fire 1-0. In the game, the Union looked like the better side for the majority of the game, but were unable to finish any of their chances. The Union hit the post multiple times in last Saturday's defeat and will look to do better Friday night.
This is the first matchup between these sides in the 2016 season. Last season, the sides played two games, and the Union came away with a victory and a draw. This season the teams will face off three times. The two other than this week's matchup: Friday night, May 25th at Orlando in the Citrus Bowl and October 16th back at Talen Energy Stadium.
Head referee for Friday's match will be Jair Marrufo. The assistant referees will be Peter Balciunas and Daniel Belleau. The fourth official will be Rubiel Vazquez.
Welcome to VAVEL USA's LIVE coverage of the 2016 Major League Soccer Regular Season. Tonight's matchup between Philadelphia Union and Orlando City SC will take place at Talen Energy Stadium in Chester, Pennsylvania. I'm Jordan Wohl, and I'll be providing minute-to-minute updates, commentary, and results of the match. The game starts at 7 pm ET and there will be coverage pregame, mid-game, and postgame.