 After Nigel De Jong's horror tackle on Darlington Nagbe on Sunday, many feared a broken leg or worse for the Portland Timbers midfielder, but an MRI has revealed that the midfielder suffered an ankle sprain and contusion.
The 1-1 draw between the LA Galaxy and Portland Timbers was marred by De Jong's tackle on Nagbe in the 73rd minute that forced the midfielder off the field. The initial X-rays on Monday came back negative after De Jong's late, ankle high challenge on Nagbe left the young midfielder in a heap.
No timetable for Nagbe's return
Sports Illustrated's Grant Wahl reported the MRI results but said there is no timetable for his return to action. Nagbe was initially stretchered off the field as a result of De Jong's challenge, which saw the LA Galaxy midfielder shown a yellow card. The tackle was late and after a replay, shows just how lucky Nagbe was to escape a much more serious injury.
Wahl also reported on Monday that the MLS Disciplinary Committee plans to review the incident and retrospectively ban De Jong. The Timbers were "cautiously optimistic" that Nagbe's injury would not keep him out for long and while the ankle sprain will sideline him, it may not be for too long.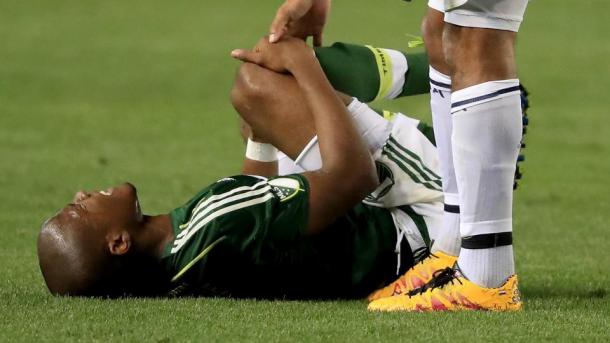 Nagbe has been a stalwart for the Portland Timbers since joining the team in 2011 but the injury will unfortunately sideline the United States midfielder for a while. He made his debut for the United States in a World Cup Qualifier in November of last year and was instrumental in Portland's MLS Cup win last season.
The 25-year-old's injury comes near the beginning of the season, meaning he should be ready to return for a large remainder of the campaign.