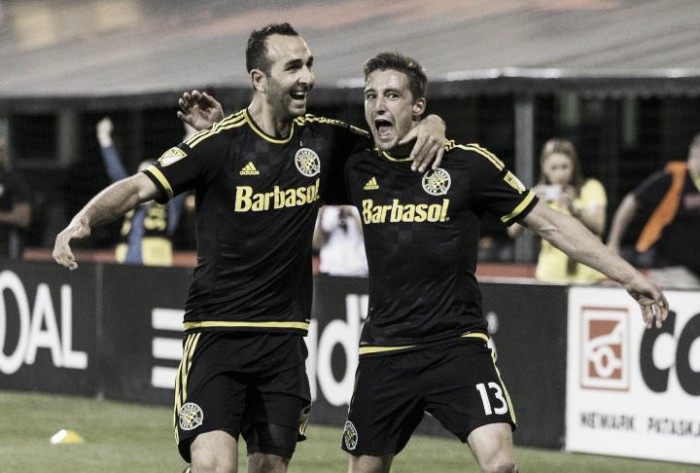 Columbus Crew SC got their first win of the season, defeating New York City FC by a score of 3-2 at home in front of a home crowd. Post match comments by Justin Meram and head coach and sporting director Gregg Berhalter are found below.
Head coach Gregg Berhalter and Justin Meram
On offense coming to life: "I think that we worked all week on how were gonna play and getting the guys confident and you see particular first half, was some really good soccer; Dynamic attacking, good possession, good movement. So I think that it was a great performance." - Gregg Berhalter
On current standings and how Crew SC are better: "There were times in the season where we were unlucky, but we could've done better and we know that. It's playing our brand of soccer and planning on how to execute." - GB
On NYCFC defense allowing to be loose and effective to attack: "It's tough for them to focus when the attention is on [Federico] Higuain and the movement he makes creates space for you and he was exceptional tonight. Finding me in space behind the defense and letting me score." - Justin Meram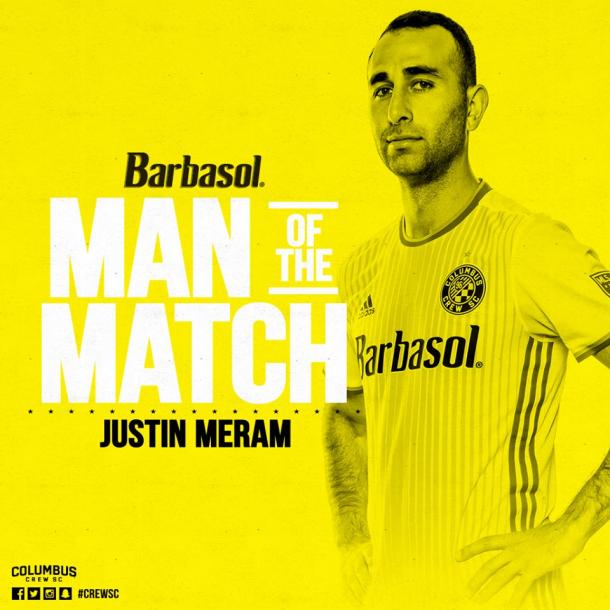 Teams creating chances: "So if you look at expecting goals versus goals in reality, we were trailing, and we knew that. The movement was good, and we should be scoring more and more than we are, and we have quality players, and were creating quality chances and it's a matter of time. I tell you guys all the time how small the margins of soccer is, and sometimes you're at the right side of the post, and sometimes you're on the wrong side of the post, and today it was good to see. I like in particular, the agressive movement and some of the chances we created." - GB
On prepareness with NYCFC: "It didn't, it hurt our confidence. We were shaken a little bit because of the result and it's identical results to the four games we played last year, the first four away games. It hurt our confidence, but in the end, it's gonna help us, and it's gonna boost our confidence. We played some good teams on the road, we had some good performances on the road, and we know what it takes to win games."
After scoring the game winner with a near 10 minutes left in the match, the two goal lead was quickly cut in half after David Villa converted a controversial penalty kick, that resulted in a mistaken red card to Michael Parkhurst.
Referee Ted Unkel said to the media, "It was the wrong guy." When asked upon the reason for sending of Crew SC captain, Unkel did not respond.
Crew SC play home to the hot Houston Dynamo next week, while NYCFC travel to Philadelphia Union in another Eastern Conference showdown.