 First Kaka, then Clint Dempsey, and now David Villa. The Philadelphia Union have faced no shortage of dynamic attackers in recent weeks, and that continues when Villa and company make their way down to Talen Energy Stadium this weekend.
Last week, the Philadelphia Union did a fairly good job at limiting Dempsey's influence on the game. Rather, a red card and a great Andreas Ivanschitz pass undid the Union last week, not Clint Dempsey. If the Union are to win this Saturday, they are going to need to contain David Villa like they did Dempsey last week and Kaka the week before.
Who David Villa will be looking to exploit is uncertain, though. Richie Marquez will be on the left side of defense, but the right side is not as certain. Ken Tribbett picked up an injury last week and missed the game in Seattle with Joshua Yaro making his Major League Soccer debut. After Yaro worked out nerves early in the game, he had a very solid first game. Manager Jim Curtin could opt to give Yaro the start this Saturday as well to allow Tribbett an extra week of rest.
Everything goes through David Villa for NYCFC
New York City FC have a lot of problems as they look to form a cohesive team. That does not mean they can't be dangerous though, and David Villa is the main reason for that. Villa can hurt a team in so many ways with his movement off of the defenders and finding pockets of space around the 18-yard box.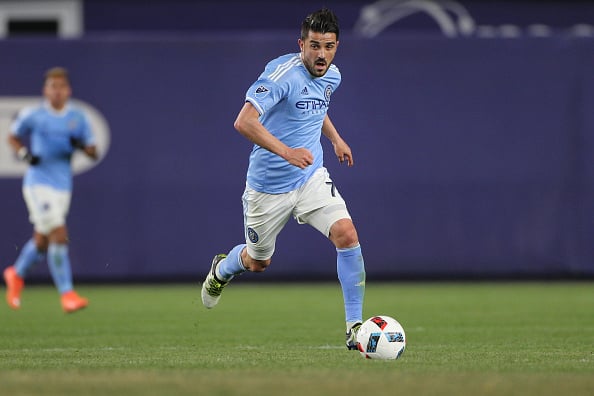 There is a reason a lot of people consider David Villa one of, if not the most complete attackers in MLS right now. He is neither fastest striker nor the biggest, but he has a way of finding space, and with his quick feet, he can be deadly around the 18.
Last week, Villa scored two goals in a losing effort against the Columbus Crew, the second time he has done that this season. Everything that NYCFC looks to do on offense goes through David Villa, and for most of their history, he has looked to do it all himself. With no real midfield identity behind him, who can really blame him, and for a lot of games, NYCFC have needed Villa to do just that.
What will Patrick Viera do with NYCFC's tactics?
Manager Patrick Vieira has been tasked with the challenge of figuring out how to get these NYCFC pieces into a good looking puzzle, which is not an easy feat. In just a few short games, Viera has gotten the attention of the MLS community for his interesting tactics and formation decisions.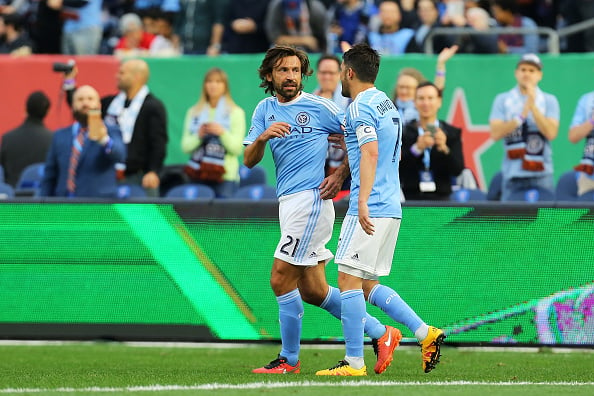 On the road this year, NYCFC have typically used a 4-3-3 with an inverted triangle in the midfield. The formation itself hasn't been the problem. Rather, the problem has been the personnel. Vieira has said repeatedly that he has no problem playing Andrea Pirlo as the lone midfielder sitting in front of an already shaky defensive unit.
Pirlo has an ability to pick out passes and see things before anyone else does on the field. He has made a career out of sitting deep and dropping perfectly right where he's needed. One thing he hasn't made a career out of is running around in front of the back line breaking up plays. That isn't a knock on Pirlo because that's just not who he is as a player. He has played next to a true holding midfielder who did the dirty work which freed Pirlo up his whole career. Now later in his career, Vieira has Pirlo responsible for shielding the back line. That is very dangerous and Columbus exposed that space multiple times last week in their 3-2 win.
How can the Union take advantage?
The Philadelphia Union will be looking to Vincent Nogueira to unlock the NYCFC defense with diagonal balls like he has done throughout the season. If Nogueira is on his game, he can do this as well as anyone in MLS. If he executes, it will cause the NYC defense to stretch out with little midfield cover to help.
The Union will also be looking for quick passing and strong interplay between their attacking midfielders in order to exploit the space in front of the City defense that Pirlo is not built to cover. The Union may get a boost this week as well with Tranquillo Barnetta poised to get his first start of the year with Roland Alberg suspended. Ilsinho is also back training with the club and may be available for selection this Saturday.
Whoever it may be starting in the line behind CJ Sapong, look for them to find the open space that will inevitably be there and combine with their fullbacks to stretch out the defense. If the Union do this, execute well, and stay patient, the goal scoring opportunities will come. The defense will be focused on containing David Villa and frustrating him. If the Philadelphia Union can do both of these, they will be on their way to a third win in three games at home.