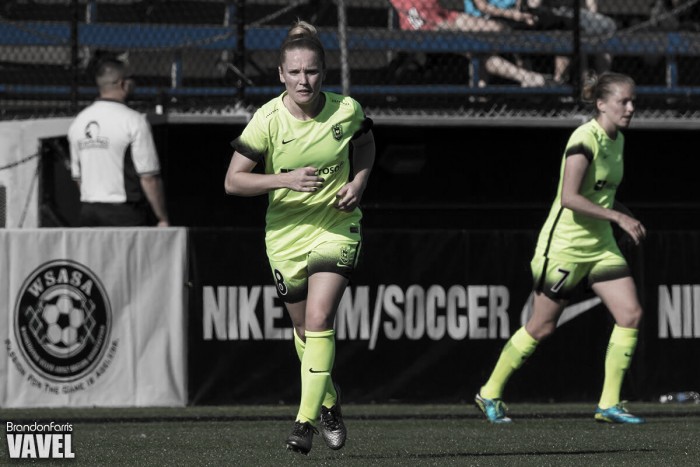 Seattle Reign midfielder Kim Little has been voted the National Women's Soccer League (NWSL) Player of the Week for week two. Little scored a goal and assisted on two others in Seattle's 3-0 win over the Boston Breakers this past Sunday.
Little assists on Seattle's first and second goal
Little, 25, got the ball rolling for Seattle in the 10th minute of the game. She received the ball in a pocket of space inside the penalty area. Little then played a ball to Manon Melis at the top of the box. Melis was able to lob her shot over Breakers goalkeeper Libby Stout for her first career NWSL goal.
In the 39th minute, Little was at it again. This time she sent in a corner kick that found Rachel Corsie at the near post. Corsie was able to redirect the ball into the back of the net to give Seattle a commanding 2-0 lead before halftime.
Little scores third and final goal
Little scored her first goal of the season in the 79th minute. Forward Beverly Yanez found Little making a run into the Breakers penalty box. Little took one touch and then tucked her left-footed shot past the goalkeeper inside the far post to seal the win for Seattle.
This was the second time Little has been named the NWSL Player of the Week in her two plus years in the league. The last time was after Week 19 of the 2015 NWSL season. This is also the tenth time a member of the Reign has been named Player of the Week.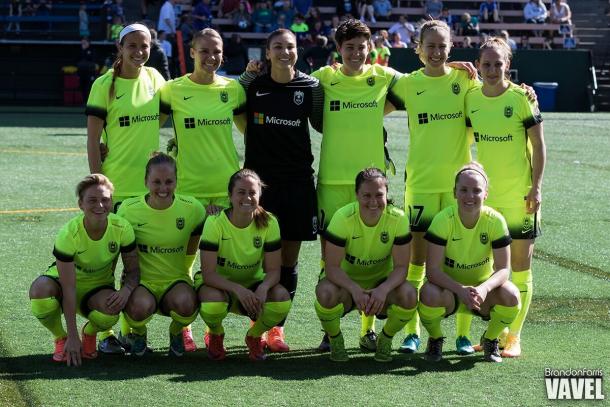 What's next
The 2014 NWSL MVP and Seattle head back home to take on the two-time NWSL defending champions in FC Kansas City this Sunday at 7:00pm EST. Seattle will look to avenge their NWSL Championship loss from the last two years and also looks to rebound from their first ever loss at home that came at the hands of Sky Blue FC two weeks ago.
The NWSL Player of the Week is selected each week of the regular season by the NWSL Media Association, a collection of press that cover the league on a consistent basis. For more information on the NWSL Media Association.