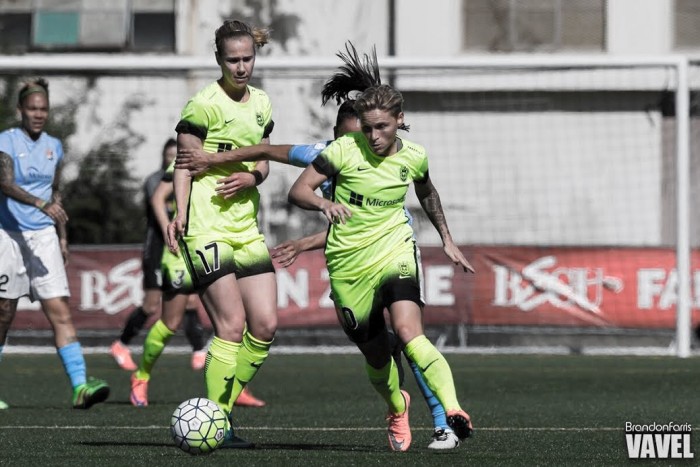 Seattle Reign midfielder Jess Fishlock will be out four to six weeks with a left tibia fracture. Fishlock was injured during last Sunday's game against the Boston Breakers.
Fishlock injured in first half
Fishlock picked up the injury in the first half after she received a clumsy tackle from Boston's McCall Zerboni in the 29th minute. She was down for several minutes and was able to walk off under her own power. She tried to continue, but eventually had to be subbed off in the 41st minute in favor of Elli Reed.
In the GIF below, you can see the challenge on Fishlock.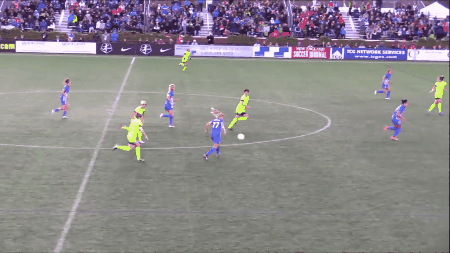 Fishlock second big time player injured for Seattle
Fishlock will join teammate Megan Rapinoe on the injured list. The Reign are now missing two of their biggest and most impactful players. Rapinoe tore her ACL in her right knee on December 4th in Honolulu, HI during the United States Women's National Team victory tour. The non-contact injury occurred during training at Aloha Stadium. The game was eventually canceled after U.S. Soccer determined the turf surface was not suitable enough for an international soccer match.
Midfield depth will be tested
With the injury lack of true midfielder, Laura Harvey will need to figure out what to do. She could have the aforementioned Reed play in the midfield, but she usually plays at right back for the Reign. Havana Solaun or Kendall Fletcher are also players that could slide into that role for the next few months until Fishlock is back.
The Reign (1-1-0, W-L-T) take on FC Kansas City (0-1-1) this coming Sunday at Memorial Stadium in downtown Seattle. Seattle will be looking to finally break the stronghold Kansas City has on them. Since 2013, Seattle has only beat Kansas City twice in 11 all-time meetings, counting both NWSL Championship losses. Kickoff is scheduled for 7:00pm EST time and the game can beed on YouTube.