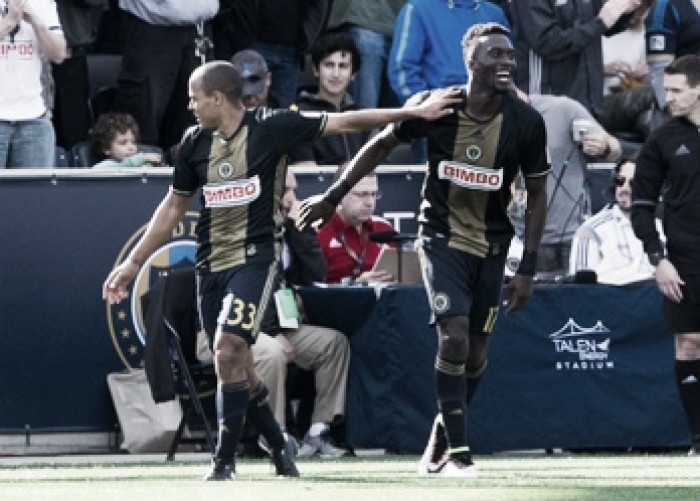 Chester, PA - Philadelphia Union will look to keep their undefeated record at Talen Energy Stadium going when San Jose Earthquakes come to town. Kickoff is scheduled for 4 PM EST (TV: 6abc, MLS LIVE). This is the second game of a three game home stand for the Union.
Philadelphia is coming off a 2-0 win last Saturday against New York City FC, in which midfielder Tranquillo Barnetta made his first start of the season. Barnetta made his presence known throughout the game with his deft play on the ball and ability to deliver on set pieces.
Despite injuries, Philadelphia Union defense among MLS best
Defender Joshua Yaro made the second start of his Major League Soccer rookie season in last Saturday's win. Yaro, on the whole, played solid in relief on the injured Ken Tribbett and will likely be in line for the start if Tribbett continues to have issues with his ankle sprain. In other defensive changes, Fabinho will be out of Saturday's game due to yellow card accumulation. With the Brazilian's left back position vacant, Ray Gaddis will most probably get the nod to start in his place.
Despite players such as Tribbett and Maurice Edu being out for periods this season, Philadelphia has managed to keep a solid defensive record behind arguably MLS' best goalkeeper, Andre Blake. Philadelphia's defense has only conceded seven goals in seven games, which put Philadelphia in the top five defensive sides in MLS.
Chris Wondolowski continues to be dangerous in front of net
However, the Union backline will face another tough test against MLS veteran goal scorer Chris Wondolowski. In eight games this season, Wondo has seven goals on only 22 total shots. Last week, Philadelphia allowed NYC FC's David Villa an astounding ten shots on net, with only one on net.
While Villa may be on a different level talent-wise, the Union backline cannot afford to give the same amount of space to Wondolowski, who has made his career of being in the right place in the right time to score goals.
San Jose comes in riding a controversial 1-0 win versus Sporting Kansas City. Social media was abuzz at the refereeing decisions made throughout the game by head referee Jair Marrufo. Marrufo missed what many saw as a clear penalty when Andres Imperiale took down Dom Dwyer in the 55th minute.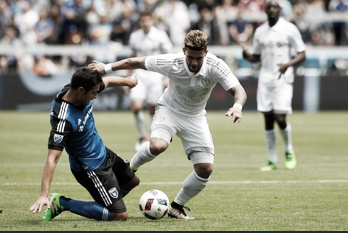 San Jose Earthquakes have selection drama ahead of Saturday's match
San Jose Head Coach Dominic Kinnear will have similar decisions as Curtin to make with his backline. In addition to center back Clarence Goodson being out due to injury, his backup, Andreas Imperiale, will also be out due to a retroactive suspension by the MLS disciplinary committee for a rough challenge on Sporting Kansas City's Dom Dwyer in the 31st minute.
Kinnear will likely have to move his defenders around in order to fit defender Kofi Sarkodie as a fullback. Marvell Wynne will probably be the player to slide into the center back role so that Sarkodie can play out wide.
Wynne is listed at five foot, nine inches and will have to deal with the six foot, one inch C.J. Sapong in Saturday's matchup. Look for Philadelphia to try to exploit this size difference on set pieces and long through balls.