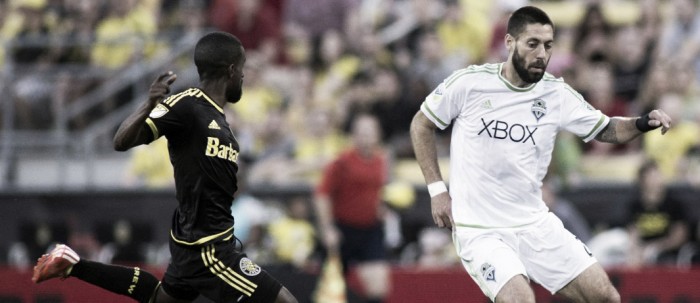 Columbus Crew SC are looking to get their first road win of the season as they travel to the Pacific Northwest to take on the Seattle Sounders. The Crew are coming off a hard fought 1-0 win over the Houston Dynamo. Meanwhile, the Sounders are back at home after being defeated by the Colorado Rapids, 3-1.
Team Previews
With the defeat weighing heavy on the minds of head coach Sigi Schmid and the Sounders players, they will look to get an astounding three points at home in front of the Seattle faithful. Homegrown forward Jordan Morris scored the lone goal against the Rapids, and he will be looking for more if he can get behind a strong Crew defense. Stefan Frei matches up against Crew goalkeeper Steve Clark to try and earn his team a clean sheet. If Seattle wants to win the game, they need to get goals. The Crew defense lacks the skill of pushing the lineup. If the Sounders forwards can get in behind on goal staying level with the defense, expect shots on goal, and maybe a goal or two.
The Crew are looking to get their third win of the season, and aiming for their first road win. Coming off of their previous two wins against New York City FC, and the Dynamo at home, they face a tough atmosphere in Seattle as they look to duke it out for a crucial three points. The Sounders are good on the attack, so the defense will have to be on their game tomorrow to contain forwards Clint Dempsey and Morris. The midfield can be the crucial part of the Crew attacking process. With wingers Justin Meram and Ethan Finlay, the dynamic play from those two being able to cross balls in the box is a huge plus and can be very threatening; Especially if they're going to the lone Sierra Leone striker, Kei Kamara.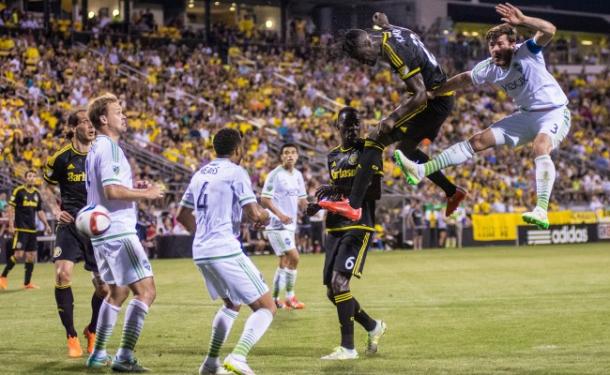 Projected Lineups
Here are the projected lineups for the game.
Columbus Crew SC (4-2-3-1)
Clark;
Francis--Wahl--Parkhurst--Afful
Saeid--Trapp
Meram--Higuain--Finlay
Kamara
Columbus is led by Head Coach and Sporting Director, Gregg Berhalter.
Seattle Sounders FC (4-3-3)
Frei;
Jones--Marshall--Scott--Mears
Ivanschitz--Roldan--Alonso
Gomez--Morris--Anderson
Seattle is led by former Crew coach, Sigi Schmid.
Prediction
Prediction: If Columbus can perform the way that they have been doing these past few matches, they're golden. They will win and take three points back to Columbus. However, Seattle can turn a previous loss, into a well-earned win in just a matter of a few practices. The series between these two teams is a pretty heated battle. Not deemed a rivalry, but give it time and these two teams will be headlining rivalry week. As for the game, both teams will play even soccer, and come out a point each.
Seattle Sounders FC 1, Columbus Crew SC 1