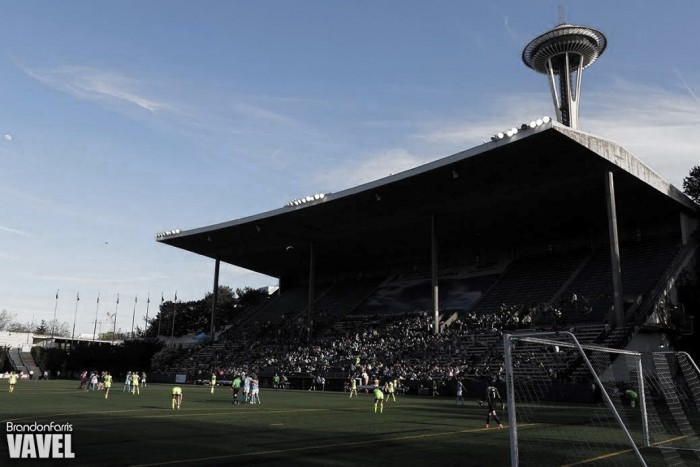 I hate to run so quickly, but I have to make it down to the post game. Be on the lookout for my recap in a few hours. I'm Chris Blakely and thanks for joining me tonight.
FINAL WHISTLE HERE IN SEATTLE. Reign 1 and Kansas City 0.
Elston getting a yellow card for kicking the ball away and "wasting time".
90'+ - Kansas City pushing players forward. Looking for that game-tying goal.
90' - We will have three minutes of stoppage time here in Seattle.
88' - Seattle doing their best to play keep away. Taking the ball to the corner every chance they get.
86' - FCKC Sub: Buczkowski off, Arlitt On
85' - Little send the ball in and Corsie gets her head on it, but not enough to redirect it on target.
84' - Yanez fouled about 25 yards from goal. Little to take the free kick.
81' - SEA Sub: Mathias Out, Cruz In
81' - Looks like Mathias is limping out there and now she is down on the pitcch sitting and waiting.
79' - Seattle still up 1-0 here in Seattle.
4,083 in attendance today.
75' - SEA Sub: Melis out, Dallstream On
74' - Averbuch takes the free kick. She tries to beat Solo near post, but has to much curve on the ball.
73' - Reed runs back onto the field, but Seattle is still down to ten players on the field with Melis off at the moment.
72' - KC player fouled just outside the penalty box. Dangerous area here for KC. And we have another Reign player down and being tended to by the training staff. It appears to be Melon Melis.
71' - Injured player was Elli Reed. She gets up and walks off the field. It looked like she had a KC player step on her ankly.
70' - Ref halts play for an injured Seattle player. He waves on the training staff.
68' - FCKC Sub: Tymrak off, Newfield On
68' - SEA Sub: Fletcher out, Elston in
65' - Little almost doubles the score. Barnhart with the save.
61' - FCKC Sub: Kastor Off, Silva On
59' - Barnes sends in the corner to the backpost. Yanez not able to get there and the ball goes out for a goal kick.
59' - Corner for Seattle.
56' - GGGOOOAAAALLLL Seattle!!!! Goal scored by Kim Little.
52' - KC works the ball down the field via a bunch of throw ins. Ball eventually goes out for a Seattle goal kick.
49' - Ball sent to the back post, but the header was off target and out for a goal kick.
49' - Seattle with another corner coming. Looks like Little will take it.
48' - Seattle almost gets on the board. Melis' shot just wide of the target.
46' - KC gets us started here in the second half.
No subs to start the second half.
Players coming back out of the locker room and we will be back at it very shortly.
I will back with you shortly.
That will do it for the first half here in Seattle. Both teams head to the locker room with zeros on the board. Seattle 0, Kansas City 0.
45' - There will be one minute of stoppage time here in the first half.
43' - Little showing a little frustration on the field. It appears the forwards aren't making the runs that she wants them to make.
41' - KC had two straight corners and Seattle finally gets the ball out after O'Reilly was called for being offside.
40' - Kansas City almost gets a lucky goal. Ball was deflected in and Solo let it boune and it came up high on her and she has to tap it over the crossbar to be safe.
36' - Seattle's forwards are pressing high on Kansas City's back four.
36- ' Reed taken down just outside of the penalty box, ref points to the ball and says defender got all ball.
34' - Kansas City with a free kick coming. Ball sent in and Seattle is able to clear, for now.
32' - Seattle has a great chance there. Little got the ball in the midfield and took off towards goal. She played a pass to Reed, who then tried to send a cross in but to no avail.
31' - Little takes the kick and her effort is sent over the crossbar and out for a goalkick for KC.
30' - Seattle earnes a free kick about 26 yards from goal. Little and Barnes standing over the ball.
28' - Ball sent in, but a KC defender gets to it and Melis puts her shot well over the crossbar.
26' - Ball sent in and Solo gets a fist to it, but the ref calls a foul in the box against KC.
26' - Kansas City gets their first corner of the game. Looks like O'Reilly will take it.
22' -Kick sent in by Little but no Seattle players could get on the end of the kick. Goal kick for Kansas City.
21' -Scott fouls Yanez near midfield. Free kick for Seattle.
17' - this doesn't seem like the same Kansas City team we have watched the last couple of years. Something seems off.
14' - Seattle has had the majority of the possession so far.
14' - not a lot of action so far in this one. Teams trying to figure each other out at the moment.
11' - Melis plays a ball that somehow goes clear across the box and nobody gets a foot or head on it. Goal kick for Kansas City.
9'- Our first corner of the match goes to Seattle. Ball was sent in by Lauren Barnes and nothing comes of it.
7' - Former Reign player Amanda Frisbe gives Melon Melis a little extra on a shoulder to shoulder challenge. No foul called.
I never get tired of watching Kim Little on the ball. She amazes me every single time I watch her play.
3' - great defense by rookie Carson Pickett of Seattle.
2' - first foul of the game goes against Kendall Fletcher.
1' - Seattle will get us started off here in Seattle.
Kansas City will be wearing all white today while Seattle will be wearing their Royal Blue kits/
Captians are doing the coin toss at the moment.
The Royal Guard has let off some smoke. I like it. We need more of it.
Time for the National Anthem
Here they come.
Players not in the starting lineup are walking to their respective bench areas.
Former Reign player Stephanie Cox is being honored by the club at the moment.
Kansas City has left the field as well. Inside 20 minutes from kickoff here in sunny downtown Seattle.
Seattle is now making their way off the pitch.
25 minutes away from kickoff. Teams are still warming up on the field.
Megan Rapinoe was seen on the field during warmups kicking the ball around. That's a good sign.
FC Kansas City starting XI: Barnhart; Frisbie, Taylor, Sauerbrunn, Scott; Buczkowski, Laddish, O'Reilly, Tymrak, Averbuch; Kastor
Interesting to see Yanez in the midfield, but I like it.
Seattle Riegn starting XI (4-3-3) Solo; Fletcher, Corsie, Barnes, Pickett; Winters, Yanez, Little; Melis, Mathias, Reed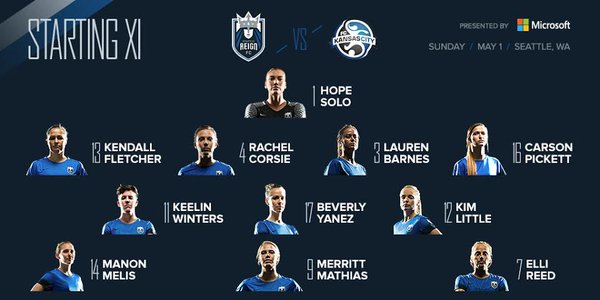 I've finally made it to the pressbox here in Seattle. We are forty minutes away from kickoff. I will have the lineups here for you shortly.
This will be the fifth all-time game played in Seattle against these two clubs. Both teams have won two games each, with Seattle winning last in Seattle back on June 27th by a score of 2-1. All three goals were scored in the second half. Yanez scored in the 62nd minute and Little scored just one minute later in the 63rd. Kansas City got a consolation goal from Shea Groom in second half stoppage time.
If Seattle can hold the ball up and allow Little and the other midfielders, as well as their outside backs, get forward and send crosses into the box, it could be a very long night for Kansas City.
Keelin Winters will need to be a rock as the Reign's defensive holding midfielder. She will need to not venture too far up field and protect the Seattle's back four. She will need to connect passes to Kim Little to get the ball up field and to their forwards. Merritt Mathias, Melon Melis and Beverly Yanez will need to do well in causing Kansas City's backline trouble all night.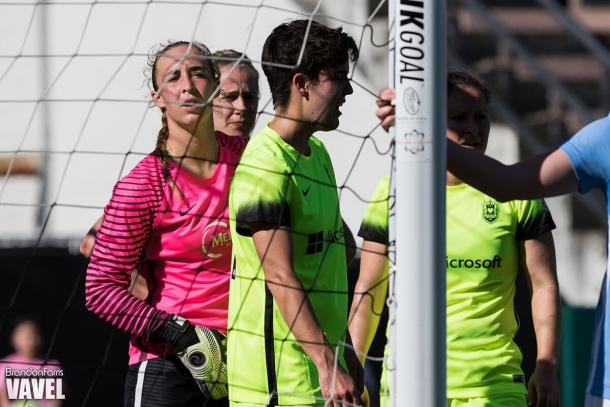 Kansas City will need to attack the Reign in the midfield, which is by far their weakest link at the moment with both Megan Rapinoe (right ACL) and Fishlock being out for this game and future games. If Kansas City can control the midfield and pepper Hope Solo with shots, they will have a good chance to win this game.
Kansas City has their own injury concerns as well. They will be without Tiffany McCarty (right hamstring strain). They have two players listed as probable on the NWSL injury report. Alex Arlett (right hamstring strain) and Erika Tymrak (left 4th metacarpal fracture). They will also be without Shea Groom who is serving a one game suspension for receiving two yellow cards and ultimately being shown a red card in their last game.
A major concern coming into this game for Seattle was the health of Jess Fishlock. She had to be subbed off in the 41st minute in favor of Elli Reed. She was taken down in a challenge from McCall Zerboni and instantly grabbed her left knee. Play had to be halted for several minutes as she was being attended to by Seattle's training staff. She was able to walk off the pitch unassisted and even returned to play, but eventually had to be subbed off. Sadly, it was announced on Thursday that Fishlock will be out for four to six weeks with a tibia fracture.
If Seattle plays anywhere near how they played against Boston, Kansas City could be in for a long night. That being said, Kansas City has always caused problems for Seattle. Counting the 2014 and 2015 NWSL Championship game losses, Seattle is only 2-7-2 against Kansas City. They went 0-4-0 against them in 2013, 1-1-2 in 2014 and 1-2-0 in 2015.
Kansas City lost their season opening game 1-0 against Western New York Flash. Sam Mewis found the game-winning goal in the 71st minute on a penalty kick. Kansas City had a chance to tie the game in stoppage time after Flash defender Elizabeth Eddy conceded a foul inside the penalty area. Kelly O'Hara stepped up to take the kick, but her shot hit the post.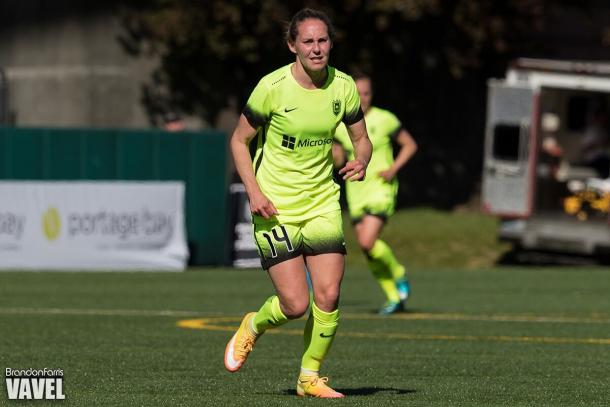 Seattle was able to tie the game in the 52nd minute on a goal from Merritt Mathias. Jess Fishlock sent a ball back across the goal mouth and found Mathias at the back post. She was able to beat the defender in the air to tie the game at 1-1. Fifteen minutes later, Sky Blue would find their game-winning goal. Taylor Lytle sent a ball from the end line back across goal. Kelly Conheeney found herself at the back post all alone. Conheeney was able to back-heel volley the ball into the net.
In week one, Seattle saw their two-year home unbeaten streak come to an end at the hands of Sky Blue FC. Tasha Kai got the scoring started early of Sky Blue in the 15th minute. Kelly O'Hara sent in a ball towards the back post and Kai was able to redirect it back on goal and past the outstretched hands of Reign goalkeeper Hope Solo. It appeared in the 35th minute that Sky Blue would extend their lead, but Solo was able to stop Sarah Killion's penalty shot to keep the Reign down by one goal.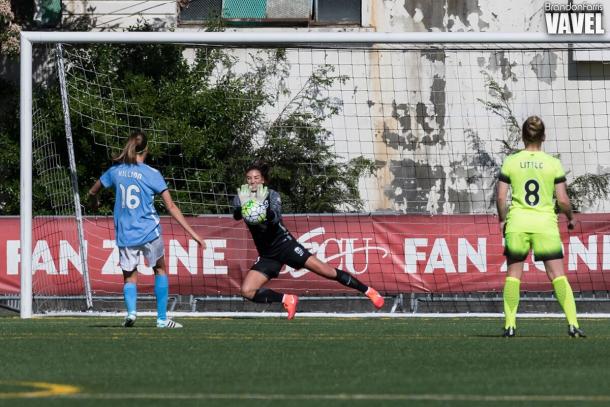 Kansas City (0-1-1) is coming off of a 1-1 tie against the Portland Thorns at home. Kansas City took an early 1-0 lead over the Thorns in the 30th minute. Shea Groom scored the goal for Kansas City. She received a ball from Heather O'Reilly and was able to dive and head the ball past Portland's goalkeeper Michelle Betos. Groom would eventually be sent off after receiving her second yellow card just a few minutes into the second half. Portland was able to equalize in the 78th minute off of a goal from Lindsey Horan.
In week two action, Seattle (1-1-0, W-L-T) is coming off a dominating 3-0 win over the Boston Breakers this past Sunday. The Reign got goals from Melon Melis, Rachel Corsie and 2014 NWSL MVP Kim Little. Little also registered two assists with her one goal. For her efforts, she was voted the NWSL Player of the Week for week two.
Hello and welcome to VAVEL USA's LIVE coverage of the Seattle Reign and FC Kansas City in NWSL regular season action. My name is Chris Blakely and it is my pleasure to be taking you all through this evening's action. There is still quite a bit of time until kickoff, which is scheduled for 7:00pm EST Sunday, so sit back, relax, and allow me to take you through the build up to this game.