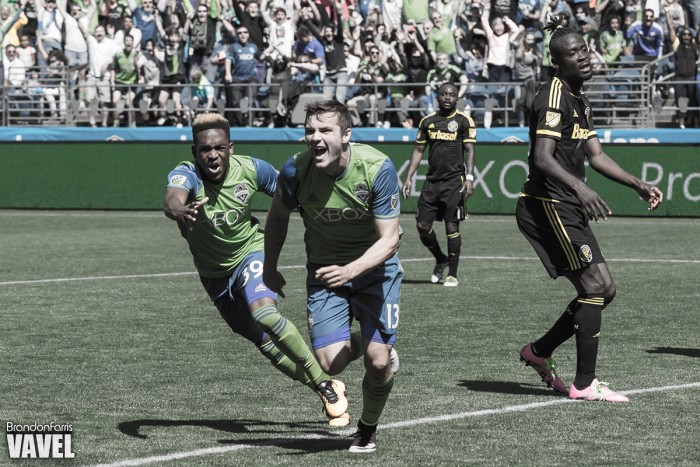 Jordan Morris grabbed a goal in the 88th minute to seal a 1-0 victory for the Seattle Sounders over Columbus Crew SC at home. After coming off a previous 3-1 defeat to the Colorado Rapids, the Sounders prevailed. Columbus itched for a late equalizer but could not find one.
First Half
Christian Roldan had the first chance of the game when he rifled a shot on goal in the fifth minute of play, but the ball would hit the side netting. Another attempt would be made just two minutes later, as the Sounders strove forward on a counter attack. Clint Dempsey controlled the ball and slid a pass to his left, but the play was broken up. The Sounders pleaded for a foul after Morris was brought down, but referee Juan Guzman looked away. A second shot was stopped by Crew goalkeeper Steve Clark and the ball was cleared from danger.
Crew SC came alive in the ninth minute after midfielder Federico Higuain ripped a shot from just outside the 18 yard box that was saved by Sounders netminder Stefan Frei to keep the score level at 0-0.
In the 32nd minute, a bad clearance by Frei led to the ball landing right at the feet of Higuain, who took a shot at a scrambling Frei, but the Sounders keeper made the save.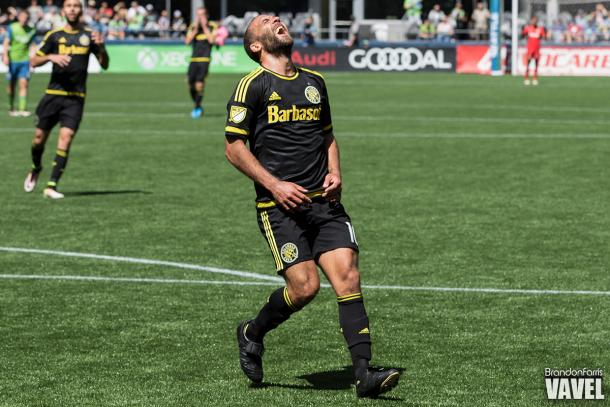 Fast forward just ten minutes later, and Crew SC knocked on the doorstep again when Higuain sent a through ball to fellow midfielder Ethan Finlay who break free against Frei, but his shot went just wide of the frame.
Second Half
After the halftime whistle, the Sounders came out attacking hard. A one time shot by Joevin Jones was miraculously saved by the left foot of Clark in the 46th minute. Clark would be tested again after forward Herculez Gomez got around defenders and took a shot on goal which Clark knocked out for a corner.
The deadlock was broken in the 88th minute after Oalex Anderson took a shot that was saved by Clark. However, Morris was on hand to slot home the rebound. The Sounders would go on to pull out the three points, and Morris now has three goals on the season. Crew SC were dying to get a late goal for a draw, but the final whistle blew for the game to end.
The game was hard fought, a battle to the end both ways, but Seattle wanted it more.
The Seattle Sounders are back at home May 7th to face the San Jose Earthquakes at home. The opposition, Crew SC, will go back home to MAPFRE Stadium to take on the Montreal Impact.