According to mls.com, the Portland Timbers striker Fanendo Adi was voted as the Etihad Airways Player of the Month for the month of April.
Adi won the fan vote over Giovani dos Santos (three goals, two assists in three games in April, 23%), Chris Wondolowski (four goals in sic games, 18.5%), Sebastian Giovinco (four goals in four road games, 15.5%) and Jermaine Jones (two goals, two assists in three games, 9%).
April was Fanendo Adi's Month
Adi netted three goals and provided one assist in five games in April. Adi's most notable performance of the month came against Western Conference opponent San Jose Earthquakes, which saw Adi score twice as a second-half substitute in Portland's 3-1 win.
Adi's first goal against San Jose came in the 65th minute off of a counter attack, which saw the ball find Diego Valeri at the top of San Jose's box. After Valeri's shot on goal was deflected, Adi managed to grab the loose ball at the penalty spot, wriggle around one defender and slot the ball past David Bingham to put Portland ahead 2-0.
After San Jose would bring the game back to 2-1 in stoppage time, Adi would find himself on the end of a second goal from a counter in the 99th minute. Lucas Melano played a ball across the face of goal and Adi was on the end of it to make it 3-1.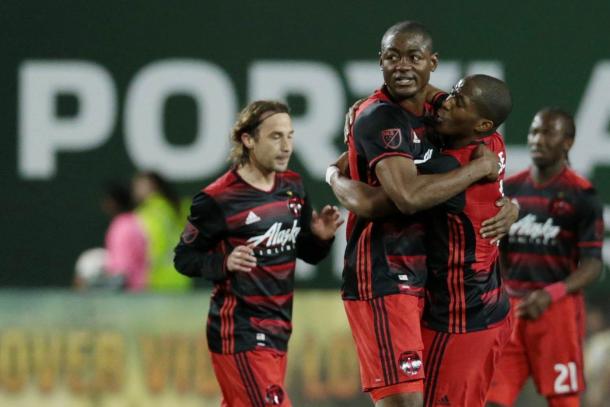 His other goal and his assist each helped Portland earn road ties.
Adi netted his goal against L.A. in the 52nd minute. After receiving a pass from Valeri on the left side of the penalty area, Adi finessed the ball into the bottom right corner to put Portland on top 1-0. L.A. would go on to tie the game 1-1.
Adi Adding Points
Adi's impact of the field for Portland has been nothing short of brilliant. Portland are unbeaten when Adi scores or provides an assist. According to the same mls.com article mentioned above, Adi has helped the Timbers go 3-0-3 when he logs a goal or an assist, compared with 0-3-0 when he does not contribute any goals or assists.
Adi has been in good form for much of this season. Adi is currently tied for the Audi MLS Golden Boot lead with seven goals on the season in just nine games.
Adi has also started off the month of May extremely well, scoring a goal in a 2-1 home win against Toronto FC.
Adi and the Timbers will look to continue to climb up the table in the west after the poor start to the MLS season.