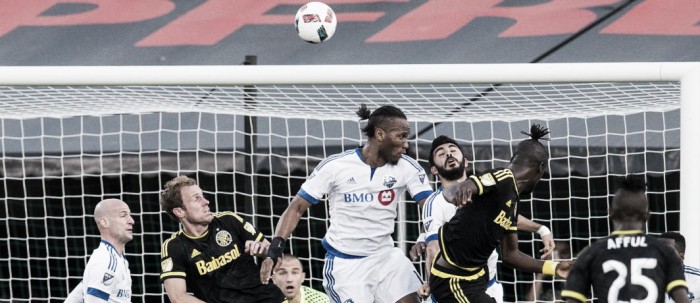 "I categorize this as an immature performance." Those were the words of Columbus Crew head coach and sporting director Gregg Berhalter after Saturday night's calamitous 4-4 draw with the Montreal Impact. "Way too easy to concede; in particular the second and the third goal. Then we got back, got stable, and it was the one goal margin that hurt us in the end," said Berhalter.
The Crew were riding high after taking a 2-1 lead going into halftime, and then coming out in the second half scoring two more goals to extend their lead to 4-1. However, the Impact ruined the party with two goals of their own. A penalty kick from Impact striker Didier Drogba and one from Ignacio Piatti cut the three goal difference, down to one.
Nearing stoppage time, a long throw in by Ambroise Oyongo went through the legs of Michael Salazar and found an unmarked Dominic Oduro for the stoppage time equalizer, making the game 4-4.
Bickering penalty discussion
There are many things to talk about from this game, but one which cannot be forgotten is the penalty kick discussion between Kei Kamara and Federico Higuain.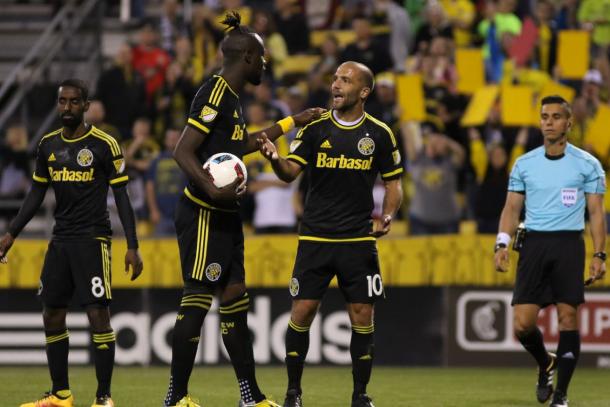 The discussion started after Justin Meram was brought down inside of the box by Marco Donadel. Kamara, sitting on a hat trick, had the ball in hand to take the penalty. "He [Higuain] told me he wanted to give it to Ethan (Finlay). So I said no problem, let Ethan score. Ethan says 'No you can have it.' Then Pipa says, 'No I get to take it.' That's selfish. That's not teammates. That's selfishness," said Kamara
Captain Michael Parkhurst had to jump in to settle the dispute between the two Designated Players. "I told them, hey let's get on with it guys." Kamara, obviously unhappy with the result, and the outcome of the penalty discussion said, "I hope coach has a way for us to move forward, but I don't know."
Belief for Montreal
Meanwhile, Montreal seemed to be the better team in the second half. Four goals in eleven minutes, two each way, seemed to breathe a new life in the Impact eleven. They continued to surge forward, and grabbing a late goal in stoppage time to earn a point on the road pleased head coach Mauro Biello. "It was extraordinary to be part of something like that, being down 4-1, coming back 4-4. It was great for the fans, great for our fans."
Needless to say, Montreal took total control of the game after goals two, and three in the second half, which were just a minute apart
In the locker room, a hush filled the air. In the corner sat a teary-eyed Ethan Finlay, and a despair faced goalkeeper in Steve Clark.
"There's always work to do. Could've won 5-0, still need work to do. Lots of work, yeah, maybe, but always need work to do," said Finlay. When he was asked if the [locker] room was still good, a long pause came from the winger. "Yeah. Yeah, I mean, we're a good team."
Next week, Columbus Crew SC are back at home to face Jermaine Jones and the Colorado Rapids. Montreal Impact are at home to take on the Philadelphia Union.