Be sure to stay tuned for a recap later tonight! I'm Jordan Wohl and thanks for tuning in! Have a good night!
FULL TIME 1-0 UNION AFTER A LATE MARQUEZ GOAL!
90'+2': GOAL! RICHIE MARQUEZ IN STOPPAGE TIME AT THE BACK POST PUTS THE UNION IN FRONT 1-0!!
Three minutes added at the end of the second half
89': Union free kick from the side of their 18 yard box
87': Union final sub: Alberg comes on for Creavalle
86': Union throw in by midfield
84': DC throw in in the defensive half
82': Gaddis gets a yellow card for an elbow to United player.
82':DC final sub: Neagle comes off for Jeffrey
80': Barnetta gets a yellow card for a professional foul
79': Rosenberry fouls a DC player deep in United territory. Free Kick United
78': Corner finds Barnetta's foot again. He gets endline but his cross skids across the goal line and is cleared.
77': Worra with an excellen save on Sapong to keep it level. Corner Kick Union.
77': United second sub: Saborio comes off for Espindola
74': Rosenberry gets a good cross off, but it is parried away by Worra
73': Saborio down for a bit, but is now back up.
72': Free Kick Union deep in their own half
70': Union second sub: Gaddis comes in for Fabinho
67': Barnetta's free kick finds Marquez, who turns and fires and causes a save by Worra.
66': Le Toux fouled by midfield. Free Kick Union
65': United free kick just outside their 18 yard box
64': Union first sub: Herbers comes on for Pontius
63': Blake with two good saves to keep the score level.
61': DC First sub: Acosta comes off for Buscher
58': Goal Kick Union
56': Corner does not lead to any shot
56': Corner Kick DC.
55': Foul on the throw in. Free Kick Union
54': Corner is cleared quickly and United quickly counter attacks leading to a throw in deep in Union territory
54': Birnbaum is cautioned. Free Kick Union in the offensive half
52': Corner is cleared out after some jumbling in the box
51': Le Toux for some reason takes two touches on a wide open net and his shot is blocked. Corner Kick Union.
49': CLOSE! United get Saborio wide open on the back post, but he cannot turn in the crossed ball. Goal Kick Union
48': Fabinho is getting more space on the flank to unleash crosses. Ball sails over everyone though for a goal kick for DC
47': Corner is cleared easily for a second attempt by Barnetta, but that is cleared as well.
47': Union corner kick
Second Half starts now!
Halftime 0-0
45'+1': Nyarko is cautioned for blockin Blake's punt
One minute of extra time added at the end of the first half.
44': United free kick in the offensive half by midfield
40': Both teams still kicking the ball back and forth
38': United deflected cross lands safely in the hands of Blake.
37': Barnetta takes a Union corner kick and it does not lead to much
36': Back and forth this first half as neither team has much to show for it so far.
33': Barnetta again hits a Le Toux cross wide of net. Goal Kick DC
32': Le Toux nearly finds Pontius on the cross but it again collected by Worra.
31': Sapong goes down in the box while searching for a Barnetta cross. No call as Worra collects it.
29': Creavalle wins a free kick by midfield
28': Barnetta's free kick skims past everyone and hits the post. The ball spills out to Fabinho, who launches it over the crossbar for a goal kick.
27': Fabinho fouled in the final third. Free Kick Union with Barnetta standing over it.
26': Barnetta blasts a Le Toux cross over the bar for a DC Goal Kick
25': Sapong fouled around midfield. Free Kick Union.
24': Union throw in in the defensive half
23': Kemp is fouled by Le Toux in DC's half for the United free kick
21': Corner is not cleared far as Rosenberry lines up his long throw in
20': Union corner kick
19': Blake collects a shot right at him
18': Blake tries to clear the ball but it hits off Yaro leading a United corner kick
17': Union free kick by midfeield
16': Blake with a quick distribution to Sapong, who is pushing the ball forward with pace
15': Union earn a goal kick on an errant long pass for DC
14': United take the long throw and get a few opportunities, but the final shot sails over the net for a Union goal kick.
13': Fabinho kicks out the ball for a DC throw in by the corner flag
11': Saborio with a good attempt on top of the box, but it goes wide for a Union goal kick
10': United win a free kick in the defensive half
9': Union free kick by midfield
7': Union counter attack leads to a Union corner
6': DC looking the more dangerous side early. However, they are whistled for offsides.
5': Fabinho blocks a United shot and clears the ball out of danger
4': Caroll mishits a pass and it goes out for United throw in deep in DC territory
3': United gain possession in the Union half. Fabinho does well to deflect a throw in off a United player for a Union throw
2': Union with early pressure and possession in the offensive half
1':Union start with the ball and are defending the River End
Kickoff and we are underway!
Players are walking in now, kickoff is coming up!
Watch the pair of Carroll and Creavalle. It will be interesting to see how the two usual number sixes play alongside together tonight. Watch to see if that furhter releases the three attacking midfielders of more of their defensive responsibilities.
United Subs: Hall, Opare, Mishu, Vincent, Jeffrey, Büscher, Espíndola
United Starting XI: Worra; Kemp, Boswell(C), Birnbaum, Franklin; Neagle, DeLeon, Marcelo, Nyarko; Acosta, Saborío
No Nogueira or Ilsinho in the 18. Reports say that Nogueira strained his oblique.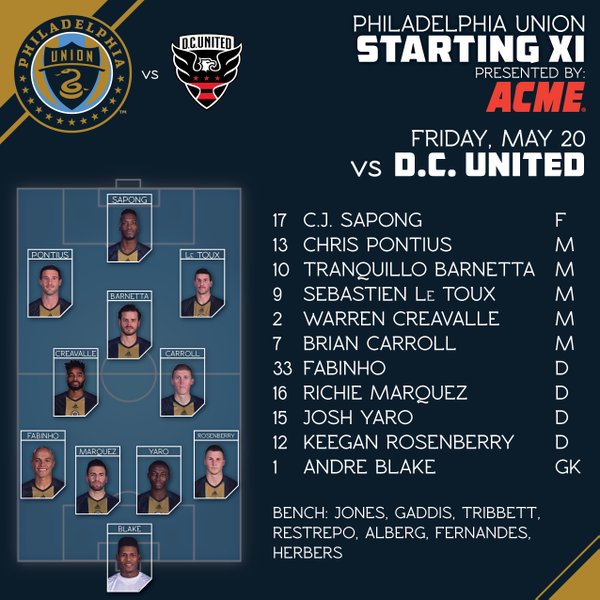 Welcome to PPL Park tonight for United - Union. Stay tuned for lineups in 10 minutes!
United come into this Friday night matchup off a win against New York Red Bulls, 2-0. The Black and Red, coached by Ben Olsen, started their 2016 campaign poorly, taking a paltry three points from their first five games. As of late, the team has turned the corner and has taken 10 points from their last six games.
Barnetta missed most of the beginning of the season, but has made a serious impact ever since returning. Curtin told reporters after Saturday's game that "[Barnetta] has been excellent since he came off with his injury. It's not just about his ability to find the final pass and get us a goal… His ability to slow us down, he knows when to slow the game down or speed it up, he turns in tight spaces. He's an excellent player, a number 10 that suits our team."
One thing to watch for on Friday is the squad rotation by Curtin and his technical staff. Players such as Sebastien Le Toux and Chris Pontius have all logged serious minutes this season. As has Tranquillo Barnetta, who is coming off an injury that was categorized as osteoarthritis of his knee. While all three are crucial cogs in the Union attack, Curtin could think long-term about the upcoming season, including another two game week next week, and rest some of his older veterans.
To add, Curtin and the technical staff have made their subs in a more reactive as opposed to proactive manner. In the game against the Galaxy, Curtin waited until the 86th minute to insert two offensive players to help try to break the 2-2 deadlock. On the season, the Union have made a little over a third of their substitutions past the 80th minute, which does not give a player much time to make a serious impact.
If there has been one criticism of this Philadelphia training staff by the fans, it has been the usage of substitutes. Specifically, it has been waiting too long to bring in substitutes.
In layman's terms, Philadelphia averages two more shots on goal at home than on the road. Philadelphia must continue to create opportunities on net as they have done as home all season in order to come away Friday night with the desired result.
Philadelphia has made Talen Energy Stadium a fortress as they boast an impressive 3-0-2 record there. In friendly confines, the Zolos average 5.6 shots on goal with ten goals scored in five games. On the road, the picture is not as clear as the Union are 1-3-1 and average just 3.6 shots on goal with four goals scored in five matches.
However, the statistics paint a different story between the play of the Blue and Gold at home as well as away.
After the draw on Wednesday against the Galaxy, Philadelphia Head Coach Jim Curtin discussed the squad's play on the season by saying, "I think we've shown that home and away we try to play the same way. We are not a team to sit back and absorb it, we will be aggressive. Yes, that means we will be exposed at times but we believe we have a good defensive team. But a good standard has been set from the front three to the midfield to the backs. Everyone attacks and everyone defends. We try to make it 90 minutes of hell for the other team. To be brave and to be fearless is what we are about, and it's part of what we want to instill in our players."
Philadelphia is coming off an impressive week with two draws against the Los Angeles Galaxy and Montreal Impact.
The head referee for Friday's matchup will be Jaime Herrera. The assistant referees are Adam Garner and Claudio Badea. The fourth official is Juan Guzman.
In all seven league matchups played at Talen Energy Stadium between the two sides, Philadelphia has won four while DC has won three.
In last year's matchups, DC won two of their three matches against Philadelphia in Major League Soccer play. However, Philadelphia won both games they played at PPL Park against United (now Talen Energy Stadium), including a US Open Cup Round of 16 come from behind victory.
The game will be broadcasted nationally on UniMas as well ased via MLS Live.
Welcome to VAVEL USA's LIVE coverage of the 2016 Major League Soccer Regular Season. Today's matchup between the Philadelphia Union and DC United will take place at Talen Energy Stadium in Chester, Pennsylvania. I'm Jordan Wohl, and I'll be providing minute-to-minute updates, commentary, and results of the match. The game starts at 7 PM ET and there will be coverage pregame, mid-game, and postgame.