Portland Thorns midfielder Tobin Heath has been named NWSL Player of the Week for week six. Heath scored a goal and assisted on another in Portland's rout of the previously unbeaten Washington Spirit this past weekend.
Heath doesn't miss a beat after suspension
Heath was suspended for the Thorns match against the Seattle Reign on May 14th after picking up two yellow cards the week before on May 7th against the Spirit. In her first game back, she assisted on the first goal of the game.
In the 27th minute, she sent in a corner that found for Lindsay Horan at the back post. Horan was able to head it into the back of the net to give Portland a 1-0 lead. It was Heath's fifth assist of the season in the five games that she has played.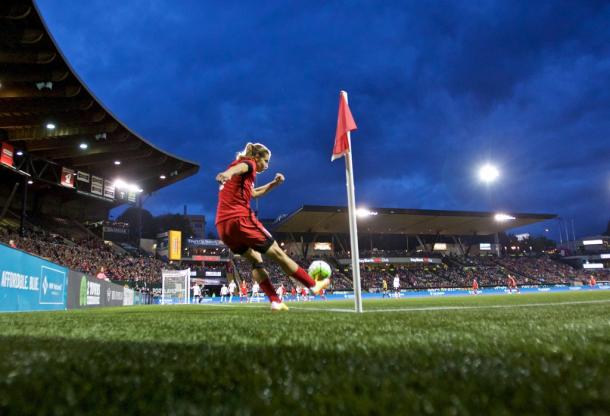 Heath puts game out of reach just before halftime
Already up 2-0, Heath took the spirit out of Washington when she scored her first goal of the game in the 45th minute. Heath's first shot was saved by Spirit goalkeeper Stephanie Labbé as she got a hand on it. As the ball rolled towards the goal, Heath slammed it home to give the home team a commanding 3-0 lead heading into halftime.
It is the first time Heath has been honored as the NWSL Player of the Week. It is the 10th time a member of the Thorns has won the award and first time in 2016.
What's next
Heath and the Thorns will remain home and welcome their Cascadia rivals, the Reign, on May 29th. Kickoff is scheduled for 7:00pm ET. Portland will look to remain near the top of the NWSL standings.
The NWSL Player of the Week is selected each week of the regular season by the NWSL Media Association, a collection of press that cover the league on a consistent basis.