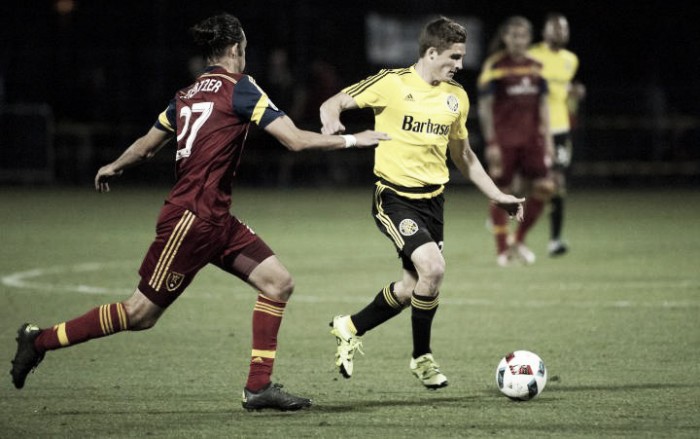 What a show! Thanks you for joining me tonight! The final score, Columbus Crew SC 4-3 Real Salt Lake. My name is Tyler Fisher, see ya next time!
FINAL: COLUMBUS CREW SC 4-3 REAL SALT LAKE
Dave Gantar dismisses Jeff Cassar, and the insuing throw in is to Rimando who gives it up to Higuain. He shoots from distance but it hits the side netting.
90': Three minutes of added time.
86'; What a save by Rimando on Kamara! Corner kick crew SC.
83': GOAL! Real Salt Lake pull within one! Could this be Deja Vu?
78': GOAL! Jordan Allen puts Salt Lake within two goals!
75': GOAL! The first hat trick in 12 years for Crew SC! Ola Kamara gets his third of the night!
Ola Kamara for Columbus Crew SC definitely has the play, and scoring technique of former Crew SC striker Kei Kamara. DISCALIMER: They are not brothers.
68': Crew SC are knocking on the doorstep, but the swirling ball towards goal gets cleared out for a throw in.
Tonights attendance from MAPFRE Stadium: 14,894
64': GOAL! Ola Kamara nets his second of the night! Off of the face and he celebrates with the faithful Nordecke!
62': A great free kick attempt is wasted after a Wil Trapp header goes over the net.
61': Free kick Crew SC on the corner of the penalty area.
59: Meram hits a volley but it goes high.
59'; Corner kick Crew SC.
57': Handball wanting to be called by Crew SC, but the AR says no.
55': Rimando comes up with a huge save on an Ola Kamara tap. Kamara gets another chance, and his second try gets hit off of the post.
53': Meram gets taken down, but the ball hits off of his back and out for a goal kick.
47': Challenge in the Crew SC defensive third leaves Saeid down in pain. At the other end, Ola Kamara breaks free and tries to get around Rimando. Kamara falls in the box, but no call was made.
45': Salt Lake kicks off to get the second half underway.
BREAKING: Patrick Murphy gets his hotdogs after an hour delay. Back to the match.
HALFTIME: Columbus Crew SC 2-1 Real Salt Lake
45': Penalty kick Salt Lake. The kick is SAVED! What a save and that brings the conclusion of the first half.
45': Ethan Finlay had Ola Kamara on his left, but his shot hits the legs of Nick Rimando.
43': Corey Ashe looks for his second MLS goal, but his rebound shot hits the upper 90 post, and out for a goal kick.
41': YELLOW CARD: Aaron Maund gets booked for a tackle on Ola Kamara.
38': Saeid gets called for a foul right by the touchline. Free kick Salt Lake.
37': Corner kick is taken and is out for a goal kick.
37': Corner kick for Crew SC.
34': Another Crew SC break gets flagged for offside.
32': Mulholland gets tripped by Trapp. Free kick Real Salt Lake.
30': Meram is down in a heap of pain. Training staff being called onto the pitch.
28': Stertzer bumps Meram. Free kick Crew SC.
26': Many great chances being created in the Crew SC attacking 18 yard box. Crew SC are in control this half so far.
Well this match was worth the hour and a half wait!
23': Phillips drags down Meram. No yellow card.
UPDATE: Crew SC goal is officially ruled an own goal by Justen Glad.
20'; GOAL! Justin Meram gets tripped from behind by Maund, but somehow the ball trickles into the net, making it 2-1 Crew SC!
17': GOAL! Justin Meram finds Ola Kamara in the center and the Norweigan slots home the equalizer! 1-1!
16': Great passing by Salt Lake. A great chacne building up but the ball is turned over.
14': GOAL! Luke Mulholland curls a beauty to the upper right corner past Clark, giving Real Salt Lake a 1-0 lead.
13': Sandoval's shot from outside the 18 yard box is ripped wide. Good opportunity for RSL and Sandoval taking advantage of the wet surface.
UPDATE: USMNT lead Bolivia 3-0, on a second goal from Gyasi Zardes.
8': Federico Higuain is slow to pull up. Seems to be an ankle problem. He does walk on his own power though.
6': Finlay gets space in front of him, but his run is caught for offside.
4': Meram collects the ball in the 18 yard box, and his shot sails high over the net.
3': Salt Lake create a chance, but Jimenez is there to break up the action. At the other end, Crew SC build up momentum, but can't seem to fit the pieces together.
1': Kickoff. And automatcially Crew SC are on the attack, but the chance gets flagged for offside.
Crew SC will be defending the North end of the stadium, and will kickoff first.
9:07 PM EST: Proper walkout is happening. Waiting for national anthem.
9:05 PM EST: Scratch that. Teams go back into the tunnel.
9:04 PM EST: Teams are going straight into kickoff. No national anthem, anything.
8:51 PM EST: "Now Or Never" by Calvin Harris and Ne-Yo being blasted through the speakers now. Pretty relevant giving the circumstances.
8:50 PM EST: Teams have entered the pitch and have begun their allotted 15 minute warmup period.
8:48 PM EST: Fans have been told it is safe to enter the seating bowl again. A 15 minute warm-up period will commence, then kickoff afterwards.
A duo of updates for ya. Tentative: 8:45 PM EST warmups, 9:05 PM EST kickoff. Also, coin toss has happened in the tunnel. Columbus Crew SC will kickoff.
Nachos being mentioned by Patrick Murphy. "No jalapenos please. Extra cheese."
8:20 PM EST: Rain starting to trickle in. More updates to follow.
8:16 PM EST: A little FIFA soundtrack being played now through the speakers at MAPFRE Stadium. Now if only we can get the real match started. Although, a small FIFA tournament wouldn't hurt.
8:14 PM EST: And the wait continues......
Meanwhile in Crew SC pressbox.... Patrick Murphy from Massive Report has asked about hot dogs. Gotta love the conversations us writers have in press offices.
So, let's have fun. Tweet me questions on Twitter, (@TylerFVAVEL), and I will respond. Gotta kill time wisely while waiting for the game to start.
7:48 PM EST: UPDATE: Warmups to happen at 8:20 PM EST, kickoff at 8:35 PM EST.
UPDATE: Game is delayed about 20-30 minutes, due to lightning within 10 miles of the stadium.
7:40 PM EST: Unusual. The teams have not yet come out of the tunnel.
7:33 PM EST: Real Salt Lake are 2-3-2 on the road, allowing 13 goals.
7:21 PM EST: We're about ten minutes away from kickoff, as both teams have left the pitch in their final preparation before game time.
Real Salt Lake: Nick Rimando (GK, captain); Demar Phillips, Aaron Maund, Justen Glad, Tony Beltran; John Stertzer, Luke Mulholland, Sunny; Joao Plata, Devon Sandoval, Jordan Allen. Salt Lake lineup in a 4-3-3 formation under head coach Jeff Cassar.
Crew SC: Steve Clark (GK); Hector Jimenez, Rodrigo Saravia, Michael Parkhurst (c), Corey Ashe; Wil Trapp, Mohammed Saeid; Ethan Finlay, Federico Higuain, Justin Meram; Ola Kamara. Crew SC lineup in a 4-2-3-1 formation under head coach Gregg Berhalter.
6:55 PM EST: Columbus Crew SC and Real Salt Lake have posted their starting lineups.
6:50 PM EST: Real Salt Lake and Crew SC have taken the field for warmups. Meanwhile, Alex from the Houston Dynamo and Pedro Morales have acquired red cards in their game at BC Place. Game is in the 45th minute, with two minutes of added time.
6:45 PM EST: We're about 45 minutes away from kickoff here at MAPFRE Stadium. Stay tuned for the starting lineups.
6:31 PM EST: Fans have been let into the stands, and backup keeper Brad Stuver for Crew SC is out on the pitch for warmups.
6:30 PM EST: Houston Dynamo strike first, and its Demarcus Beasley who gets the Black and Orange on the board first. 1-0 from BC Place.
6:15 PM EST: Nothing beats watching footy while waiting for your game to start. Vancouver Whitecaps FC and the Houston Dynamo being played here in hte pressbox.
6:10 PM EST: The rain has cleared and the sun is shining bright on the pitch. Severe weather has subsided, and game time is still set for 7:30 pm EST.
5:54 PM EST: Hello from a rainy MAPFRE Stadium in Columbus, Ohio! My name is Tyler Fisher, and welcome to VAVEL USA's LIVE coverage of Major League Soccer between Real Salt Lake, and Columbus Crew SC!
Columbus Crew SC 1-3 Real Salt Lake
Prediction: Both teams taking many positives into this game. Salt Lake seem to have an advantage as they have the healthier squad, and the better team on paper. Crew SC are missing pieces to complete the puzzle, and will have to adjust to the new starting lineup posted. Real Salt Lake will have the upper hand in this match, and will defeat Crew SC at home.
The referee for this match is Dave Gantar. Gantar has refereed 42 games. The team bench sides assistant will be Daniel Belleau. On the opposite side, Andrew Bigelow. The fourth official is Tyler Ploeger.
Fun fact: Salt Lake have not won in Columbus in league play, in 10 years. Crew SC have won six consecutive home regular season games in the series before the teams reached the draw posted in 2014. However, Real Salt Lake did win the second leg of the Eastern Conference Semifinal series in 2009 against Crew SC, which led them to their MLS Cup title.
The last two meetings between these teams have ended in draws. The latest result, a 2-2 draw June 27, 2015, at Rio Tinto Stadium. The teams also reached a 1-1 tie in 2014 back in Columbus Crew Stadium. The last win by either side came in 2013 when Real Salt Lake dismantled Crew SC by a score of 4-0. This was Salt Lake's first win against Crew SC since 2010, breaking a three-game win streak posted by Crew SC.
There is good news, beacuse Columbus Crew SC could see the return of center back Tyson Wahl, who has been out with concussion symptoms. Unfortunately, Gaston Sauro will miss 4-5 months, with a torn PCL.
Crew SC are without two key players this weekend. They will be missing right back Harrison Afful, and left midfielder Cedrick Mabwati who are on international duty with their respective countries. So, it's safe to say that Crew SC are literally falling apart. It's going to be tough to replace two key players in a lineup, against a full strength and healthy Real Salt Lake team. Although earning a point under adverse conditions last Saturday was encouraging, and a potential turning point towards success, Crew SC will need to start recording wins to rise out of ninth place in the Eastern Conference. They currently sit at 2-4-5.
It's easy to see that the Black and Gold are still adjusting to not having their star striker, and 2015 MLS MVP runner-up, Kei Kamara. The Sierra Leone striker was dealt to the New England Revolution about two weeks ago after Crew SC saw a 4-1 lead over the Montreal Impact disintegrate into a 4-4 draw. Not only are they adjusting to losing their former leading goal scorer, they must now deal with a depleted back line, which is threatening the club's chances of climbing back into playoff contention.
Two things to take away from the impressive showing away from home for the Black and Gold is that Crew SC is bending, but they are certainly not breaking. Crew SC's defense surrendered only eight shots, with only two on frame. Those came from reigning MLS MVP, Sebastian Giovinco. The defense held their ground and shut down the Italian forward, not letting him register a goal or assist. Another note, although it's negative, is that Crew SC is still winless on the road, in their last four matches. Led by head coach and sporting director, Gregg Berhalter, the 2015 MLS Cup runner-ups are 0-1-3 in that four-game stretch, with draws in each of their last three games. The most recent was a 1-1 draw against the Colorado Rapids at home.
As for the opposition and home team in this epic matchup, Crew SC, they are coming back home to MAPFRE Stadium after a great showing at BMO Field against rivals Toronto FC, playing to a 0-0 draw.
If Real Salt Lake were to win this game, they will have to do it without captain and central defensive midfielder Kyle Beckerman, as he is away training with the United States Men's National Team, in preparation for their Copa America run. Although, they will have their threatening trio in Joao Plata, Juan Manuel Martinez, and Yura Movsisyan. The trio has accounted for 10 of Salt Lake's last 17 goals. Currently, Real Salt Lake sit tied for third place in the Western Conference. They began a five-game road trip, with shutouts against the Colorado Rapids and the Houston Dynamo to start the month
Two things learned from that game that Real Salt Lake can help build momentum coming into this weekend's matchup is that they kept it real. In order to keep it real against Crew SC, they need to play their game and use their identity to hopefully get a defeat a team that is starting to find their groove. Next, changes in the center back pairing have worked out perfectly. Real Salt Lake are 5-0-0 with a +6 goal differential when Justen Glad and Aaron Maund start in the central defense. It's also worth noting that when Maund and Glad are not starting, Salt Lake are 1-3-2 with a -4 goal differential when using any other combination.
For Salt Lake, they put on a dominating 3-1 performance against Sporting Kansas City. Salt Lake did the most with their chances, and that earned them a well-deserved win away from home. Goals from Juan Manuel Martinez and Yura Movsisyan helped Real Salt Lake to their second win in their rival's home stadium. The third goal came off of Brad Davis, counting as an own goal. Dominic Dwyer scored the lone goal for Sporting KC.
Hello, and welcome to VAVEL USA's LIVE coverage of Major League Soccer (MLS). I'm Tyler Fisher and I will be giving you live scores and updates as this matchup progresses on. This week, we have Real Salt Lake, and they travel to take on Columbus Crew SC. This should be an interesting matchup as both teams are coming into this match with positive performances in the previous weekend.