Chilean soccer history was made last summer at the Estadio Nacional as Alexis Sanchez wrongfooted Argentina goalkeeper Sergio Romero to seal the deal on Copa America 2015. Coach Jorge Sampaoli had become the first coach to lead La Roja to an international title. The whole country rejoiced. Except Sampaoli.
Soon enough, it was clear that Chile's head man wanted out. There was constant turmoil between Sampaoli and the federation amid contract negotiations and FIFA scandal accusations, and so the Argentine ended his tenure with the Chileans. He resigned in January, leaving Chile without the coach that brought it glory at one of the world's biggest stages.
Entering the Pizzi era
Arturo Salah and the nation's soccer higher-ups soon hired Juan Antonio Pizzi as Sampaoli's replacement, beginning yet another era in the history of La Roja. The first phase of the Pizzi era: defending Chile's title glory this summer at Copa America Centenario in the USA. It's doable, but it sure won't be easy.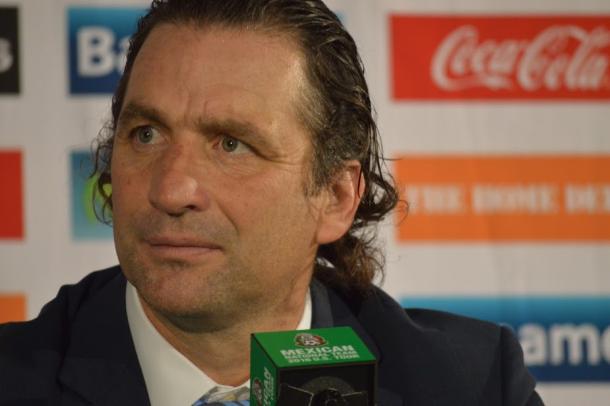 Pizzi's kept the same group of core players from last summer, with Alexis, Arturo Vidal, and Claudio Bravo leading the way. Jorge Valdivia and Felipe Gutierrez won't be at Copa America in 2016, creating opportunity for a couple younger players to make their way into the team, but for the most part, those who shined in Chile last year will be tasked with doing the same in Group D in June.
What the squad looks like
The squad has been transitioned from Sampaoli's diamond formation to a 4-3-2-1, a setup emphasizing a number nine sandwiched by attack-heavy wingers. In Chile's case, the wingers will most likely be Alexis Sanchez and Eduardo Vargas while the central forward currently looks to be Mauricio Pinilla; 23-year-old Nicolas Castillo is right on Pinilla's tail for the starting job. The midfielders remain Arturo Vidal, Marcelo Diaz, and Charles Aranguiz, who indeed was named to the team despite initial injury concerns. Gary Medel and Mauricio Isla once again anchor the defense, with Enzo Roco, Gonzalo Jara, Eugenio Mena, and Jean Beausejour all rotating into the left center back and left fullback roles.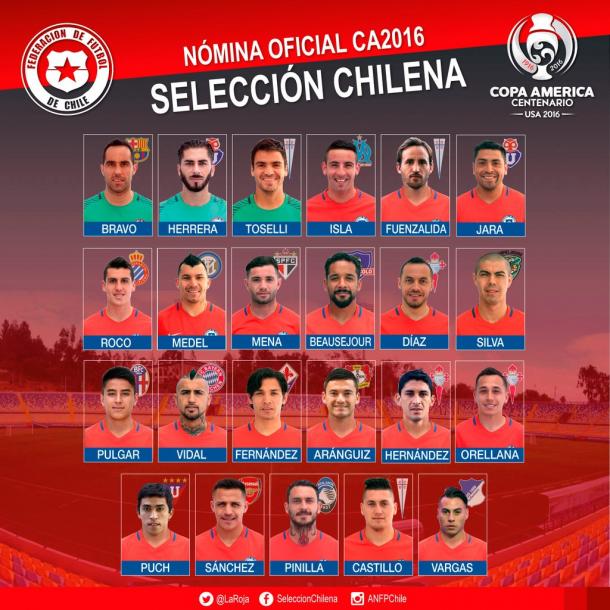 Tough opposition ahead for La Roja
The main challenge early on for Chile will be maneuvering a group stage placement which features Argentina, a team poised for revenge after last year's final. La Albiceleste will be heavily favored for the two sides' opening match on June 6 in Santa Clara, but the positive for Chile is that they won't have to face their rivals again until a possible rematch for the centennial title. Assuming La Roja can fight past Bolivia and Panama to finish top-two in Group D, Chile should be moving on to the knockouts.
With Luis Suarez back in contention for Uruguay and Lionel Messi still leading the way for the Argentines, Chile is not expected to repeat in 2016. A potential matchup with Mexico or Suarez's Charruas right out of the groups could do harm if La Roja is not on top form, and right now, it doesn't look as if Pizzi's team is performing at a high level. A friendly loss to Jamaica and mediocre showings in World Cup Qualifying are fine evidence for Chile's win last year being a one-hit wonder.
And that's exactly what Pizzi wants to disprove. Now that Chile has won, becoming back-to-back champions is the team's goal; nothing less will satisfy the millions in red watching.
Can Chile adapt?
It's all about finding the right combination. If replicating last year is the way to go, so be it. But chances are, a new face will have to step up. Is it Enzo Roco? Is it Nicolas Castillo? Fabian Orellana?
That'll depend on what Chile needs most. If scoring is the early struggle, Castillo or Orellana will be given the chance to take on big minutes and play in games' key moments. Roco, the tall center back La Roja has been waiting for, could be the final puzzle piece to Chile's already-gritty back line, which shut down opponents to just four goals over the entirety of 2015's Copa America.
American soccer is all about adjusting, and with a new coach and bulked-up opponents, Chile must show their elite ability to adapt if they wish to win their second Copa America in two summers. It certainly will keep Chile and coach Pizzi very busy.
One summer later, do you still believe in miracles?